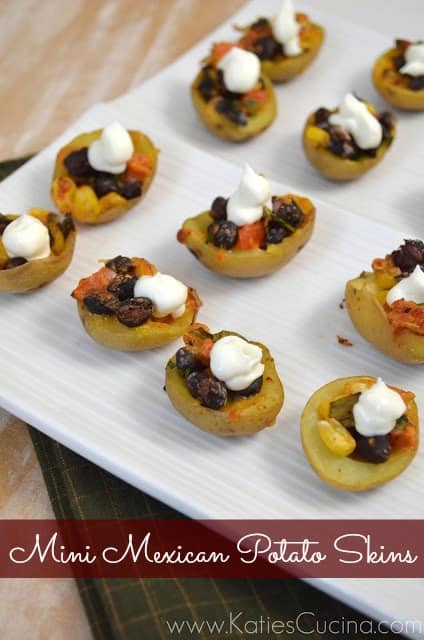 Do you ever have an ah-ha moment where you dream up something amazing? Yah, that is these little spuds. They are pretty amazing. They are mini making them bite-size and chocked full of flavor. Oh, and did I mention they are Gluten Free?!?! Yes, so all of your GF friends can indulge on these as well! Oh, and your vegetarian friends, too. Yah these are pretty much pleasing all your friends at this point. Well, maybe not the carnivores. However, these are hearty one-bite wonders and thanks to the fabulous flavors they won't be asking for a plate of steak after eating a few of these.
It has been about a year since I last posted about potato skins. I don't know what it is about football that always reminds me of this glorious appetizer. Last year, I published my favorite and go-to recipes for loaded potato skins. I can't lie, though. Homemade potato skins of any kind do take a lot more time to prepare verse going to the store and buying a box of frozen spuds. However, they taste ten times better than the frozen version. So if your short on time. These might not be the appetizer for you to make, now. However, you could assemble them ahead of time and then pop them in the oven as your guest arrive.
If you want to really kick up the heat. Don't just add a dash of the cayene pepper. Add like 1/8 of a teaspoon of cayenne. Then you just might see all your carnivorous friends crying like babies.

Get creative with these. If you have a jalapeno on hand–add it! If you have grilled fresh corn, by all means please do add it! You have a little salsa instead of fresh tomatoes. Add that instead. Make it saucy! Don't be afraid to steer away from making a recipe just because you don't have a single ingredient on hand. Make it your own creation. Heck, you don't have little potatoes use larger potatoes and just increase the quantity of filling! Either way–homemade potato skins (whether they are bite-size or larger) are the way to go this football season.
Katie Original Recipe
Ingredients
14

mini Yukon Gold Potatoes

2

tbsp

diced roma tomato

1/4

cup

black beans

1/4

cup

frozen corn

thawed

1/4

cup

shredded cheddar cheese

1/8

tsp

each chili powder, paprika, and salt

Dash of

each cayenne powder and onion powder

1

tbsp

cilantro

2

green onions

thinly sliced

1/2

lime lightly squeezed

*Sour cream for topping
Instructions
In a large pot, boil the mini potatoes until you can easily prick them with a fork (about 20 minutes). Let them cool.

While the potatoes are cooling, in a mixing bowl add roma tomato, black beans, corn, cheddar cheese, spices, cilantro, green onion, and a dash of lime juice. Mix well and set aside.

Once the potatoes have cooled, halve each potato. Carefully, using a melon baller carve out a hole for each potato and begin filling with bean/corn mixture.

Bake at 450 degrees for 12 minutes or until cheese has melted and the skins are crispy. Top with a tiny dollop of sour cream.
Notes
*Don't throw away the potato filling you spoon out. Save it and fry it up for breakfast the next morning!