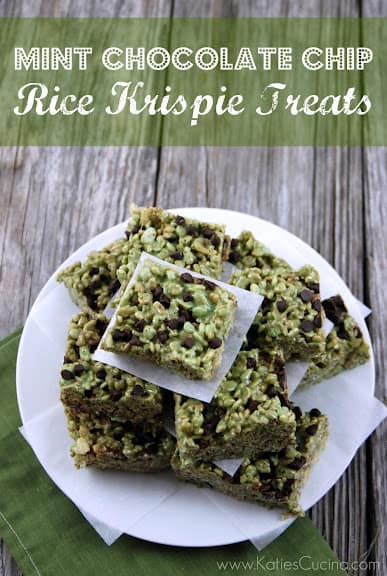 Last week, I played bunko for the first time, and at bunko were rice krispie treats. To be honest, I cannot remember the last time I indulged in the marshmellowie goodness of rice krispie treats. That's when it instantly hit me. I wanted to make a St. Patty's dessert for the blog (and my family and friends), and thus the mint chocolate chip rice krispie treat was born.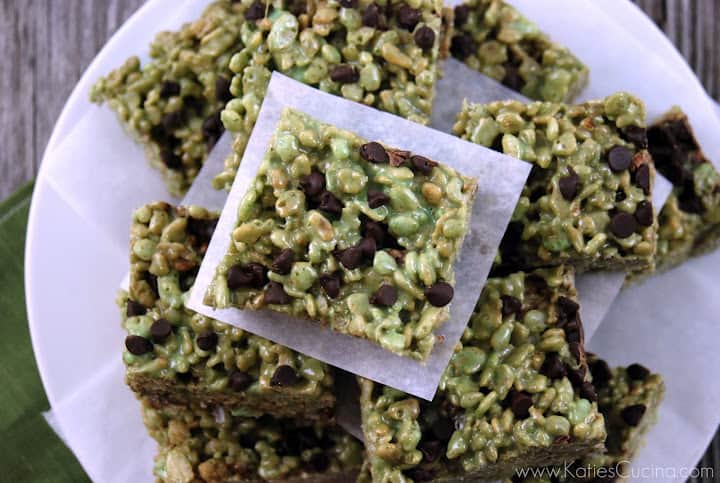 I love the mint chocolate chip combo; however, my husband isn't a big fan. So I knew that my brillant idea would not strike a cord in his book. Oh well, I remind myself time and time again that we can't please everyone, and this treat I automatically knew would not please him. He did try a bite which I was shocked and he said that they tasted like the candies from Olive Garden. In my book I knew this treat was a success because that's how I wanted them to taste like… like, mint chocolate chip!
Source: Katie Original (mint chocolate chip) inspired by The Original Rice Krispie Treat recipe
| | | |
| --- | --- | --- |
| Mint Chocolate Chip Rice Krispie Treats | | |
Author:
Ingredients
6 cups Rice Krispies
1 bag Marshmallows
4 tablespoon Butter
¼ teaspoon Peppermint Extract
10 drops Green Food Coloring
½ cup Mini Chocolate Chips + 2 tablespoon for topping
Pam Cooking Spray
Instructions
In a large sauce pan melt the butter. Remove the butter off the burner once melted and add in the green food dye and peppermint extract.
Add the marshmallows to the pot and stir until the marshmallows have dissolved completely.
Carefully, begin stirring in half the Rice Krispie treats, and ¼ cup of the mini chocolate chips. Once well incorporated repeat until the Rice Krispies and mini chocolate chips are all incorporated into the marshmallow batter.
Spray a 9×12 pan with pam cooking spray and begin spreading the Rice Krisipie treats out on the pan. Once completely spread out on pan sprinkle two tablespoons mini chocolate chips on top. Let cool in refrigerator for 1 hour, slice, and serve.
Notes
Store in a sealed container for up to 2 days.