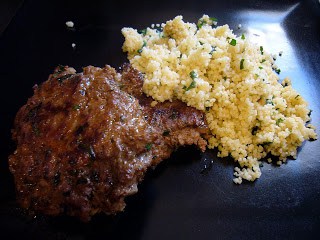 I'm going to be dead honest here. I really enjoyed this recipe and my husband did not. First off, he's not a fan of couscous and he wasn't fond of the spices used in the beef patties. He felt that they were too dry (so maybe it was my fault for cooking them to long), and he also felt it needed sauce. I on the other hand felt like they were awesome… maybe a yogurt like dipping sauce would have done the trick… but in any event I'm posting this recipe with the hopes that others out there will enjoy this dish like i did! I found this recipe on Rachael Ray's website.
Prep: 12 minutes
Cook: 20 minutes
Serves: 4
INGREDIENTS:
Salt

1 box of Far East Couscous with Pine Nuts

Freshly ground pepper

1lb. lean ground beef

2 garlic cloves, finely chopped

½ medium onion, finely chopped

1 tablespoon paprika

1

teaspoon

ground cinnamon

1

teaspoon

ground cumin

½ teaspoon ground allspice

3 tablespoon extra-virgin olive oil

¼ cup chopped flat-leaf parsley

1 tablespoon chopped flat-leaf parsley for couscous
DIRECTIONS:
Cook the couscous according to the package.
In a bowl, combine the beef, garlic, onion, paprika, cinnamon, cumin, allspice, 1 tablespoon olive oil, 2 tablespoons parsley and 1 teaspoon salt. Form into 8 patties.
Heat the remaining 2 tablespoons olive oil in a large nonstick skillet over medium-high heat. Add the beef patties and cook for about 3 minutes on each side for medium-rare (or more time depending on how you like your meat cooked).
Fluff the couscous again with a fork, transfer to a platter and top with the beef patties and the remaining 2 tablespoons parsley.
Side Suggestions: steamed asparagus, salad