I know that its starting to cool down in most of the country right now, but here in Florida it is still summer hot. I've yet to slow down on the grilling. I love eating kebabs. Something about eating food off a stick just seems better than eating it with a fork! I won a McCormick Spice Set in July at Julie's Cook for the Cure party. I was excited to try all of McCormick's new Gourmet Collection of spices but especially so for the Moroccan Seasoning. I love Moroccan food and unfortunately, don't cook it enough in our home. I decided to make my own version of a Moroccan Pork Kebab with a few simple ingredients I had on hand. I served these as our dinner along side of a bed of couscous. It was a perfect, simple, yet flavorful meal. You could also, entertain with these kebabs and serve them up as an appetizer!
Source: Katie Original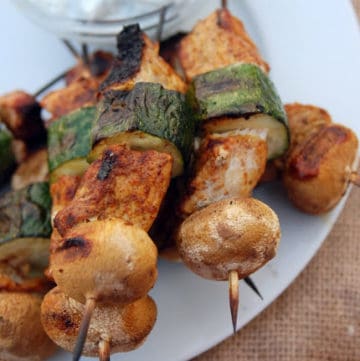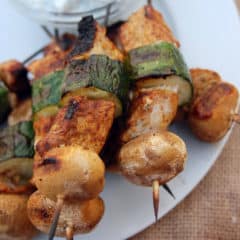 Ingredients
1

lb

Pork Loin

cut into 1 inch cubes

2

zucchini

cut 1 inch thick

mushrooms

2

tablespoon

Moroccan Seasoning

1

tablespoon

olive oil

½

cup

Sour Cream

1

tablespoon

Dill

minced

2

tablespoon

Cucumber

peeled and minced

½

teaspoon

garlic

minced

½

teaspoon

lemon juice

salt & pepper to taste
Instructions
Pre-heat grill to high heat, clean, and reduce heat to medium.

While the grill is pre-heating, cut the pork loin into 1-inch cubes. In a large zip lock bag place the pork in the bag followed by the Moroccan Seasoning and olive oil. Seal the bag and mix well. Place the pork in the refrigerator while you prep the rest of the meal.

Cut the zucchini and clean the mushrooms, set aside.

Pull the pork out of the refrigerator and begin skewering the pork, zucchini, and mushrooms (in whatever order works for you).

Place the kebabs on the grill for 5 minutes, then turn, and cook for another 5 minutes. Your internal temperature of the pork should read at the very minimum 145 degrees.

While the pork cooks put together the sour cream dill sauce. In a large bowl, place ½ cup sour cream, 1 tablespoon fresh minced dill, 2 tablespoons finely diced cucumber, ½ teaspoon of fresh minced garlic, ½ teaspoon of lemon juice, and salt and pepper to taste. Mix well and place in refrigerator until the kebabs are done.

Serve the kebabs as soon as they are done cooking with the sour cream dill sauce.
Notes
If you are using wood skewers, make sure you soak them in water up to 30 minutes before grilling. This will help them not burn as quickly on the grill!