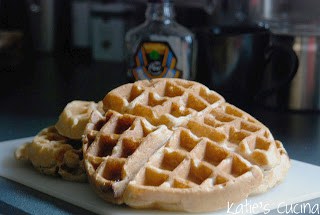 For the past five years I've been using the same recipe to make waffles. I got this recipe for multi-grain waffles on Cooking.com almost a year ago, and let recipes pile in-front of it before I decided to give these a try. I'm glad I did–these are a great alternative to a healthy version of waffles. As I figured my husband did not like that too much, but I on the other hand loved them! I'll be making these again for me! Best part is that you can freeze the leftovers and heat them up in the toaster oven whenever it suits your needs!
Prep:

20 minutes
Cook

:

5-10 minutes
Serves:

4
Ingredients:

½ cup old-fashioned

rolled oats

¼ cup toasted

wheat germ

or cornmeal

1 ½ teaspoons

baking powder

1 teaspoon ground

cinnamon

2 large eggs, lightly beaten
Directions:

1. Mix buttermilk and oats in a medium bowl; let stand for 15 minutes.
2. Whisk whole-wheat flour, all-purpose flour, wheat germ (or cornmeal), baking powder, baking soda, salt and cinnamon in a large bowl.
3. Stir eggs, sugar, oil and vanilla into the oat mixture. Add the wet ingredients to the dry ingredients; mix with a rubber spatula just until moistened.
4. Coat a waffle iron with cooking spray and preheat. Spoon in enough batter to cover three-fourths of the surface (about ⅔ cup for an 8-by-8-inch waffle iron). Cook until waffles are crisp and golden brown, 4 to 5 minutes. Repeat with remaining batter.
Serving Suggestions: Breakfast Potatoes