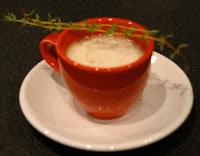 This was the first recipe that was demonstrated while aboard the Carnival Dream during one of there cooking demonstrations at the Chef's Art Steakhouse. I never got to taste it but many people raved about it. As most of you know I'm not a huge fan of mushrooms, but my husband is, and that's one of the main reason's why I made this soup. I actually made this soup the day we got back from vacation because both of our stomachs were still in cruise mode and we both needed soups, salads, and then main entree's to satisfy our stomachs needs! He absolutely loved this soup and was begging for seconds and thirds! I on the other hand was pleasantly surprised and ate a whole bowl my self! If the puree soup is not your thing you can saute a cup of mushrooms in butter and add them the final product–it will taste just as good (that's what I ended up doing for my husband).
Cook: 30 minutes
Serves: 4
Ingredients:
1 lb. chopped assorted mushrooms
5 tablespoon onion, diced
1 clove garlic, chopped
¼ cup clarified butter (half butter half oil)
2 pints vegetable/chicken stock
1 pint heavy cream
*few drops truffle oil (if you have it on hand)
1 teaspoon parsley, chopped
salt & pepper to taste
2 springs each, Thyme
Directions:
1. Clean mushrooms very well. Chop onions and garlic.
2. Saute onions, garlic, and parsley in butter, add assorted mushrooms; cook for 5-10 minutes on medium or until mushrooms are soft. Add stock and simmer. Season with salt and pepper to taste.
3. When mushrooms are cooked in small batches blend mushrooms in a
blender
and sieve through a mesh
colander
. Return the puree to the pan and add cream and a few drops of truffle oil if you have it on hand. Adjust the seasonings and consistency to taste. Serve hot with two sprigs of thyme.
Side Suggestions: crusty bread