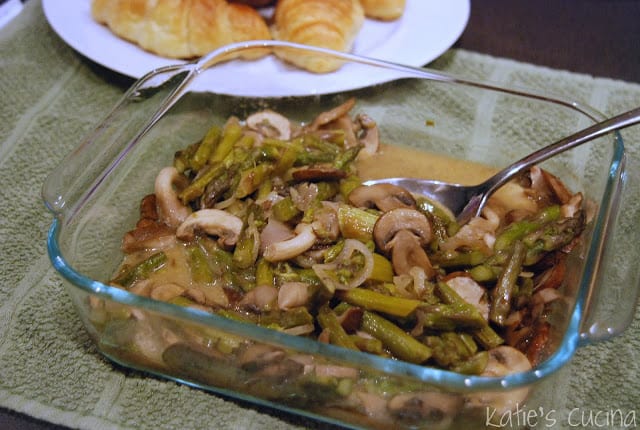 I found this side dish in the mother's day brunch section of the May issue of Everyday Food. It came at a perfect time since I was planning my Eggland's Best Brinner party for a few of my closest friends. Although I was planning a some-what traditional menu, I knew I wanted to make some sort of vegetable side dish. Although I don't like mushrooms, most people do, and that's why I decided to make this recipe. I did over cook this a bit, only because I cooked it ahead of time and didn't take into consideration that I would have to reheat this dish up. In the end we only had one or two measly pieces of mushroom left, so in my book this brunch side dish was a hit.


Source: Everyday Food, May 2011
Prep Time: 5 minutes
Cook Time: 25 minutes
Servings: 8


Ingredients:
3 tbsp extra-virgin olive oil
1-1/2 lbs mixed mushrooms, such as shiitake, button, and cremini, trimmed and halved
coarse salt and ground pepper
1 bunch asparagus (1 lb), ends trimmed, cut into 1-1/2 inch pieces
1 large shallot, thinly sliced crosswise
2 tbsp sherry vinegar
1 tbsp dijon mustard
1/2 cup low-sodium vegetable broth *or water
1 tbsp honey


Directions:
1. In a large skillet, heat 2 teaspoons olive oil over medium-high and cook one-third the mushrooms, stirring occasionally, until golden brown, about 4 minutes. Season with salt and pepper and transfer to a large bowl. Repeat with more oil and remaining mushrooms. Add 2 teaspoons oil to skillet and cook asparagus, stirring occasionally, until crisp-tender, about 4 minutes. Season with salt and pepper and add to mushrooms.


2. Add 1 teaspoon oil to skillet and cook shallot until translucent, 3 minutes. Add vinegar and mustard and stir to combine. Add broth and cook, scraping up any browned bits with a wooden spoon, until slightingly thickened, about 1 minute. Stir in honey, then pour over vegetables. Toss to combine and transfer to a serving dish. serve warm or at room temperature (toss before serving).