One Pot Chipotle Ranch Chicken Pasta
Thank you Stonyfield and Simply Organic for sponsoring today's recipe. As always, all opinions are my own.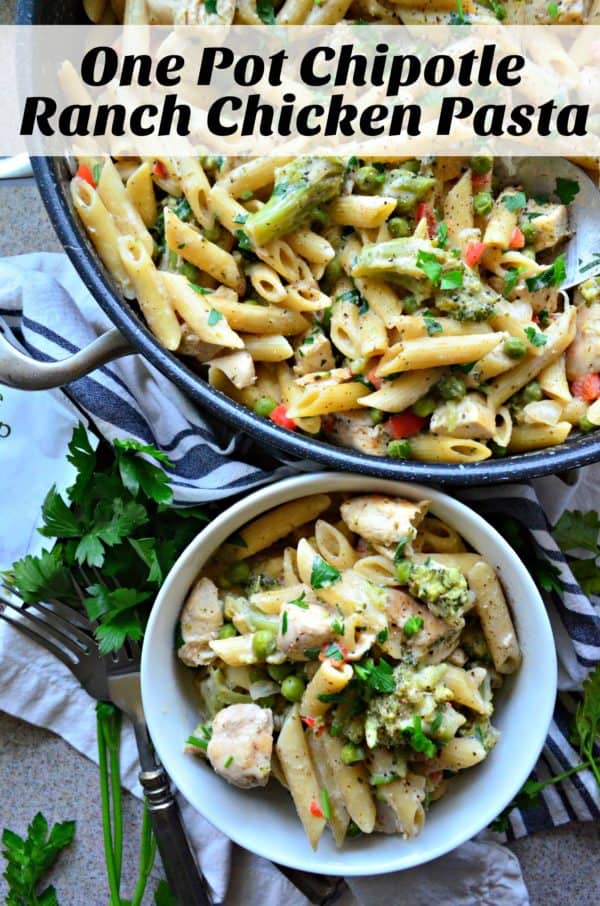 I've got a spicy new one pot recipe to share with you today. Perfect for busy weeknights when you don't feel like cooking dinner. My recipe for One Pot Chipotle Ranch Chicken Pasta is sure to be a new family favorite. My entire family loved this recipe–even my toddler. Yes, it has chipotles in it so it's going to be a tad spicy. My toddler loves spicy food, so I just have to preface that! Since I'm roughly 20 days from delivering my second baby I'm all about easy meals these days. So what does Stonyfield and Simply Organic have to do with this one pot wonder?  When Stonyfield asked me if I wanted to try their newest offering, Double Cream, I jumped at the chance. They also partnered with Simply Organic spices and dips to share with us some of their newest offerings as well.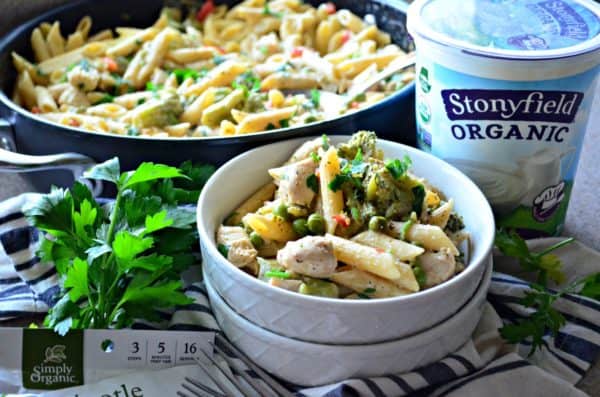 What's Double Cream? It's the stuff of yogurt cooking dreams! Made specifically with cooking in mind, Double Cream has just what it says, a higher fat content than any of the Stonyfield whole milk yogurts, making it thicker, creamier, and more luscious for your cooking needs, while still boasting all the awesomeness of yogurt. It's also an ideal and wholesome substitute for cutting oils and sour cream. It's a one-for-one substitute for sour cream and you cut your oil and butter in half by subbing out with Double Cream.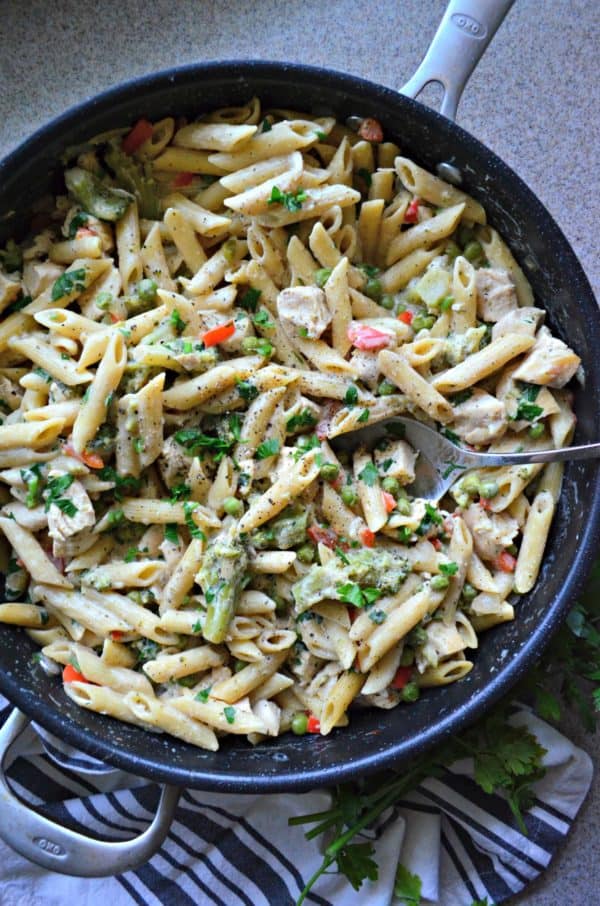 In my case, I subbed out using heavy cream for Double Cream and not a single person at the dinner table (my husband, dad, and brother) had any idea that the creamy pasta was creamy because of the Double Cream yogurt verse heavy cream. It wasn't until everyone gobbled up their plate that I told them that this was made a little bit healthier using yogurt instead of heavy cream.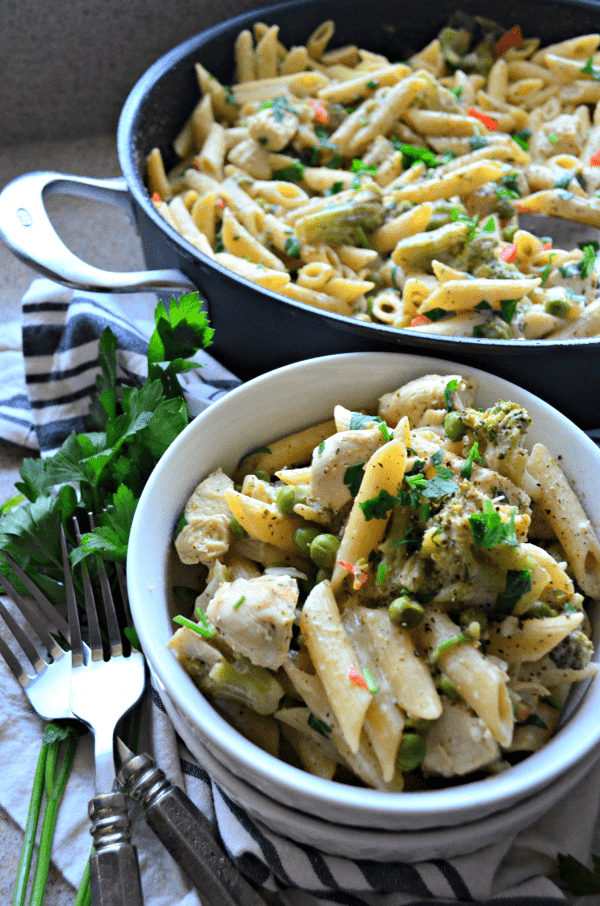 I also added in a ton of veggies making this a complete one pot meal. No need to have to make extra side dishes of veggies because all of the veggies are in the skillet! One packet of Simply Organic Chipotle Ranch dip is all I needed to flavor this meal. And boy, did it pack a punch. I was afraid that it wouldn't have enough flavor, but it definitely did! So trust me, that just a 1 ounce serving is going to do this pasta justice! So if your looking to simplify your weeknight dinners and lighten them up a little try my recipe for One Pot Chipotle Ranch Chicken Pasta.

One Pot Chipotle Ranch Chicken Pasta
Yield: 8
Prep Time: 15 minutes
Cook Time: 25 minutes
Total Time: 40 minutes
Ingredients:
1 tablespoon grapeseed oil
1 lb. chicken tenderloins
salt & pepper to taste
1 small white onion, diced
1 red bell pepper, diced
1 lb. penne pasta
1 cup frozen green peas
2 cups frozen broccoli
1 32 oz. box of organic chicken broth
1 cup water
1/4 cup fresh parsley, minced
Directions:
In a large skillet, heat grapeseed oil on medium-high heat. Add in the chicken tenderloins and season with salt and pepper. Cook for 5-7 minutes, turning half way through. Once cooked, remove from the pan.
Add in the white onion and red bell pepper and cook for 1 minute. Then add in the Simply Organic Chipotle Ranch Dip Mix, penne pasta, green peas, broccoli, chicken broth, and water. Mix well until incorporated, place a lid on and cook on medium-high heat for 15 minutes.
While the pasta cooks, chop the chicken and set to the side.
Once the pasta is cooked and most of the liquid is absorbed, mix in 2 cups of the Stonyfield Organic Smooth & Creamy Double Cream Plain and the fresh parsley. Remove off heat, place lid on skillet and let sit for 5 minutes. Divide evenly among plates and enjoy!
*If using fresh broccoli, redcuce the cooking time by half.
Save
Save
Save
Save
Save
Warning
: Use of undefined constant rand - assumed 'rand' (this will throw an Error in a future version of PHP) in
/home/kjasiewicz21/webapps/katiescucina/wp-content/themes/katiescucina/single.php
on line
74
Leave a Comment