One Pot Creamy Vegetable Spaghetti Primavera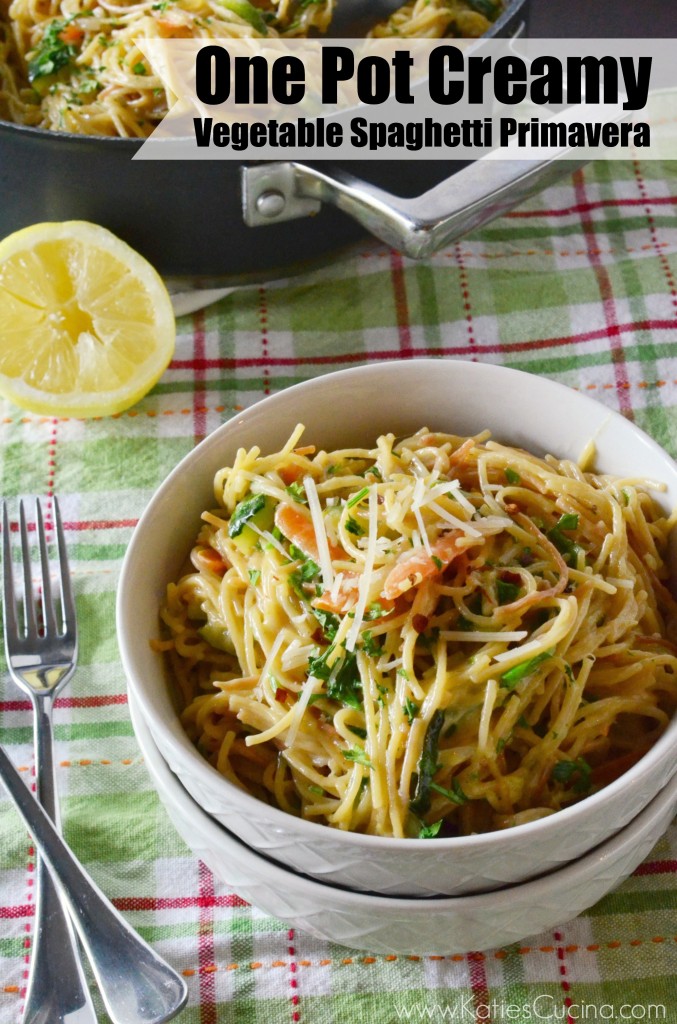 I apologize for my absence last week. I have a great excuse… my kitchen was under construction! If you follow me on social media you saw bits and pieces of the progress take place. I cannot wait to unveil my new kitchen next month. We ripped out our formica countertops and replaced them with gorgeous butcher block. Before doing that my amazing husband (seriously, he deserves the biggest shout-out ever he has done it all with minor help from me), cut out two of the cabinet walls to extend my cabinets so I could use the wasted space the builder never built out. I gained an entire cabinet!  My friends at Moen send us the deepest sink on the planet and the new MotionSense Faucet by Moen. We extended our kitchen island so I have even more work space and built on a custom bookshelf to store my ever growing collection of cookbooks and other kitchen stuff. All that happened in the past week. In the coming weeks we have backsplash to do, a new door to install for our pantry, a custom spice rack to build, and hopefully some custom lighting. That's all phase one, and we are both hoping for it to be done by the end of this month! I'll share a glimpse into my kitchen on Katie's Cucina but all the tutorials will be available on my DIY blog, Sew Woodsy.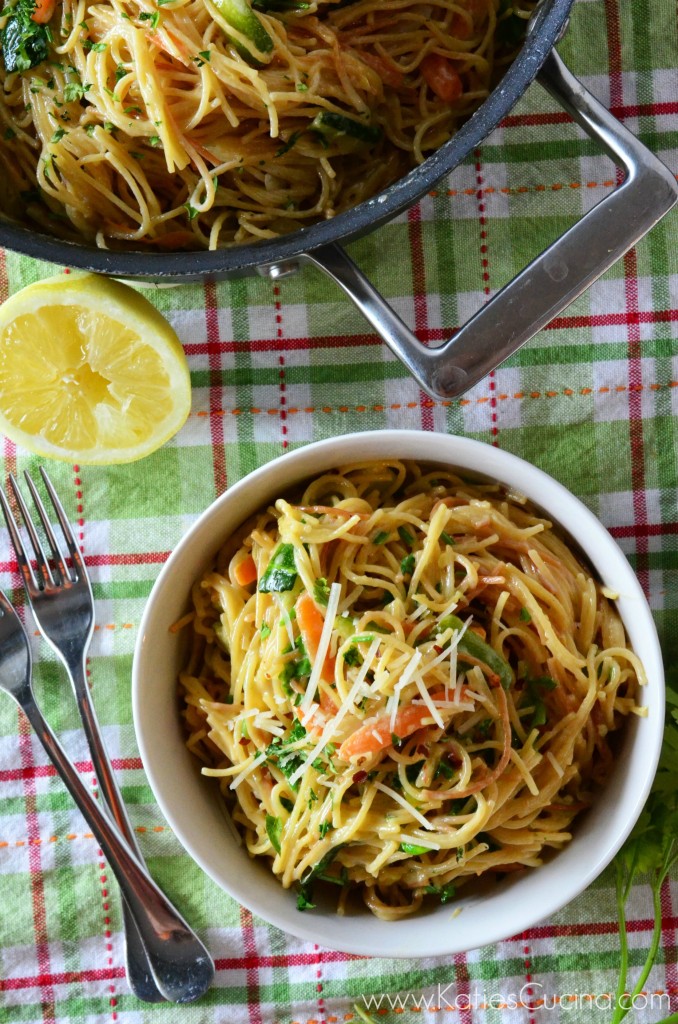 Enough about my kitchen, let's talk about this delicious one pot meatless meal! I'm all for less dishes after cooking and so is my husband who usually is a trooper and cleans them for us after dinner. I don't know why I make more one pot pasta meals. This meals comes together beautifully in just under 30 minutes. Of course if you have carnivores in your home that demand meat you could always cook chicken on the side, slice it up, and serve it on top of a big bowl of this Creamy Vegetable Spaghetti Primavera! We prefer this dish just as it is. It makes for a wonderful lunch on the weekend and best of all it makes a lot so you could indulge on it later in the week. Or make it as a quick week night meatless dinner.
Head on over to Food Fanatic to get the recipe for Creamy Vegetable Spaghetti Primavera: Buon Appetito for Meatless Monday
Warning
: Use of undefined constant rand - assumed 'rand' (this will throw an Error in a future version of PHP) in
/home/kjasiewicz21/webapps/katiescucina/wp-content/themes/katiescucina/single.php
on line
74
11 Responses to "One Pot Creamy Vegetable Spaghetti Primavera"