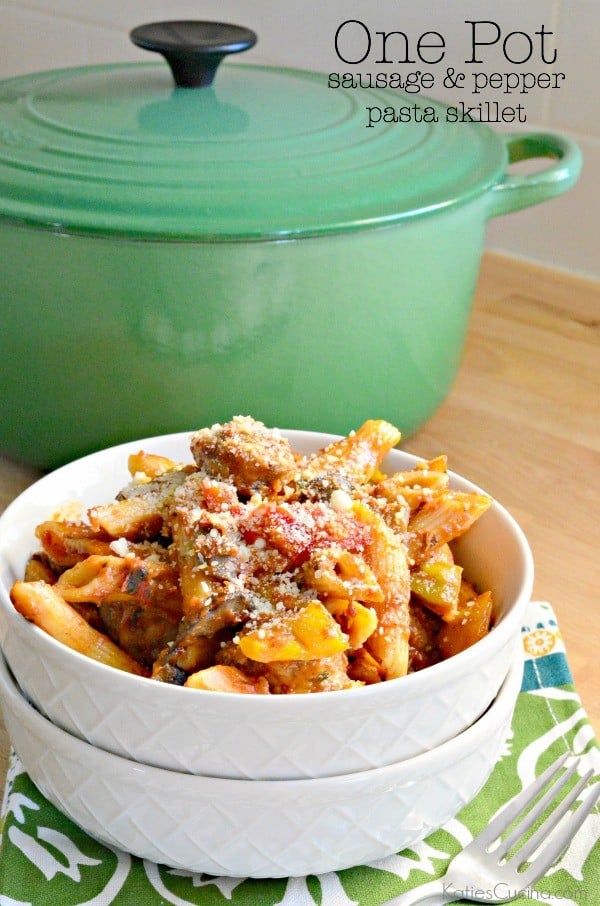 Get ready for a new one pot pasta recipe today. I'm so excited to finally share this recipe. I first created this recipe for One Pot Sausage & Peppers Pasta Skillet back in September. And then I made it a few more times perfecting it each time. I made it for our parents on Halloween, too. Everyone loved it. This is the perfect dinner for a busy family or for even entertaining. The night I made it for our family I made a few flatbreads as well as a big beautiful salad. Everyone went back for seconds on the pasta. And that is when I knew I had a winning recipe.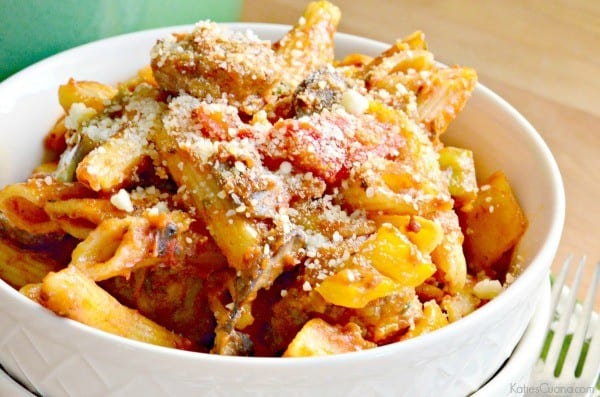 Both of our mother's were shocked that I was cooking the pasta right in the sauce. They had never had a one pot pasta meal before and to be honest I think they were both a little skeptical. But after they had one bite they were instant believers! That's what I love about one pot pasta meals. You would never guess that everything is cooked in one pot. And even better you have very few dishes to clean up. A cutting board, a knife, a spatula and a large cast iron pot! That's it! Oh and the dishes that you eat on. But still nothing compared to a night where I'm using up every burner on the stove plus something baking in the oven.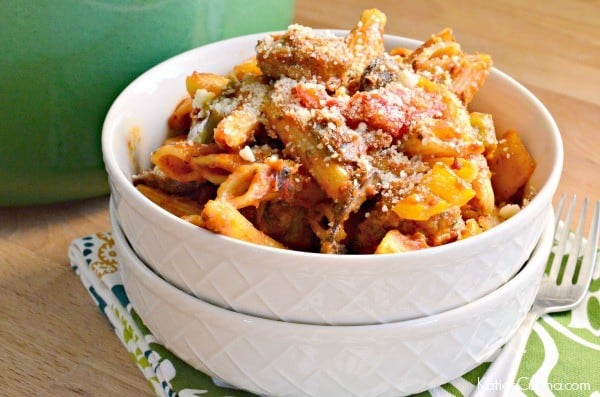 Now that we have a baby, I've been promoted to dish washer. I kind of look at it as a promotion… or at least a break from taking care of the baby for a few minutes. I let my husband bond with the baby and spend a few minutes or half hour on some nights so that I can wash dishes. He would gladly spend time with the baby verse doing dishes. And there are many days that I actually look forward to washing dishes. Although I still don't love doing dishes, but I welcome the break from baby. If your a stay at home or work at home mama then you know where I'm coming from!
I digress… if your looking for a new one pot pasta meal I think you'll love my One Pot Sausage & Peppers Pasta Skillet!