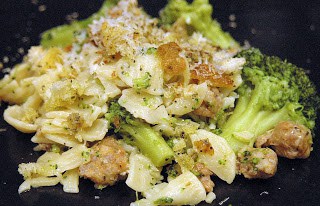 I recently saw this recipe on one of the many cooking blogs I follow on a daily basis; Christine's Cuisine. She has some amazing recipes on her blog! If you haven't visited her blog before you should—you won't be disappointed!!! I'm not going to lie. I was a little skeptical about this dish at first–the fact that the pasta had no sauce I knew was not going to bode well with my husband; however, I wanted to give it a try. The night I made this dish my brother and dad joined us for dinner too, so I figured all of the men would either hate it or love it. To my satisfaction they all LOVED it! I honestly feel that the bread crumbs make this dish. Don't substitute them–make the ones that the recipe calls for, and be liberal about them–don't skimp! They are delicious and are the perfect finish to this dish! I also want to note that if you can't find the orecchiette in your local grocery store you can use a small shell pasta. I ended up finding the orecchiette at Whole Foods Market for $1.99 for whole wheat orecchiette at boot! My local grocery store wanted to charge me $6 for plain white orecchiette pasta! Whole Foods is definitely the way to go and best of all the guys never realized they were eating whole wheat pasta!
Prep:

10 minutes




Total:

3

0 minutes


Serves:

4
Ingredients:
4 slices stale white bread, roughly chopped

salt and pepper, to taste

½ teaspoon garlic powder

½ teaspoon dried basil

½ teaspoon dried oregano

3 tablespoon olive oil
2 stalks of broccoli (or broccoli rabe), trimmed and cut into pieces

1 tablespoon extra virgin olive oil,

2 garlic cloves, minced

3 sweet Italian sausages, casings removed

Pinch red pepper flakes

2 cups orecchiette pasta

Salt & pepper, to taste

parmesan cheese, for serving
Directions:
1. In the bowl of a food processor, combine bread with salt, pepper, and dried herbs. Pulse briefly until bread breaks down into roughly ¼-inch chunks.
2. Heat 3 tablespoons olive oil in a large skillet. Add breadcrumbs and toss until well coated. Saute until golden brown and crispy, being careful not to let the smaller pieces burn. Remove from heat and set aside to cool.
3. Bring a large pot of salted water to a rolling boil. Cook the broccoli (2-3 minutes) or broccoli (5-7 minutes) in the boiling water. Remove with a slotted spoon when done and cook the pasta according to the package directions.
4. Meanwhile, heat the 1 tablespoon oil in a large skillet over medium-low heat. Add the garlic and cook until it begins to sizzle, about a minute; add the sausage and red pepper flakes and continue cooking until nicely browned, 5 to 7 minutes.
5. Transfer the broccoli to the skillet. Cook over medium-high heat, adding some of the pasta water as needed to help soften the broccoli.
6. Remove the pasta when it is barely al dente, drain, reserving about a cup of the cooking water. (I just used the same large slotted spoon and transferred the pasta directly from the pot to the large skillet with the sausage & broccoli. That way I didn't have to add to much water to the skillet).
7. Add the pasta to the skillet with the broccoli and sausage and a couple of tablespoons of the reserved cooking water as needed; toss with until well combined. Season with salt and pepper.
8. Plate the pasta then top with breadcrumbs and parmesan cheese.