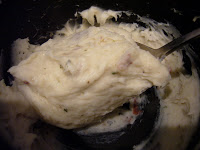 These potatoes are awesome served right out of the pot or even better placed under a broiler for a few minutes to make the parmesan cheese crispy! Just a nice little twist on mashed potatoes!
Prep: 5 minutes
Cook: 25 minutes
Serves: 2
INGREDIENTS:
2 large red potatoes
2 tbsp salt for potato water
3 tbsp butter
1/4 cup milk
1/2 – 1 cup Parmesan cheese, grated (plus more for topping)
Salt & Pepper to taste
DIRECTIONS:
Wash the potatoes well, and cut into small 2 inches pieces *evenly is the key here that way all the potatoes will cook evenly*

.
Place potatoes in a large pot of warm water and add salt. Cook on high until the potatoes are soft.
Drain potatoes, then add butter, milk, and Parmesan cheese. Blend well until smooth and creamy. Add salt and pepper to taste.
If you wish to bake them in the over for a few minutes–put potatoes into an oven safe dish, and sprinkle with more Parmesan cheese on top. Broil at 450 degrees for 5 minutes or until potatoes are a golden brown.
Side Suggestions: Parmesan Chicken, Slow-Roasted Garlic Chicken, Golden Green Bean Casserole