By far this is the most action packed city for food blogging! Surprise, surprise… i know! It all began on Sunday shortly after our bus parked in the city! We were walking from the Port Authority Bus Terminal all the way up to the MET and all of us were starving…. that's when my cousin Pauls' girlfriend, Sofia, said what about "P-and-P burger!??!?!" I immediately yelled out POP burger! Let's do it!!! I had just watched a feature on the travel channel about them and was interested to experience it!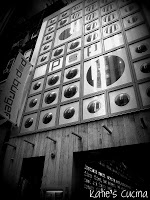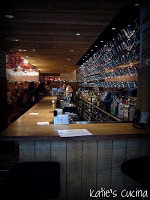 Here is the outside and the upstairs bar area!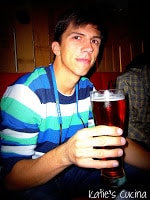 My husband, Jon, enjoying a cold and refreshing beer!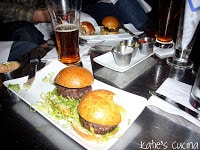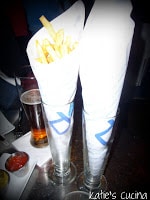 Jon and I ordered an order of pop burgers and
onion
rings.
Paul & Sofia (my cousin and his gf) ordered an order of pop burgers and fries!
After we left pop burger Jon and I saw a
Mr. Softee
truck parked on the street and since we shared our lunch we didn't feel as guilty grabbing a cone in the 40 degree NYC weather!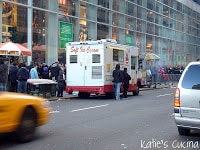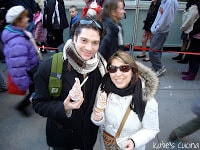 My cousin, Paul, went with me to experience some mr. softee at it's best while Jon waited with Sofia at the crepe cart!
That night Paul and Sofia went back to Philly while Jon and I traveled to Brooklyn to drop off our heavy book bags and meet up with his cousin, Danny, for dinner! Danny took us to an upscale Thai Restaurant, called Sea, that he claimed to be one of the best in town! Boy–was it ever!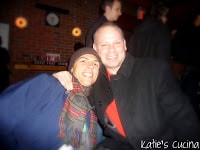 Jon and his cousin Danny while we waited at Sea.
We arrived at 8:00 on a Sunday night and still had to wait an hour!
For an appetizer we had the Village Steamed Dumplings, Grilled Spare Ribs, and a Duck specialty plate. Jon had the Pad Thai and I had the Malay Vegetable Curry!
For dessert we split a flaming fried ice cream!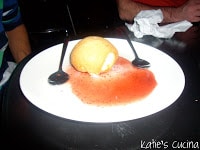 The next day we choose to sleep in and eventually made it to a diner near the 7 train station in Brooklyn at 11am!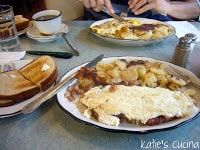 We attempted to go to Ellis Island, but it seemed that everything was against us! There was a two and a half hour line just to get on to the ferry and with high winds it just wasn't worth it to us! So instead I suggested we go visit the Chelsea Market!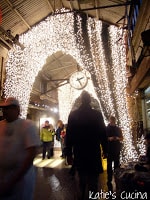 We strolled through all of the shops just to stay warm, and while we were visiting in one of the bakeries (Eleni's) we spotted Bethenny Frankelfrom the Real Housewives of NYC, and author of the skinnygirl cookbooks! She was very nice and willing to take photo's with my husband and I! Of course we were both star struck we barely had any conversation with her! Afterwards' we thought of 101+ things to talk to her about… o-well! Next time!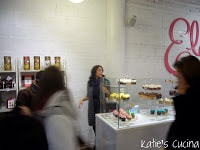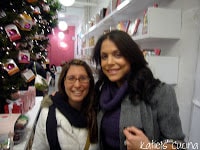 After Bethenny left we ordered a cupcake and cocoa for our walk around Chelsea and Tribeca!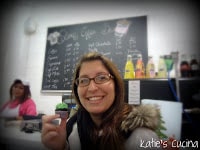 Last but not least I saw these and had to take a picture of them!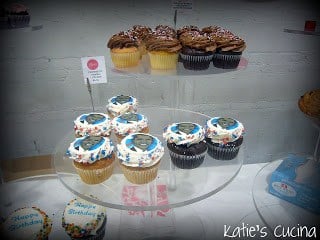 President Obama cupcakes!!!
That evening we spent it at a local sushi restaruant in Brooklyn with Jon's cousin and his girl friend. The following day we made a vow to get up early and get moving since we had to be back on the bus for Atlantic City by 3pm! We grabbed a quick New York style breakfast (sans the fruit) at a local deli.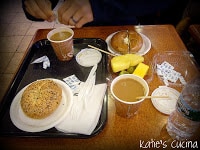 We did a lot of sight seeing that morning including going to the top of the "rock"! Afterwards we hauled a cab to take us to the famous Katz Delicatessent! Thankfully we got there around 11:30 and didn't have too long of a line, but ordering was an experience in its self!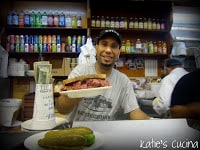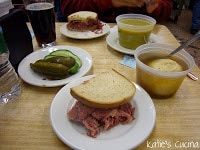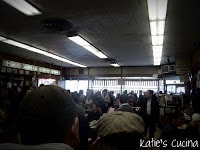 Our last stop before heading back to Atlantic City was a stop at the Polish Deli in Brooklyn on Greenpoint Avenue!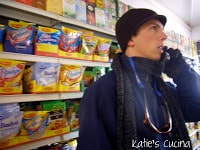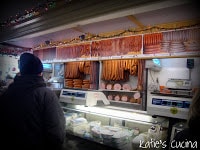 Jon was on the phone with his mom trying to pronounce all the types of sausage in polish!Needless to say we went home with $60 worth of sausage that of course was "searched" through airport security. My husband can be quite the comedian and had all of the TSA agents laughing about his "sausage"!