Enter to win a copy of Party Popcorn: 75 Creative Recipes for Everyone's Favorite Snack by Ashton Epps Swank.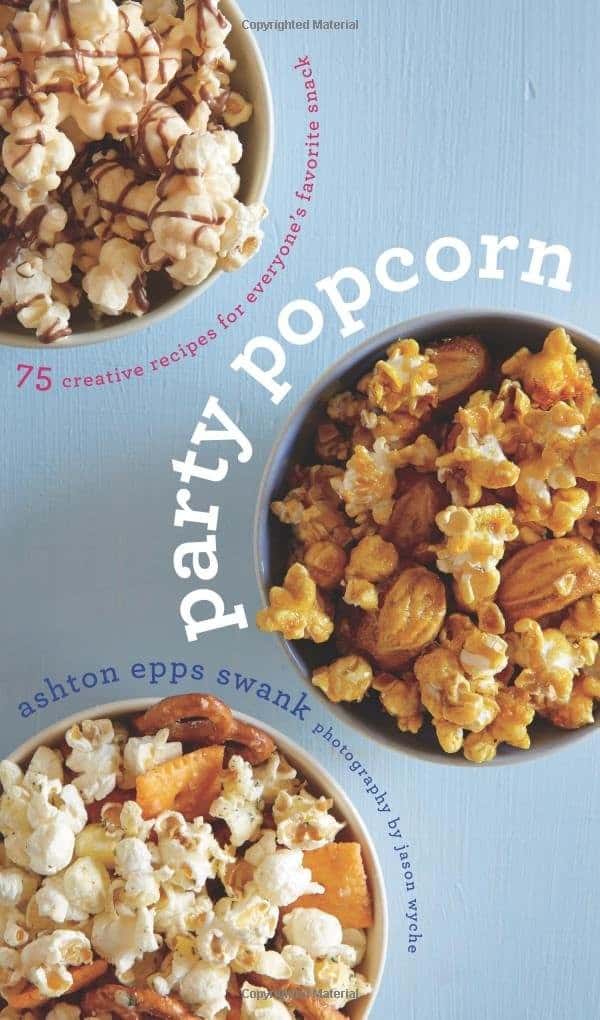 Last week, I shared a recipe from Party Popcorn: 75 Creative Recipes for Everyone's Favorite Snack. My friend Ashton is the genius behind all 75 recipes! If you love popcorn you'll love this cookbook.
Seventy-five sweet and savory popcorn recipes to satisfy every craving!
Ashton Epps Swank is the creator of the popular desserts blog Something Swanky and her first book Party Popcorn hit shelves earlier this month. In her debut cookbook, Ashton shares 75 of her favorite recipes, both savory and sweet, that will take this everyday snack to a whole new level.
Party Popcorn recipes are perfect for all occasions. Decorate your holiday table with bowls of Chocolate Peppermint Bark Popcorn and Eggnog Popcorn.  Make Sea Salted Caramel Corn or Brown Butter Popcorn for your Oscar party this season.  Need a Super Bowl snack idea? Your guests will love the Buffalo Ranch Popcorn and Maple Bacon Popcorn.  There's a popcorn recipe not only for every event but every day of the week!

The days of buying popcorn in those expensive tins are over thanks to Party Popcorn, a book full of popcorn recipes that are incredibly fun and affordable to make at home. With 75 tasty recipes, Ashton Swank offers much more than just the familiar caramel and cheddar flavors. In the savory chapter, Swank includes creations like Pepperoni Pizza, Bacon Teriyaki, and Taco Lime. The sweet options range from Turtle Brownie to Gooey S'mores to Firecracker (which has candy Pop Rocks!). There's also a chapter devoted to popcorn fun for kids and another just for the holidays. Such a wide variety of flavored popcorn means that there's a batch perfect for any occasion. Even better, popcorn is naturally vegan, vegetarian, and gluten-free, a great alternative to unhealthy processed snacks. This vibrant little volume is the definitive popcorn guide.
One lucky reader will will a copy of Party Popcorn. Just wait for the rafflecopter widget to load below (if it doesn't load click on the link) enter the options and wait to see if you win. One winner will be chosen at random. Must reside in the United States of America and be 18 years of age or older. Giveaway runs from 1/18/15–1/25/15
Disclaimer: I was provided a book to review. As always all options are my own. There are affiliate links in this post.