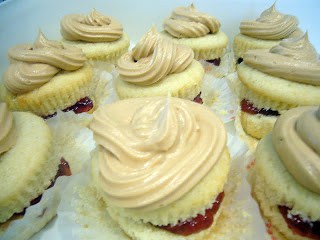 I received an awesome cupcake book last year or maybe even the year before for my birthday. I've made only two recipes out of it to date only because I'm not the biggest fan of baking, but since I got a new oven I've been a little more inspired to bake from scratch! I had been eying this PB&J recipe for a while now, and finally the time had come to step up to the plate and make these. Everyone who had them said they were even better than a normal peanut butter and jelly sandwich! Even if your not the biggest fan of baking from scratch I think you should step up to the plate like I did and give these cupcakes a try! I don't think you'll be disappointed with the end result!
Note: This recipe calls for vanilla cupcake batter recipe, peanut butter frosting recipe, and ¾ cup fruit jam or preserves of your choice.
Prep: 20 minutes
Cook: 18- 20 minutes
Serves: 12
INGREDIENTS for vanilla cupcake batter:
1-¼ cups all-purpose flour

1-½ teaspoon baking powder

¼ teaspoon salt

¾ cup sugar

6 tablespoon unsalted butter, at room temperature

1 large egg, plus 1 large egg white, at room temperature

1 teaspoon vanilla extract

1 vanilla bean, scraped (if desired and on hand)

½ cup whole milk
DIRECTIONS:
Position a rack in the middle of the oven and preheat to 350 degrees (Fahrenheit). Line a standard 12-cup muffin pan with paper liners.
In a bowl, whisk together the flour, baking powder, and salt. In a large bowl, using an elextric mixer on medium-high speed, beat the sugar and butter together until light and fluffy, 2-3 minutes. Add the egg and egg white one at a time, beating well on low speed after each addition, then beat in the vanilla. Add the flour mixture in 3 additions, alternating with the milk in 2 additions, beating on low speed until just combined; scarpe down the sides of the bowl as needed. Beat on medium-high speed just until no trtaces of flour remain, about 30 seconds; do not overbeat.
Divide the batter evenly among the prepared muffin cups, filling each about three-fourths full. Bake until lightly golden and a toothpick inserted into the center of a cupcake comes out clean, 18-20 minutes. Let the cupcakes cool in the pan on a wire rack for 5 minutes. Transfer the cupcakes to the wire rack and let cool completely, about 1 hour.
INGREDIENTS for Peanut butter frosting:
6 tablespoon unsalted butter, at room temperature

¾ cup confectioners' sugar, sifted

¾ cup smooth peanut butter

¼ cup heavy cream

12 tablespoon jam of choice
DIRECTIONS:
In a bowl, with an electric mixer on medium-low speed, beat the butter, sugar, peanut butter, and cream together until smooth and combined, about 2 minutes; scarp down the sides of the bowl as needed. Use right away. (The frosting can be stored in an airtight container for up to 4 days; bring to room temperature before using.)
Using a paring knife, halve each cupcake horizontally. Spread about 1 tablespoon of jam on each cupcake bottom, then replace the tops. Frost with the peanut butter frosting and serve. Note: The filled and frosted cupcake can be refrigerated in an airtight container for up to 1 day; bring to room temperature before serving.
Side Suggestions: cold glass of milk!