While away on a business trip I was watching the Cooking Channel (which is a luxury since I don't have the channel at home), and saw Giada make this amazing pea and basil soup. I knew that I needed to put this on my list of things to cook. This was super easy to make and although it is a warm soup it's light and creamy and works for the dog days of summer. After cooking this you could easily serve this as a chilled soup if desired.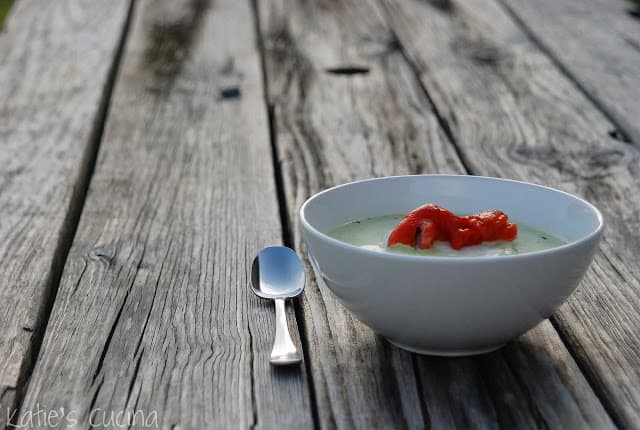 On a side note, the recipes says to float the slice of mozzarella… not so much. It will sink to the bottom. I had to make the optical illusion just as the photo on the Food Network page did. I had to put 6 thick slices of mozzarella cheese in the bowl of soup in order for you to see the mozzarella!


*Remember to enter the Eggland's Best Giveaway–today is the last day to enter!*


Source: Giada De Laurentiis
Prep Time: 15 minutes
Cook Time: 10 minutes
Servings: 4-6


Ingredients:

2 tablespoons olive oil

1 tablespoon

butter

1 small

onion

, diced

1

clove

garlic, minced

1 teaspoon salt

½ teaspoon freshly ground black pepper

1 ½ pounds (about 4 ½ cups) frozen peas

¾ cup chopped fresh basil leaves

2 cups

chicken broth (or vegetable stock)

, divided

2 cups cream

4 to 6 very thin slices fresh

mozzarella

cheese

¼ cup diced roasted red bell peppers (jarred is fine)
1. Place a medium
soup
pot over medium heat. Add the olive oil, butter, onions,
garlic
, salt and pepper. Cook until the onions are soft and translucent, about 5 minutes. Add the peas and
basil
, and heat until the peas are thawed.
2. Place the pea mixture in a
blender
. Add 1 cup of the chicken broth and
pulse
until pureed, adding more broth, if necessary, to puree. Return the pureed mixture to the pot. Stir in the remaining chicken broth and
cream
. Return the pan to medium heat and cook until hot, but not boiling.
3. To serve, place the soup in bowls.
Float
a thin slice of fresh mozzarella
cheese
on top of each soup and sprinkle with the diced roasted red bell peppers. Serve immediately.