Pea and Parmesan Risotto with Shrimp Caprese Salad
I received products and payment from Genuine Thermos Brand as compensation for the post, and Genuine Thermos Brand did not influence any opinion of this product. All views and opinions expressed in the post are my own and no other compensation was provided.
Rev up your sad lunch and make my recipe for Pea and Parmesan Risotto with Shrimp Caprese Salad.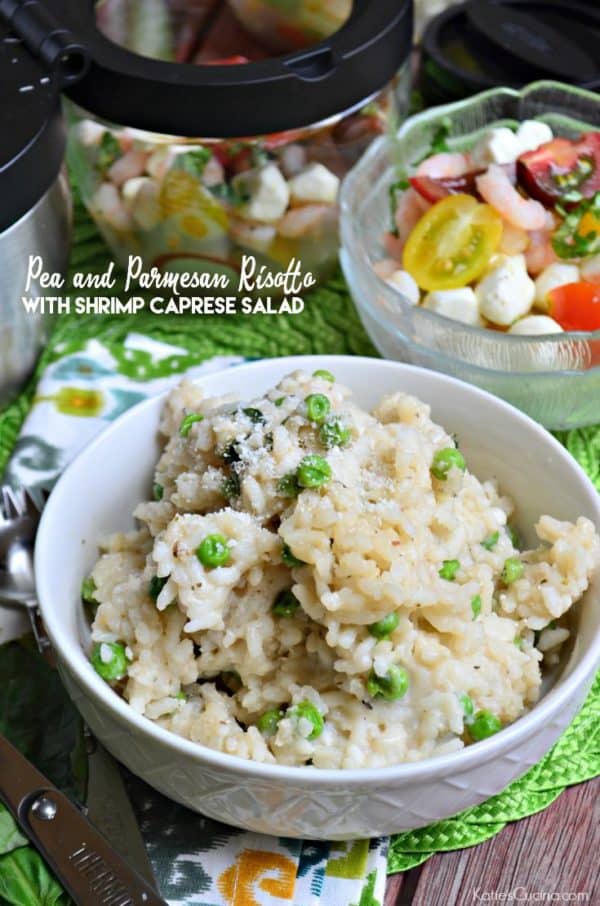 Last Sunday, I shared with you my recipe for Shredded Chicken Burrito Bowls, this week I'm sharing another fabulous lunch recipe for Pea and Parmesan Risotto with Shrimp Caprese Salad. Lunch doesn't have to be boring any more thanks to Genuine Thermos® Brand Dual Compartment Food Jars! You can pack both hot and cold items in one container! Best of all the hot portion stays warm up to 5 hours even when refrigerated. Ideal for those on the go and don't have time to heat up food. I made this recipe for dinner. The next morning I reheated the risotto and packed it into the Genuine Thermos Brand Dual Compartment Food Jar. I packed the other side with the caprese salad and sent my hubby off to work. He placed his Dual Compartment Food Jar in the refrigerator and when it was time to eat his food was still remarkably hot. He was in shock and enjoyed the extra minutes of his lunch break eating instead of waiting for his food to heat!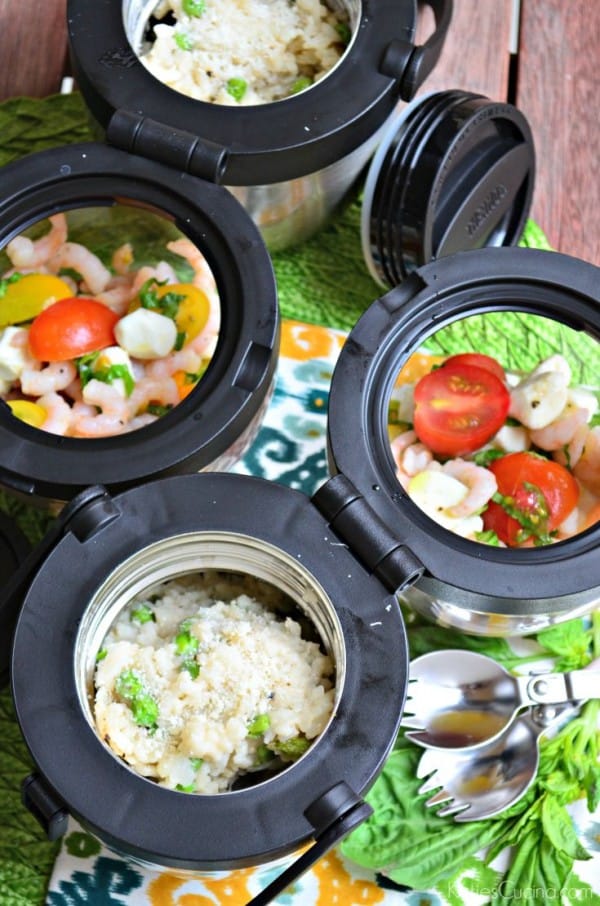 We love risotto in our house. It's pure comfort food and heats up beautifully for leftovers. A little goes a long way and I think that's another reason why I love it. Plus the combinations are endless. My husband also always welcomes leftover risotto for lunch. This was the first time our Ryder tried risotto. I gave it to him in little bite-size ball pieces. He loved it and even ate the peas. I watched as he would pick the peas out. I figured he would just leave them on his tray. Nope he actually ate them. I was in shock! He hasn't ate peas in months. I guess he loved the parmesan flavoring on them so much that he just gobbled them up. He also enjoyed the shrimp caprese salad too! The mozzarella pearls are perfect finger food for toddlers. He has loved tomatoes since the first time he tried them. Ryder is such a great eater. We are so blessed!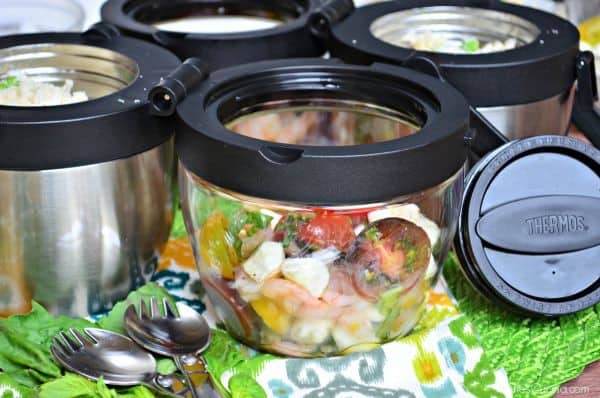 So as the school year starts or if you are just in a lunch rut I highly suggest you try my recipe for Pea and Parmesan Risotto with Shrimp Caprese Salad. I can see myself packing this type of lunch for Ryder in a few years as he goes off to elementary school. I'm pretty sure he will be the biggest foodie in his grade. His appetite and taste buds are better than some adults I know. If you like risotto and love shrimp and caprese salad I can assure you this recipe is sure to be a new lunch favorite!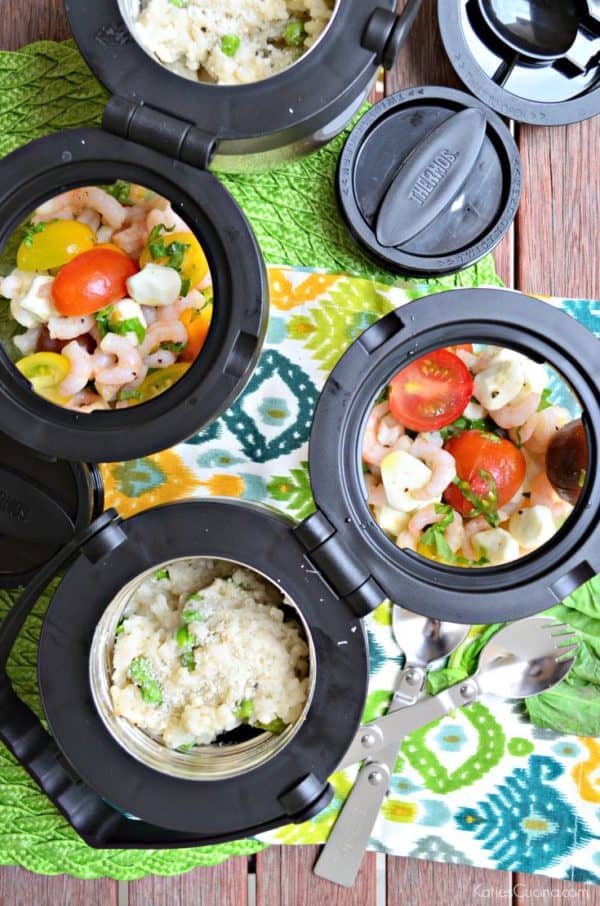 Warning
: Use of undefined constant rand - assumed 'rand' (this will throw an Error in a future version of PHP) in
/home/kjasiewicz21/webapps/katiescucina/wp-content/themes/katiescucina/single.php
on line
74
6 Responses to "Pea and Parmesan Risotto with Shrimp Caprese Salad"
Leave a Comment