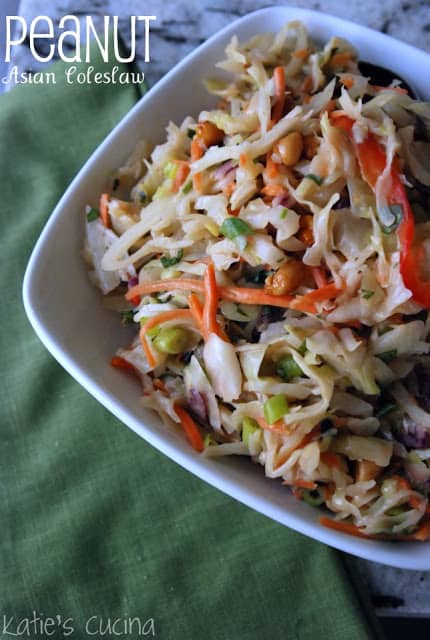 What do you do with a leftover bag of shredded cabbage (that was used for stir-fry)? Make coleslaw, of course! I've been in a peanut kick lately and wanted to make a peanut Asian slaw. After looking at countless recipes I couldn't find just one recipe that I adored… so I made my own! I based my recipe on the ingredients I had on hand. Making sure not to spend any additional money on groceries! This is a light vinegar based coleslaw perfect for picnics on a hot summer day full of crunch and flavor!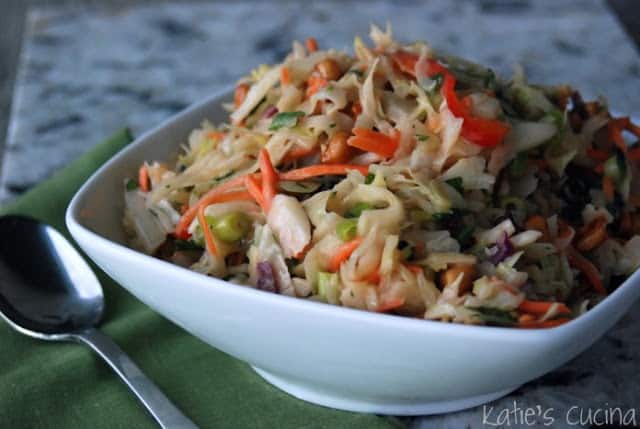 Source: Katie Original
Prep Time: 15 minutes
Servings: 6-8


Ingredients:
1 bag shredded cabbage
1/4 cup shredded carrots
4 scallions, thinly sliced
1/4 red bell pepper, julianne sliced
2 tbsp cilantro, chopped
1/4 cup honey roasted peanuts
1/4 cup sesame oil
2 tbsp rice vinegar
1 tbsp sugar
pinch of salt


Directions:
1. In a small bowl mix sesame oil, rice vinegar, sugar, and salt until well combined.


2. In a large bowl place shredded cabbage, carrots, scallions, cilantro, red bell peppers, and honey roasted peanuts. Pour the dressing mixture over the coleslaw and mix well. Refrigerate for 30 minutes prior to serving.