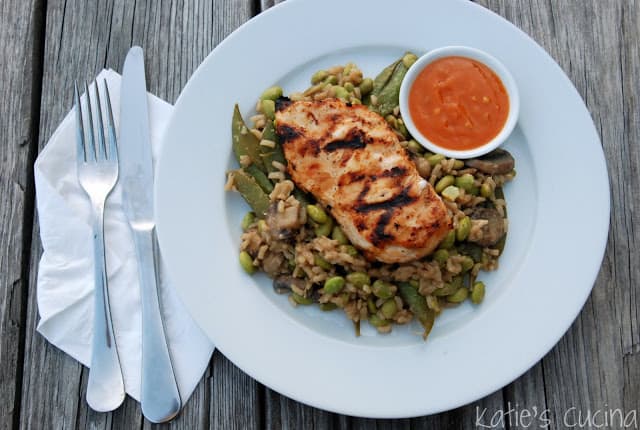 I don't know about you, but I'm always looking for new recipes. One of the places that I get quite a few recipes from and at times am inspired from is my local super market. Each Wednesday in the local cooking section the supermarket circulars for the week can be found in the paper. Not only do I look forward to finding out what is on sale (and hopefully save a little money), but I love to read the recipe for the week in the Publix's ad.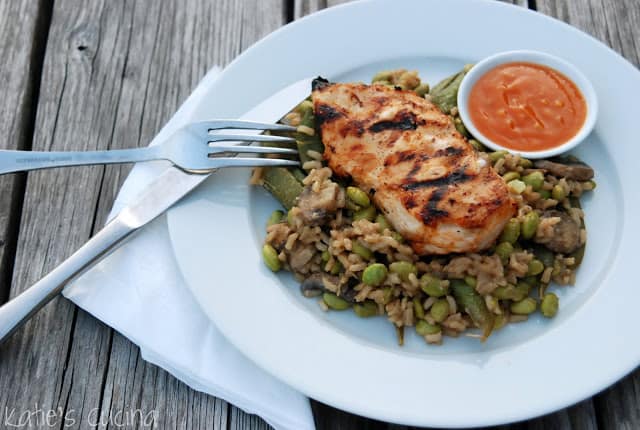 On this particular week it was an Asian style inspired dish based on a classic. Chicken Satay. I've made Chicken Satay before. What really intrigued me was the edamame sauté that accompanied this dish. The recipe called for a bag of frozen shelled edamame. What!?!? They sell edamame without the casing? After I learned this– I was determined to make this dish.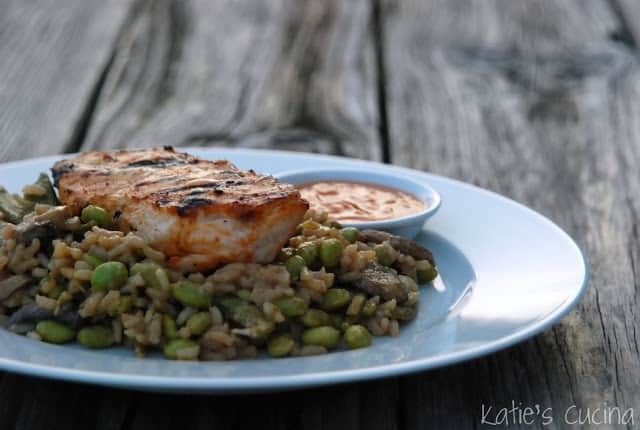 This dish is packed full of flavor. Although the meal is not entirely made from scratch it is tasty and easy to make on a busy work week evening. The horseradish sauce in the sauté takes on an almost wasabi like flavoring. It's very unique and hard to explain. Therefore, you must try it!


Source: Publix
Prep Time: 10 minutes
Cook Time: 15 minutes
Servings: 4


Ingredients for Chicken:
1 lb chicken breast tenders
1/2 teaspoon kosher salt
1/4 teaspoon pepper
1/2 cup peanut satay sauce, divided
Cooking spray
Directions for Chicken:
1. Preheat grill (or grill pan). Season chicken with salt and pepper; coat with 1/4 cup satay sauce. Let stand 5–10 minutes to marinate.
2. Coat chicken with cooking spray. Place chicken on grill (or in grill pan); grill 2–3 minutes on each side or until 165°F. Remove from grill and top with remaining 1/4 cup sauce. Serve.


Ingredients for Edamame Sauté:
1 (8-oz) package fresh sugar snap peas
2 tablespoons canola oil
1 cup fresh pre-sliced white mushrooms
1 (10-oz) package shelled edamame
1/4 cup horseradish sauce
1/4 cup mirin (or white wine)
2 tablespoons reduced-sodium soy sauce
1 (8.8-oz) pouch pre-cooked brown rice
Directions for Edamame Sauté:
1. Trim stems and strings from peas, if needed.
2. Preheat large sauté pan on medium-high 2–3 minutes. Place oil in pan, then add sugar snaps, mushrooms, and edamame; cook 2–3 minutes or until sugar snaps are tender.
3. Reduce heat to medium-low. Combine horseradish sauce, mirin, and soy sauce. Stir sauce and rice into sugar snap mixture; cook 2–3 more minutes to heat rice. Remove from heat. (Cover to keep warm until ready to serve, if needed.) Serve.