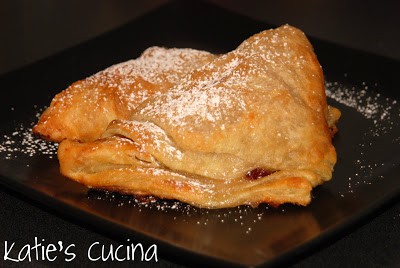 Growing up, my mother would make frozen turnovers as a dessert after dinner, two to three times a month. I had no clue that you could actually make these from scratch until I started really cooking fresh foods in my late teens. When I stumbled across this recipe I was tickled pink! I love the pear-cranberry combo and I love turnovers. Be prepared this recipe calls for quite a bit of puff pastry which means you need to plan accordingly. Frozen puff pastry takes around an hour to defrost. I failed to remember that, so these did not make it out in time to be a dessert. Instead they made for a great breakfast treat the next morning! You can store them in the refrigerator for 2-3 days and reheat in the microwave or to reinstall the crispiness of the puff pastry you can place them in your toaster oven for a few minutes.
On a side note, here's a tip I'd like to share: I buy my dried cranberries when they are buy-one-get-one free. Once I open up a bag, and if I know I'm not going to use them for a while I typically store them in my freezer. Prior to cooking with them I'll place them in a bowl of luke warm water and let them sit for 15 minutes. It restores the cranberries to be plump and juicy. You'd never know that they were once vacationing in the freezer!
3 ripe Bosc pears, peeled, quartered, cored, and diced

½ cup dried cranberries

¼ cup sugar

1 tablespoon cornstarch

1 teaspoon finely grated lemon peel

16 17 x 12 sheets fresh or frozen phyllo pastry

1 stick unsalted butter, melted

powdered sugar
1.
Preheat oven to 375°F. Line 2 large rimmed baking sheets with parchment. Combine pears, cranberries, ¼ cup sugar, cornstarch, and lemon peel in large bowl; toss to coat.
2. Stack phyllo sheets on work surface; cover with plastic wrap, then damp kitchen towel. Place 1 phyllo sheet on work surface. Brush with some of melted butter. Top with second sheet; brush with butter. Fold phyllo in half lengthwise, forming 17-inch-long strip. Place scant ½ cup pear mixture on phyllo strip, about 2 inches in from 1 short side and in center. Fold 1 corner of strip over pear mixture, then fold phyllo back and forth (like a flag), enclosing filling. Brush top with butter after each fold until entire strip is folded, forming triangle.
3. Transfer turnover, seam side down, to 1 baking sheet. Brush top with butter. Repeat with remaining phyllo, butter, and pear mixture. Place 4 turnovers on each sheet.
4. Bake turnovers until golden brown, about 35 minutes. Transfer to plates. Sift powdered sugar lightly over turnovers; serve warm or at room temperature.