Pecan-Apple RITZwich
This post brought to you by NABISCO Cookies and Crackers. The content and opinions expressed below are that of Katie's Cucina.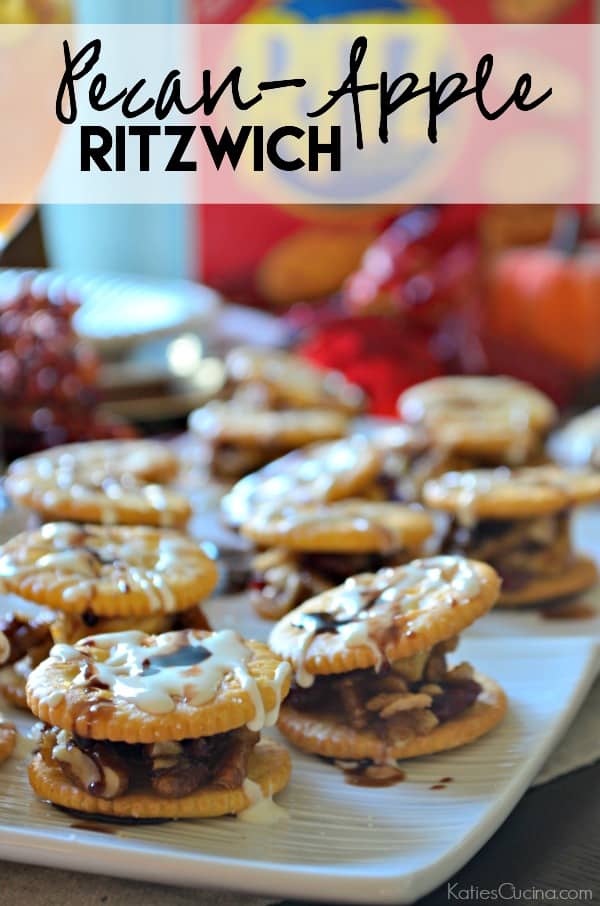 Holiday entertaining has arrived. Whether we like it or not we need to embrace it. I've partnered with my friends at NABISCO to help ease your holiday entertaining fears. Today, I'm sharing this recipe for Pecan-Apple RITZwich. Chopped pecans, dried apples and cranberries with puffed rice cereal make for a delicious fall filling and of course you can't forget the star of this sandwich, the buttery RITZ cracker. One RITZ cracker baked in the oven with the filling on top, then topped with another cracker and marshmallow cream and chocolate drizzle. The perfect dessert appetizer for this holiday season.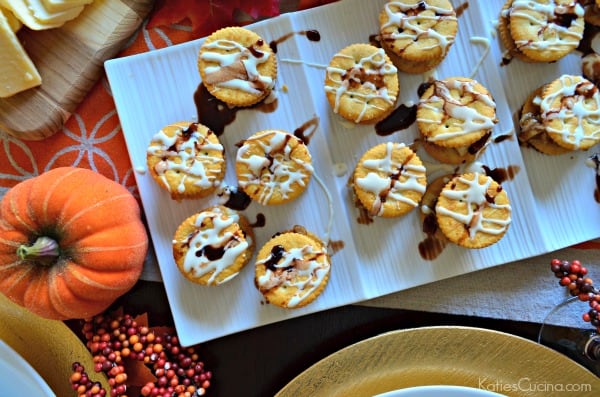 I feel like there are two types of people in life. Those who love to entertain and those who dread it. I definitely fall into the lover of entertaining. I feel like I was born to entertain and do it as often as possible. Heck, the past few years we've hosted both Thanksgiving and Christmas at my home because I love to entertain.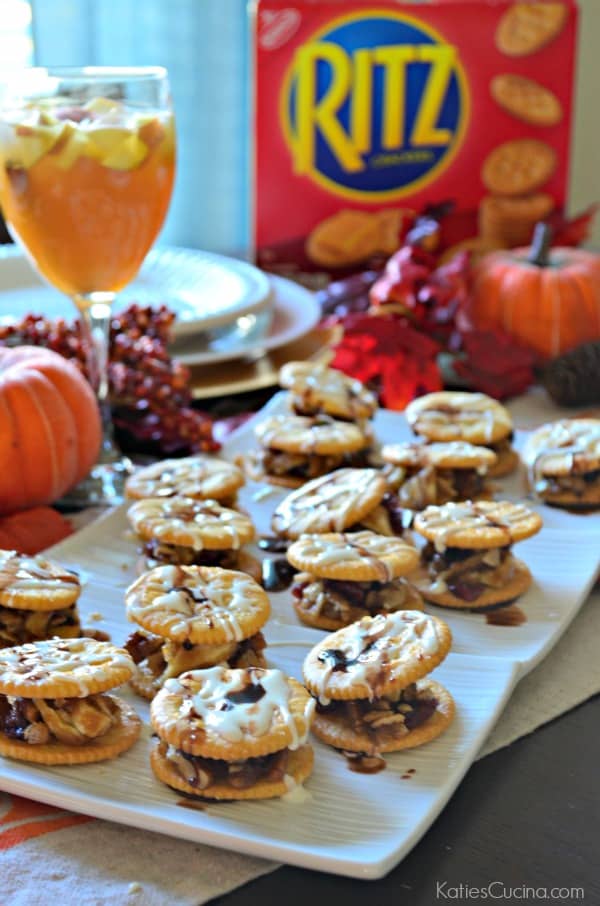 Here are a few tips for those of you who do not like to entertain to help ease you through the holiday entertaining season:
Make a list and plan out your menu!
Delegate and ask guest to contribute whether it's a beverage or a side dish.
Have 2-3 easy appetizers that are prepped before your guest arrive (think cheese and crackers, dip, and these Pecan-Apple RITZwich)
Set the table prior to your guest arriving. You can even do this a day in advance!
Don't stress. Seriously, everyone will have a blast. Either way your dinner/party will turn out great. Stressing just adds additional worry which is never good for your health!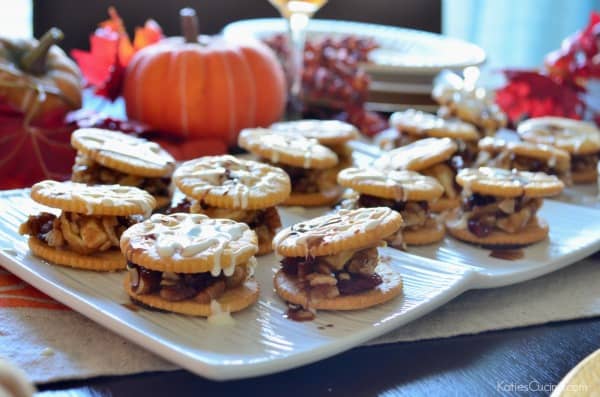 I invite you to check out and visit the NABISCO Party Planner. You can find more themed holiday recipes from NABISCO as well as coupons savings at Publix. It's a win-win!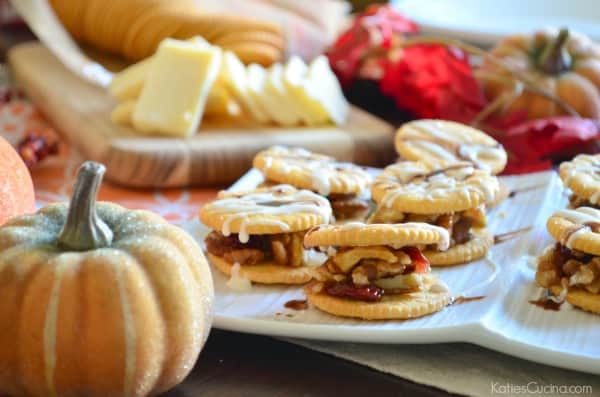 If you love RITZ crackers then I know you'll love these Pecan-Apple RITZwich. Perfect for holiday entertaining at it's finest.

Pecan-Apple RITZwich
Yield: 26
Prep Time: 1 hour
Cook Time: 12 minutes
Total Time: 1 hour 12 minutes
Ingredients:
6 Tbsp. butter
3/4 cup packed brown sugar
2 tsp. light corn syrup
1-1/4 tsp. ground cinnamon, divided
1 cup chopped toasted pecans
1/2 cup dried cranberries
1/2 cup coarsely chopped dried apple slices
1/2 cup crisp rice cereal
52 RITZ Crackers
1/2 cup marshmallow creme
4 oz. semi-sweet baking chocolate, melted
Directions:
Heat oven to 350 degrees Fahrenheit.
Bring butter, sugar, corn syrup and 1 tsp. cinnamon to boil in saucepan on medium-high heat; cook 2 min. Meanwhile, combine next 4 ingredients in medium bowl.
Add butter mixture to nut mixture; mix lightly. Cool 3 min.
Place 26 crackers in single layer on parchment-covered baking sheet; top with nut mixture.
Bake 12 min. Top with remaining crackers to make 26 sandwiches.
Microwave marshmallow creme in small microwaveable bowl on HIGH 15 sec. Stir in remaining cinnamon; drizzle over sandwiches. Repeat with melted chocolate.
Refrigerate 30 min.
These tasty snacks can be stored in the refrigerator in an airtight container up to 24 hours before serving.
Warning
: Use of undefined constant rand - assumed 'rand' (this will throw an Error in a future version of PHP) in
/home/kjasiewicz21/webapps/katiescucina/wp-content/themes/katiescucina/single.php
on line
74
One Response to "Pecan-Apple RITZwich"
Leave a Comment