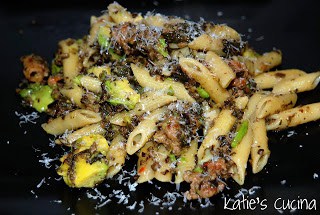 You might remember reading about an article I found the other month in an issue of Ladies Home Journal; "50 Great Budget Dinners" in the May 2010 issues. I made another dish from that article and was beyond pleased with the results! I had never had avocado warm before and was worried that we wouldn't like it. My husband's first response was "there's guacamole in this?" and I coyly responded "no, honey–that's avocado"! I was concerned that the avocado would brown the next day, but my husband said it held up great and had no signs of browning! I will definitely make this dish again!
Cook:
20 minutes

Serves:
4
Ingredients:
1lb penne pasta

1/2lb spicy Italian Sausage, crumbled

1/2 cup chopped black olives

1/2 cup Italian Dressing

2 tbsp beef broth (chicken works too)

1 avocado, diced

2 cups baby spinach

salt & pepper to taste

Parmesan cheese for topping
Directions:
1. Cook pasta according to package and set to the side.

2. In a large saute pan cook hot sausage until done. Add broth, black olives, spinach, and salt and pepper to taste. Cook until spinach has wilted. Add Italian dressing and mix well.
3. Add pasta to the pan, mix well, then add the chopped avocado. Mix until well incorporated. Plate and top with parmesan cheese. Enjoy

!
Side Suggestions:
salad and garlic bread