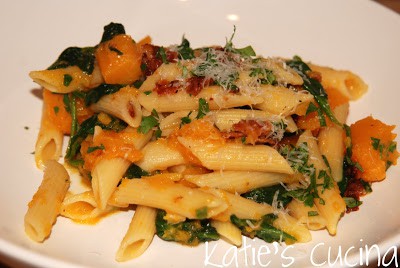 I made this recipe the other night, and it was delish! Although, I'm 85% vegetarian I love bacon, and it's one meat that I couldn't live without… This recipe has tons of bacon flavor since you cook the butternut squash and spinach right in the bacon fat! Ahhh… delicious! My mouth is watering just thinking about this dish!
1 lb penne rigate pasta

6 slices bacon

2 tablespoon extra-virgin olive oil

1 butternut squash, peeled and cut into ¾ inch cubes

3 cups baby spinach

2 cloves garlic, finely chopped

3 tablespoon chopped flat-leaf parsley

salt and pepper

¼ cup grated parmesan cheese
1
.
In a large pot of boiling, salted water, cook the pasta for 7 minutes (the pasta will only be partially cooked). Drain, reserving 2 ½ cups of the pasta cooking water.
2. Meanwhile, in an extra-large skillet, cook the bacon over medium-high heat until crisp, about 5 minutes. Drain on paper towels, then crumble the bacon once it is cool enough to handle. Discard all but 3 tablespoons of the bacon fat in the pan.
3. Add the olive oil and squash to the skillet. Cook, stirring occasionally, until browned, about 7 minutes. Add the pasta and 2 cups of the reserved pasta cooking water. Bring to a boil and cook, stirring, until the pasta and squash are cooked, about 5 minutes, adding additional pasta cooking water if needed.
4. Remove from the heat and stir in the spinach, garlic and parsley. Season generously with salt and pepper; sprinkle with the cheese and crumbled bacon.