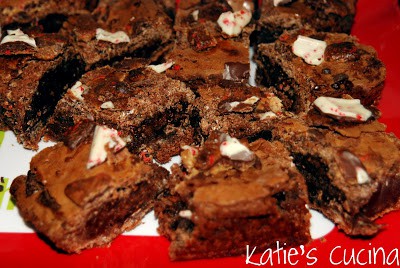 I love peppermint and I love brownies, but I've never thought about putting them both together until Annie posted this recipe on her blog a few weeks back! I'll be honest here. This was my first time ever baking brownies from scratch. I've always been a bit intimidated by it! It wasn't so bad; however, my brownies were more of fudge consistency than an actual light fluffy brownie (which wasn't bad, but just not the normal consistency I'm use too)! I also could not find peppermint kisses so I went with the Ghirardelli peppermint squares (a little on the pricey side), and put them on a little early. Annie's picture (brownies) look much better than mine; however, the end result yielded deliciousness, so I guess that's all that really matters. Whatever holiday you celebrate I hope you had/have a wonderful one and can spend it with the ones you love!
8 oz. unsweetened chocolate, coarsely chopped

1½ cups unsalted butter

3 cups sugar

6 large eggs

1½ tsp. peppermint extract

1 tsp. vanilla extract

½ tsp. salt

2 cups all-purpose flour

4 (1.55 oz) milk chocolate bars, broken into segments

1 bag Hershey's Candy Cane Kisses, wrappers removed and coarsely chopped
1.
Preheat the oven to 350° F. Line a 9×13-inch baking pan with foil and spray lightly with cooking spray.
Combine the chocolate and butter in a heatproof bowl set over simmering water; heat, stirring occasionally, until completely melted and smooth. Remove from the heat. In a large mixing bowl, whisk together the chocolate mixture with the sugar and eggs until well blended. Whisk in the peppermint and vanilla extracts and the salt. Whisk in the flour just until incorporated.
2. Spread half of the brownie batter into the prepared pan. Layer with the milk chocolate pieces. Spread the remaining batter evenly over the milk chocolate pieces. Bake 30-35 minutes.
3. Remove the brownies from the oven but maintain the oven temperature. Sprinkle the chopped Candy Cane Kisses over the top of the brownies and return the pan to the oven for 3 more minutes. Transfer to a wire cooling rack and let cool to room temperature. Chill the brownies until the candy topping has firmed up. Slice and serve.