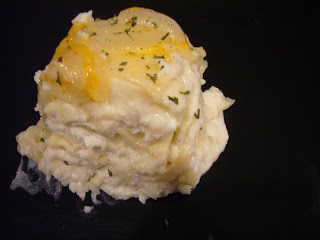 I saw this recipe for Pierogi Lasagna on the blog Tasty Family Creations, and I instantly knew I had to recreate this dish! I did not have any square or rectangular plans available, so I was forced to use a round baking dish. Next time I will definitely use a square dish, so that the insides will cook evenly. I went a little heavy on the potato filling as well… next time I'll lessen that too!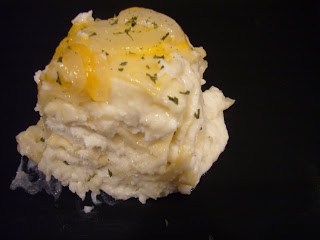 Ingredients
1

stick

butter

divided

¼

cup

onions

diced

8

sheets

Box of Oven-Ready Lasagne Noodles

4

cups

Cooked Mashed Potatoes

I use white

1

package

Farmer Cheese

1

cup

shredded cheddar cheese

1

onion

sliced in rings

1

pinch

Salt & Pepper to taste
Instructions
Melt two tablespoons butter in a 9x9 glass baking dish.

Chop potatoes into small 1 inch cubes, place in pot of cold water (enough to cover), and allow to come to a boil. Continue boil until potatoes are soft enough to yield to a fork stab.

While the potatoes are cooking add a tablespoon of butter to a small frying pan and add the ¼ cup of diced onions. Saute until translucent.

Drain, mash, blend with a mixer. Add a quarter stick of butter, ¼ cup of shredded cheddar, and enough milk to mix (I'm guessing with the ¼ cup). Add salt to taste. Once well blended add in the diced onions, and package of farmer cheese. Mix until well blended.

Melt the remaining butter over medium-high heat, then saute the sliced onions until their translucent.

Preheat oven to 375. Grease the bottom of a 9×13 baking dish with some of the onion-butter. Lay noodles on the bottom of the dish, then spread the potatoes, a dollop at a time, along the length of each noodle. Once done, smooth the potatoes, then spread about a quarter of the onion on top, and drizzle a small amount of butter as well. Repeat this twice (or more if your dish can accommodate), then top with noodles and the remainder of the onions and butter.

Place in the oven for 20 minutes. 5 minutes before you need to remove from the oven sprinkle the remaining shredded cheddar cheese on top. Make sure the middle is cooked all the way through before sprinkling cheese!
Nutrition
Calories:
512
kcal
|
Carbohydrates:
73
g
|
Protein:
17
g
|
Fat:
17
g
|
Saturated Fat:
11
g
|
Cholesterol:
46
mg
|
Sodium:
224
mg
|
Potassium:
1114
mg
|
Fiber:
8
g
|
Sugar:
3
g
|
Vitamin A:
507
IU
|
Vitamin C:
27
mg
|
Calcium:
197
mg
|
Iron:
8
mg