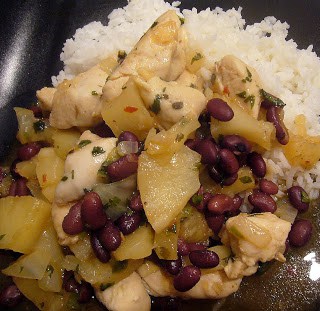 I'm so glad I tried this recipe. I was a little hesitant at first, but boy was it packed with flavor. The original recipe calls for fresh pineapple, but I didn't have any, so I used a can of pineapple. I think it turned out just as good. Because I'm not the biggest fan of meat I ate the pineapple and black beans with rice and it was beyond delicious!!! Next time I'll split the bean/pineapple mixture in half and make tofu for mine! Super good, easy to make, and best of all you should have almost everything on hand!
Cook: 30 minutes
Serves: 4
Ingredients:
1 onion, chopped
1 jalapeño chile—stemmed, seeded and finely chopped
1 ½ pounds skinless, boneless chicken breasts, cut into 1-inch pieces
Salt and pepper
½ pineapple, cut into ¾-inch pieces (about 3 cups)
½ cup jerk marinade, such as Lawry's
One 15-ounce can black beans, rinsed
½ cup chopped cilantro
Directions:
In a large skillet, heat 2 tablespoons olive oil over medium heat. Add the onion and jalapeño and cook until the onion is browned, 7 minutes; transfer to a bowl.
Add the remaining 2 tablespoons olive oil to the same skillet and increase the heat to medium-high. Season the chicken with salt and pepper, then add to the pan and cook until browned, 5 to 7 minutes. Add the pineapple and jerk marinade and simmer until the chicken is cooked through, 2 to 3 minutes. Stir in the onion mixture, black beans and cilantro; cook until the beans are heated through, about 1 minute. Season with salt and pepper and serve over the rice.
Side Suggestions:
white or brown rice