Pineapple Stuffed French Toast with Coconut Syrup
This post is brought to you by World Market.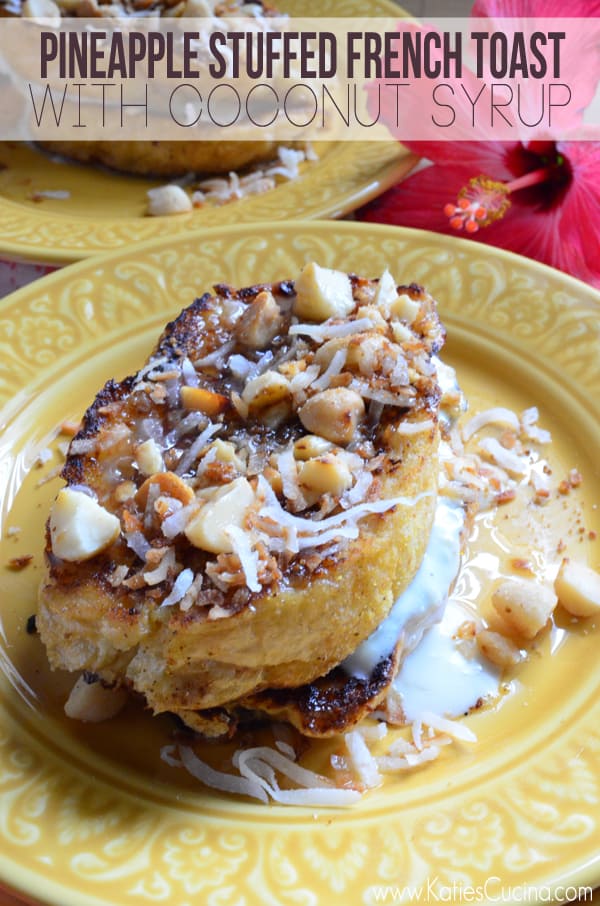 Mother's Day is two weekends away. What are you planning to do for your mom? When I was a teenager I started the tradition of taking my mom to the beach and enjoying a brunch picnic together; however, we haven't been able to do that in years. And now that I'm a new mom I don't think I can swing the beach this year, but I'm sure its a tradition we will start up next year with my little family. We typically go out to a big fancy brunch with my husband's family and that evening have my parents over for a home cooked meal. Some years, if my mom isn't working I'll cook her brunch at our home.
I love cooking breakfast and brunch. One thing that I've done consistently since being a new mom is cook breakfast. 3 days home from the hospital and I was cooking breakfast for my husband and I! This is my first official recipe I've created since having the baby and I must say I think I've hit it out of the park!
When World Market asked me to create a recipe for their Mom In Paradise sweepstakes I knew exactly what I was going to make. I wanted to go along with the Hawaiian theme (dude, you can win a Hawaiian vacation), so I created a recipe for Hawaiian-style Stuffed French Toast. They have a rather large food and drink selection at World Market and a nice variety of Hawaiian products to help you host the perfect Hawaiian themed brunch this mother's day!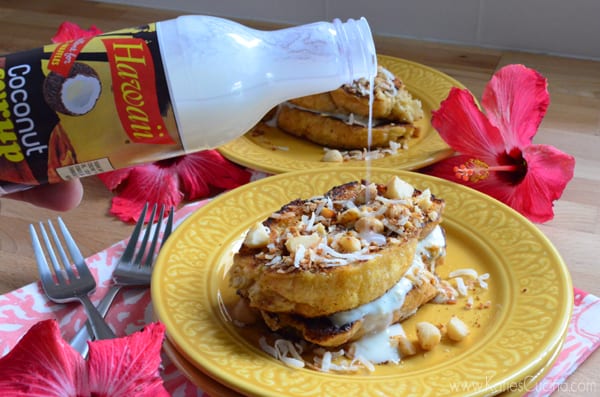 My recipe for Pineapple Stuffed French Toast with Coconut Syrup consist of thick slices of french bread infused with coconut syrup, and slathered with a cream cheese-pineapple filling and topped with toasted macadamia nuts and coconut flakes oh and more of that decadent coconut syrup. If you've never had coconut syrup before, run don't walk to your nearest World Market and pick up a few bottles. I could drink the stuff–it's that good and quite addicting.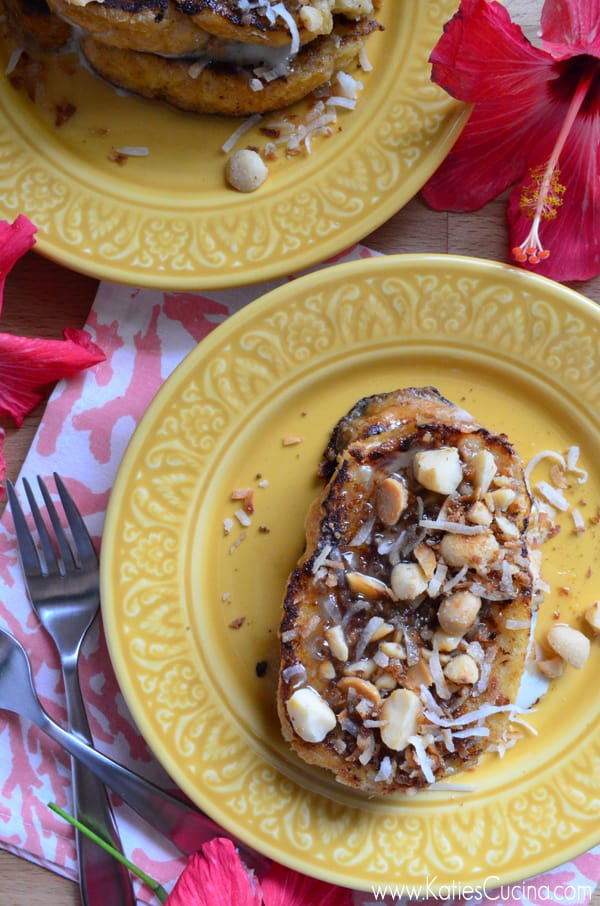 My mom has always dreamed of going to Hawaii and I know she'll be entering the sweepstakes. I think of Hawaii as a great family destination and dream of having a big family trip their in a few years. Their are things to do for all ages! And of course the food looks and sounds amazing! So if you can't treat mom to a Hawaii vacation this mother's day why not create a Hawaiian themed brunch to make her feel like she is visiting the Big Island for the morning!And make sure you check out the Mother's Day Shop at World Market! They have perfect gifts that everyone mom would enjoy!
Katie Original Recipe
Pineapple Stuffed French Toast with Coconut Syrup
Ingredients
For The Topping:

1/4 cup coconut flakes
1/2 cup Royal Hawaiian Sea Salt Macadamias chopped

For the Filling:

1/4 cup cream cheese, whipped
1/4 cup crushed pineapple, drained

For the French Toast:

1 stick unsalted butter, divided
1 cup milk
2 eggs
1/4 cup Flavors of Hawaii Coconut Syrup, divide plus more for topping
1/8 tsp nutmeg
8 slices french bread, cut 1-inch thick
Directions
For the Topping:

In a small frying pan toast coconut flakes and chopped Royal Hawaiian Sea Salt Macadamias until golden brown (on high 1-2 minutes, shaking continuously so they don't burn). Remove from heat set in a bowl and toss with 1 teaspoon Sweet Tree Organic Coconut Palm Sugar.

For the Filling:

Combine cream cheese, drained crushed pineapple and Flavors of Hawaii Coconut Syrup. Mix well and set in the refrigerator until your ready to plate the french toast.

For the French Toast:

Heat a skillet on medium heat, melt half the butter in the pan. Mix together the milk, eggs, 1/4 cup
Flavors of Hawaii Coconut Syrup, nutmeg, and Sweet Tree Organic Coconut Palm Sugar. Place each piece of French bread into the egg mixture, flip on both sides, and then place on skillet. Cook on each side until golden brown (about 3-5 minutes). Place one piece of french toast on a plate, add 1 tablespoon of the cream cheese mixture to the top of the french toast then add an additional slice on top. Top with 1 tablespoon of macadamia/coconut flake mixture. Repeat until you have 4 servings. Serve with Flavors of Hawaii Coconut Syrup.
Notes
Use 1 tablespoon of butter per slice of french toast in the skillet.
https://www.katiescucina.com/pineapple-stuffed-french-toast-with-coconut-syrup/
This recipe is brought to you by Katie Jasiewicz of Katies Cucina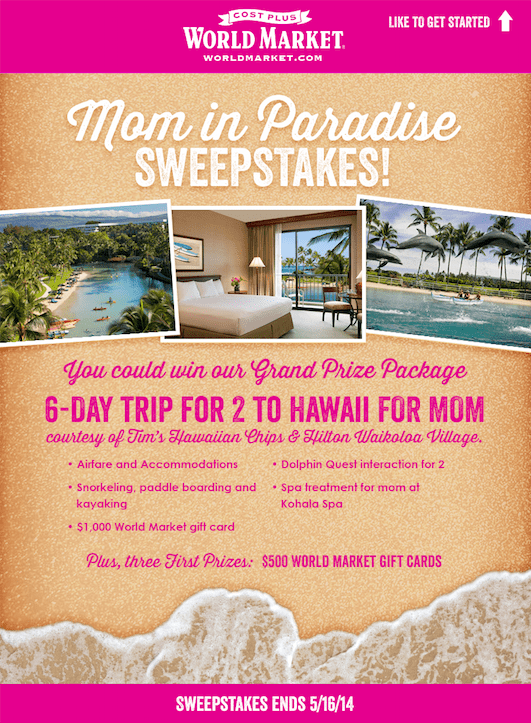 Mom in Paradise Sweepstakes; Enter for a chance to win a 6 day trip for 2 to Hawaii for mom courtesy of Tim's Hawaiian Chips & Hilton Waikoloa Village Hotel!
Grand Package includes:

Airfare and Accommodations
Snorkeling, Paddle Boarding and Kayaking
Dolphin Quest interaction for 2
Spa Treatment for mom at Kohala Spa
$1000 World Market gift card
3 Runner Up Prizes:  $500 World Market gift card
Participants can earn bonus entries for liking and sharing contest on Facebook, Twitter, Pinterest, Instagram pages for more chances to win.
Disclaimer: I was compensated to create this recipe and share about the Mom in Paradise sweepstakes. As always all opinions are my own.
Warning
: Use of undefined constant rand - assumed 'rand' (this will throw an Error in a future version of PHP) in
/home/kjasiewicz21/webapps/katiescucina/wp-content/themes/katiescucina/single.php
on line
74
5 Responses to "Pineapple Stuffed French Toast with Coconut Syrup"
Leave a Comment