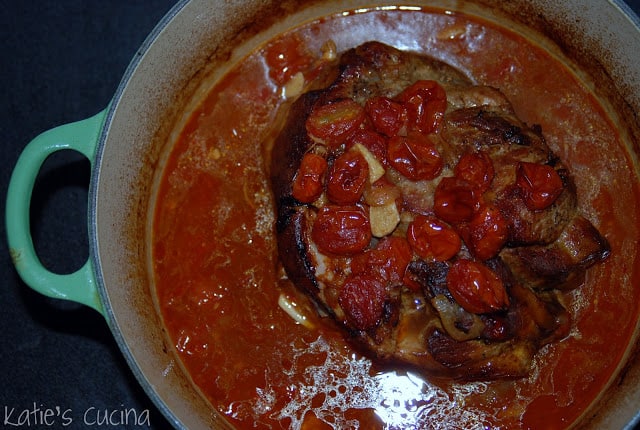 I don't cook pork often. In the past year I have tried cooking it more often for my husband… more often meaning once a month. Whether that be pork chops, a loin, or in this case a shoulder roast. I've never been a fan of pork (minus bacon) and to be a little too honest my body just can't digest it well! I saw this recipe in the December issue of Every Day Food and the picture lured me in… I was sold, and I knew my husband would love it! The aroma that filled the house was unexplainable. Even I couldn't wait to try this pork dish. Since this recipe made a lot of food and I was just cooking for my husband and I — I invited my neighbor over for an impromptu dinner. We all loved this meal! I served it with mashed potatoes (and not pictured steamed asparagus). You could taste the smokiness from the paprika throughout the dish. I will definitely be making this again, sometime soon!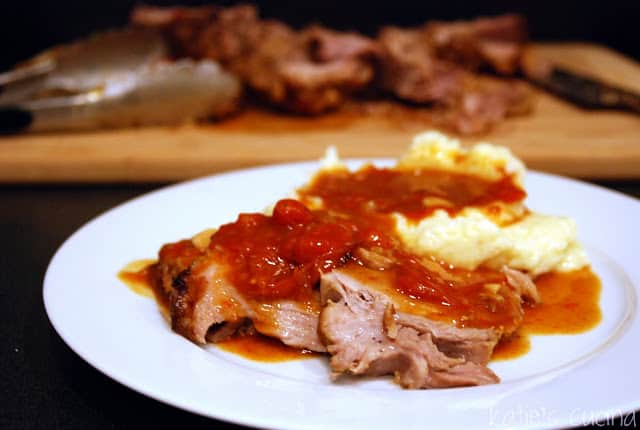 Author:
Cook time:
2 hours 30 mins
Ingredients
3lbs boneless pork shoulder
salt and pepper
2 tbsp olive oil
1 large onion, thinly sliced
2 garlic cloves, minced
2 pints cherry tomatoes
2-1/2 cups low sodium chicken broth
2 tbsp red-wine vinegar
4 tsp smoked paprika
Instructions
Preheat oven to 350 degrees.
Season pork with salt and pepper. In a large Dutch oven (or in my case a French oven) or heavy pot, heat 1 tablespoon olive oil over medium heat. Add pork, fatty side down, and cook, turning each side until all sides are browned (about 10 minutes). Remove pork from the pot, drain excess fat if necessary, and add onion. Cook until fragrant about 5 minutes and then add garlic and cook until fragrant about30 seconds. Add tomatoes to the pot and season with more salt and pepper. Add broth and vinegar and cook, stirring and scraping up browned bits. Return pork to pot (tomatoes and broth still in pot), sprinkle with paprika. Bring mixture to a boil over high on the stove top.
Once the pork has come to a boil, cover, and transfer to oven; cooking for one hour. Remove the pot from the oven, and turn the pork. Return back to the oven and cook uncovered for an additional hour (basting pork every 15 minutes). Using a meat thermometer make sure the internal temperature of the pork reaches at the very minimum 145 degrees. Transfer pork to a cutting board and let it rest for 15 minutes. Slice pork and serve with sauce.