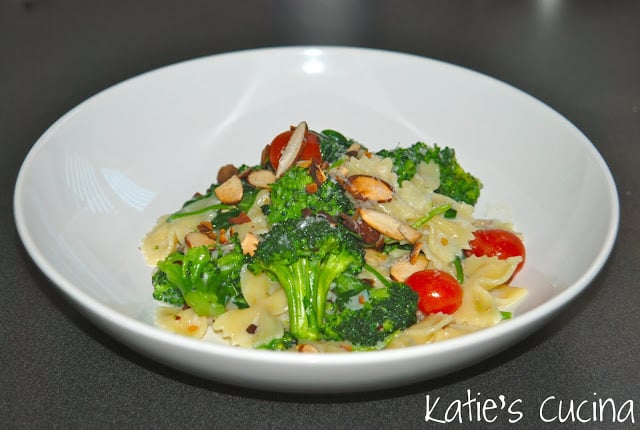 I love pasta primavera. Pasta, creamy sauce, and vegetables; what more can a girl ask for! I found this recipe in Mid-March, and made it a week later for a quick lunch! I've mentioned before that I'm in recipe back-log, and this is definitely proof of it! Hence the reason for just posting it now (and not having a gorgeous photo of it)!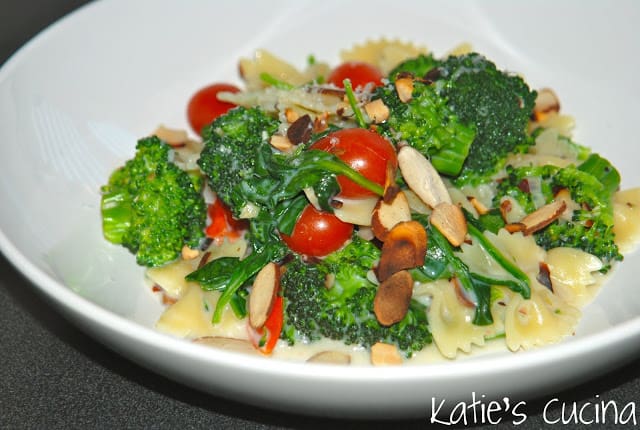 I loved the flavors of the toasted sliced almonds; however, my husband wasn't as big of a fan of them and picked out most of them. I kept all vegetables pretty al dente as the recipe called for and to be honest I don't think I'd change a thing from this recipe (maybe lessen the use of sliced almonds for those who are not big nut fans in pasta dishes)! I hope you enjoy this dish as much as I did!
Source: Orlando Sentinel 3/16/2011
Prep Time: 5 minutes
Cook Time: 15 minutes
Servings: 6

Ingredients:
12 ounces bow tie or shell pasta
4 cups fresh broccoli florets
1/2 cup toasted sliced almonds
1/2 cup thinly sliced red onion
1-1/2 tsp olive oil
1 cup milk
1 cup halved grape tomatoes
2 tbsp freshly grated Parmesan, plus more for garnish
1 tbsp cornstarch
1 tsp minced garlic
1/2 tsp salt
2 cups lightly packed spinach leaves, cut in 1/2 inch strips

Directions:
1. Cook pasta; add broccoli in last 2 minutes. Drain; return to pot. Crush half of nuts. In pan on medium, cook onion in oil for 5 minutes. Mix in milk, crushed nuts, cheese, cornstarch, garlic and salt. increase heat to medium-high; boil stirring, 3 minutes.

2. Remove from heat. Stir in spinach and tomatoes; pour on pasta and broccoli. Spoon into bowls; garnish with almonds and additional Parmesan.