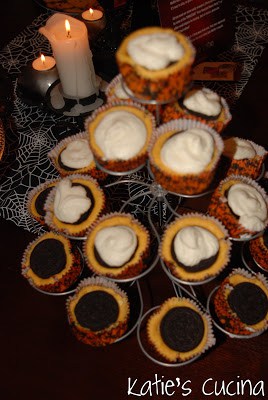 I stumbled across the blog, Inside BruCrew Life and found what I felt would be an awesome and easy recipe for Pumpkin Oreo Cheesecakes. Some would question why I would even choose to bake a recipe that I might not be interested in. Let's face it… not a fan of oreo's OR pumpkin. But I wanted to give this a try for not only my friends and family at our Tombstone Pizza Party, but also for my followers! I have to keep a diversified recipe index or I know you guys will get bored! Well I'm so glad I choose to bake this recipe not only did everyone love this… I LOVED IT! Yes, the nay-saying oreo hating cook; LOVED IT! Although I had whipped cream already in my fridge in a can I wanted to make my own (because I had heavy cream on hand too)! Below you'll find a super easy recipe on how to make your whipped cream as well!
2-8 oz pkgs. cream cheese, softened

½ c. sugar

2 eggs

2 tablespoon sour cream

1 teaspoon vanilla

½ c. canned pumpkin

48 oreos + a few for crumbling

whipped cream
2. Place cupcake liners in a muffin pan. Beat the cream cheese until creamy. Add the sugar and cream again. Add the eggs one at a time beating after each one. Add the rest of the ingredients and beat again.
3. Place one whole oreo in the bottom of the cupcake liners and fill up the liner ¾ full with the cheesecake batter. Push another whole oreo into the top of the batter.
4. Bake for 20-22 minutes. Cool in pan for 15-20 min before removing and placing on a wire rack to finish cooling. Keep refrigerated. Top with whipped cream and oreo sprinkles before serving.
Now for the whipped cream…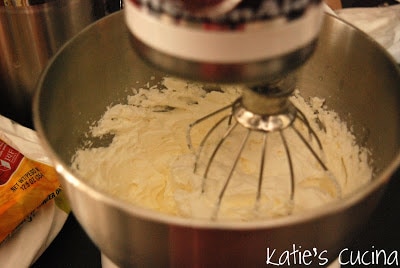 Ingredients for the whipped cream:
2 cups heavy whipping cream

½ cup powdered sugar, sifted
1.

Using a large mixer add 2 cups of heavy cream and ½ cup of sifted powdered sugar. Beat on medium for 30 seconds until you notice that it's not really liquid any more. Then beat on high for 2-3 minutes until peaks begin to form. Refrigerate and store for up to 1 week.