Pumpkin Spice Bundt Cake with Buttermilk Icing
William's Sonoma Bundt Pan Make this delicious seasonal Pumpkin Spice Bundt Cake with Buttermilk Icing recipe for breakfast or dessert in under an hour.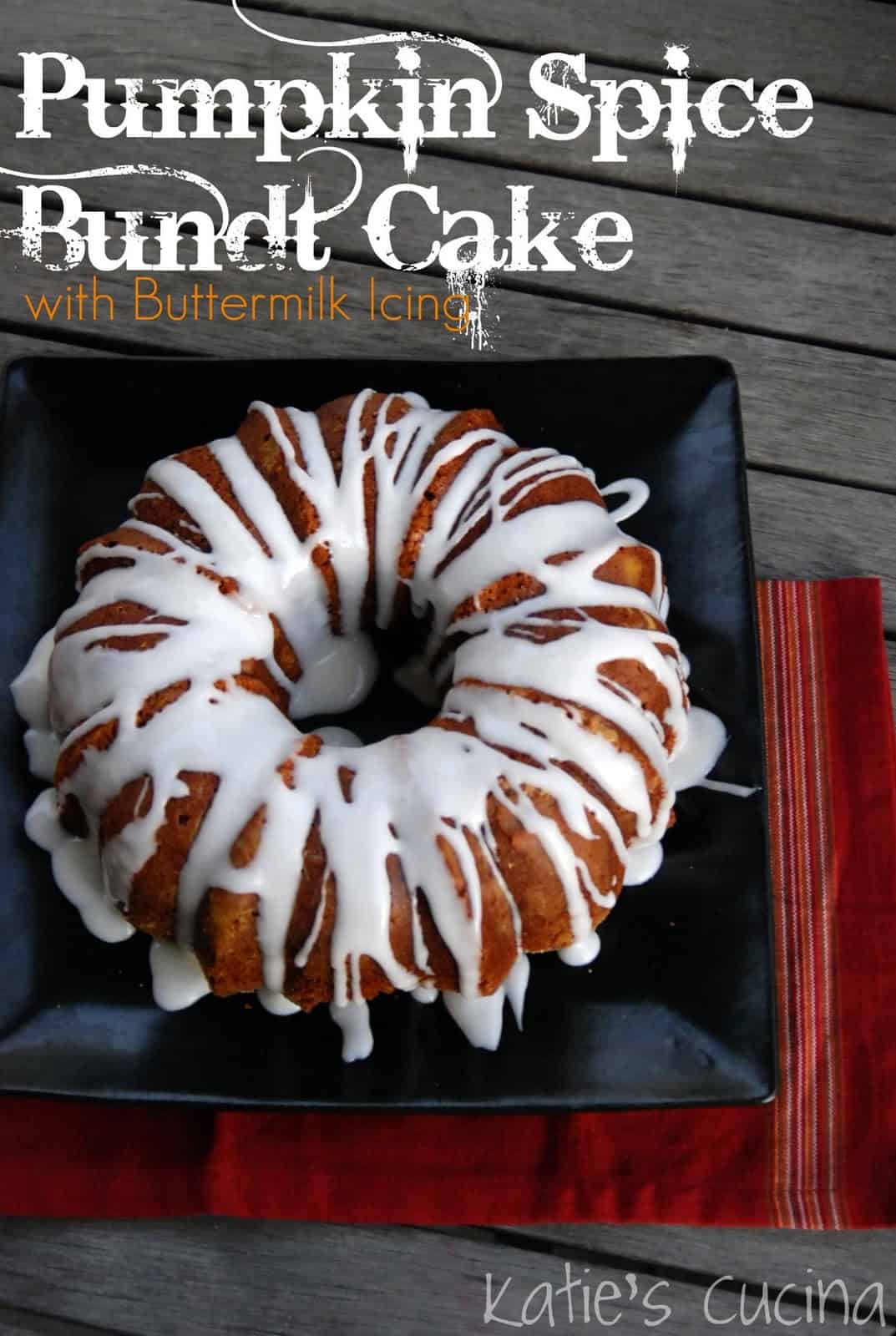 I'm not a huge fan of pumpkin; however, I can't get enough of pumpkin bread! There is something about the spices that lure me in every time! Growing up my mom always made pumpkin bread from a box mix. Me, being the naive young child– I had no idea that people could make this from scratch. I hardly ever use my fancy William's Sonoma Bundt Pan that I received as a wedding gift, so when I was searching for a recipe this one for Pumpkin Spice Bundt Cake with Buttermilk Icing caught my eye. Not just because of the bundt pan, but because I was looking to use up my buttermilk!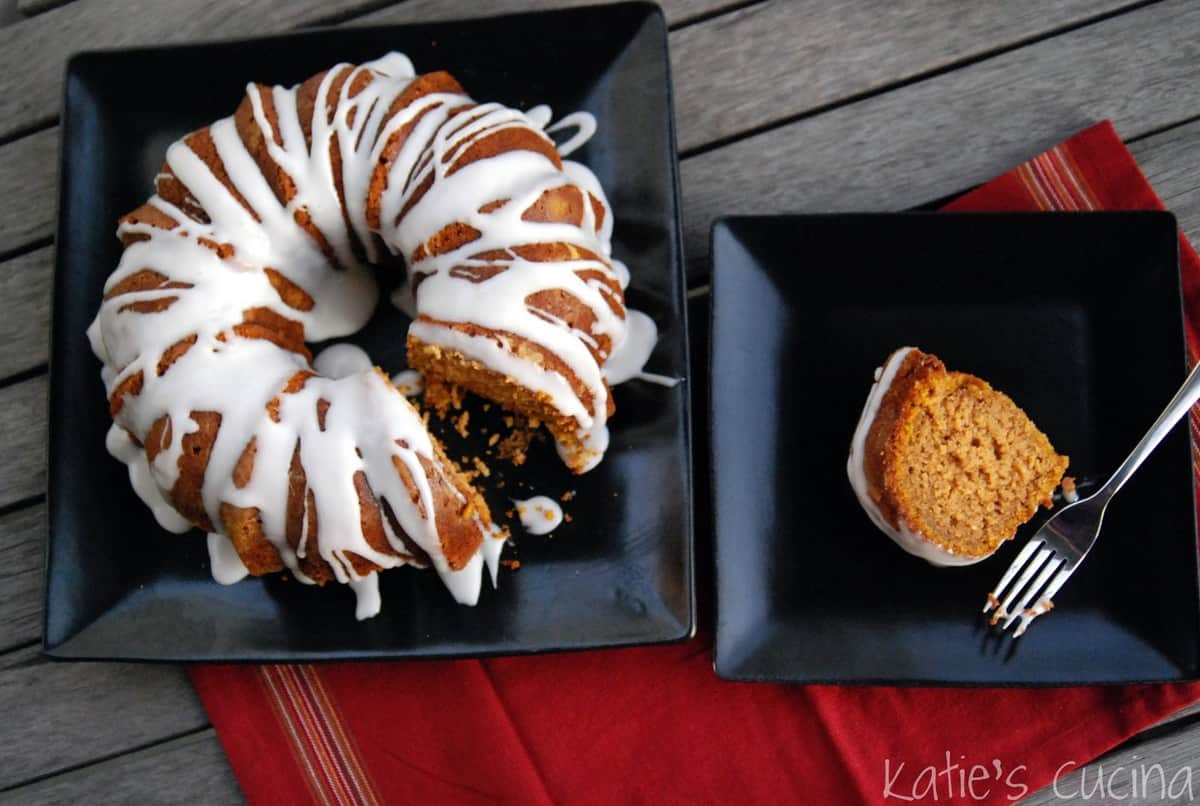 This cake by far out beats any box mix out on the market. It's amazing. It's moist, and full of fall flavors. I did alter the icing recipe. I only used 1 cup of confectioners sugar opposed to the additional half cup the recipe suggested and I used 3 tablespoons of buttermilk. I've made this recipe two times in one week.  Just looking at these pictures intrigues me to make another one for my family arriving in town soon! 
If you love pumpkin bread with raisins then I have the recipe for you. Instead of the bundt pan you'll need a loaf pan instead. It takes longer to cook, but well worth the wait.
If your looking to make your own delicious homemade pumpkin spice cake I hope you'll give this recipe for Pumpkin Spice Bundt Cake with Buttermilk Icing a try!



Pumpkin Spice Bundt Cake with Buttermilk Icing
Yield: 12
Prep Time: 10 minutes
Cook Time: 30 minutes
Total Time: 40 minutes
Ingredients:
Ingredients for the Cake:
1 1/2 sticks (3/4 cup) unsalted butter, softened, plus additional for greasing bundt pan
2 1/4 cups all-purpose flour plus additional for dusting pan
2 tsp baking powder
1 tsp baking soda
1 tsp cinnamon
3/4 tsp ground allspice
1/2 tsp salt
1 1/4 cups canned solid-pack pumpkin
3/4 cup well-shaken buttermilk
1 tsp vanilla
1 1/4 cups granulated sugar
3 large eggs
Ingredients for the Icing:
3 tbsp well-shaken buttermilk
1 cup confectioners sugar
Directions:
1. Put oven rack in middle position and preheat oven to 350°F. Butter bundt pan generously, then dust with flour, knocking out excess.

2. Whisk together flour (2 1/4 cups), baking powder, baking soda, cinnamon, allspice, and salt in a bowl. Whisk together pumpkin, 3/4 cup buttermilk, and vanilla in another bowl.

3. Beat butter (1 1/2 sticks) and granulated sugar in a large bowl with an electric mixer at medium-high speed until pale and fluffy, 3 to 5 minutes, then add eggs and beat 1 minute. Reduce speed to low and add flour and pumpkin mixtures alternately in batches, beginning and ending with flour mixture and mixing until batter is just smooth.

4. Spoon batter into pan, smoothing top, then bake until a wooden pick or skewer inserted in center of cake comes out clean, 45 to 50 minutes. Cool cake in pan on a rack 15 minutes, then invert rack over cake and reinvert cake onto rack. Cool 10 minutes more.

5. While cake is cooling, whisk together buttermilk and confectioners sugar until smooth. Drizzle icing over warm cake, then cool cake completely. Icing will harden slightly.
Warning
: Use of undefined constant rand - assumed 'rand' (this will throw an Error in a future version of PHP) in
/home/kjasiewicz21/webapps/katiescucina/wp-content/themes/katiescucina/single.php
on line
74
4 Responses to "Pumpkin Spice Bundt Cake with Buttermilk Icing"
Leave a Comment