Pumpkin Spice Caramel Chocolate Chip Pancakes
Thank you Litehouse for sponsoring today's recipe. As always, all opinions are my own.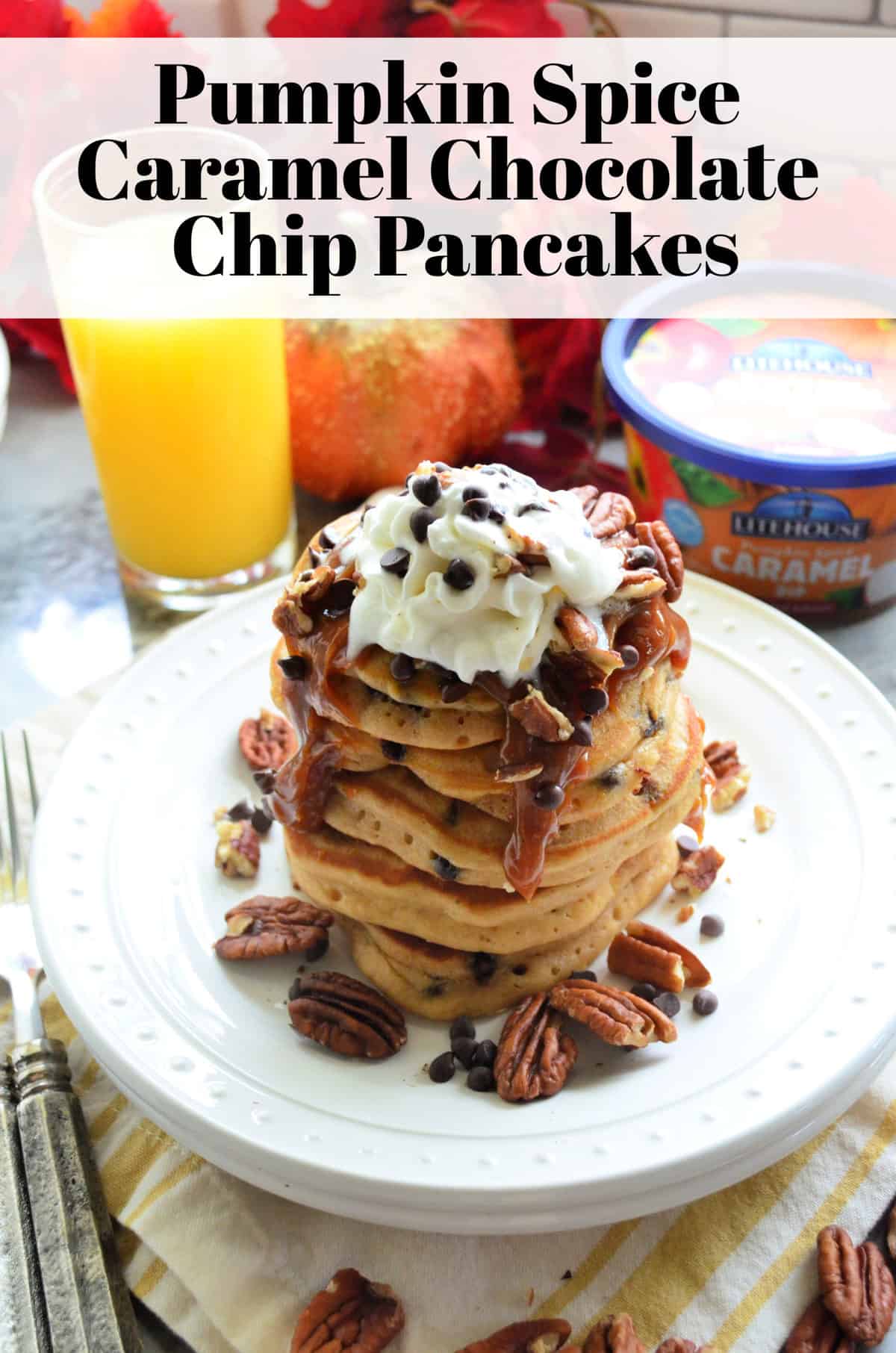 It's the last full week of September, and I'm finally sharing my first pumpkin recipe of the season. I feel like I held out way too long! Pancakes are one of my family's favorite breakfast items. You can find me making them at least once a month on the weekend. Whatever we have left over, I'll freeze to reheat for easy homemade breakfasts throughout the week. As we usher in the cooler weather what better way to do it than by using the Litehouse® Pumpkin Spice Caramel Dip to transform everyday pancakes into something spectacular. I created this recipe for Pumpkin Spice Caramel Chocolate Chip Pancakes in partnership with Litehouse® Foods!
If you're a fan of the flavor of pumpkin spice, you'll love these pancakes. Each bite of the pancake on its own has a slight pumpkin spice taste, and then you get the creamy pockets of chocolate chips. If you really love pumpkin spice, you can add a nice slather of the Pumpkin Spice Caramel Dip, plus whipped cream, chopped pecans and more mini chocolate chips!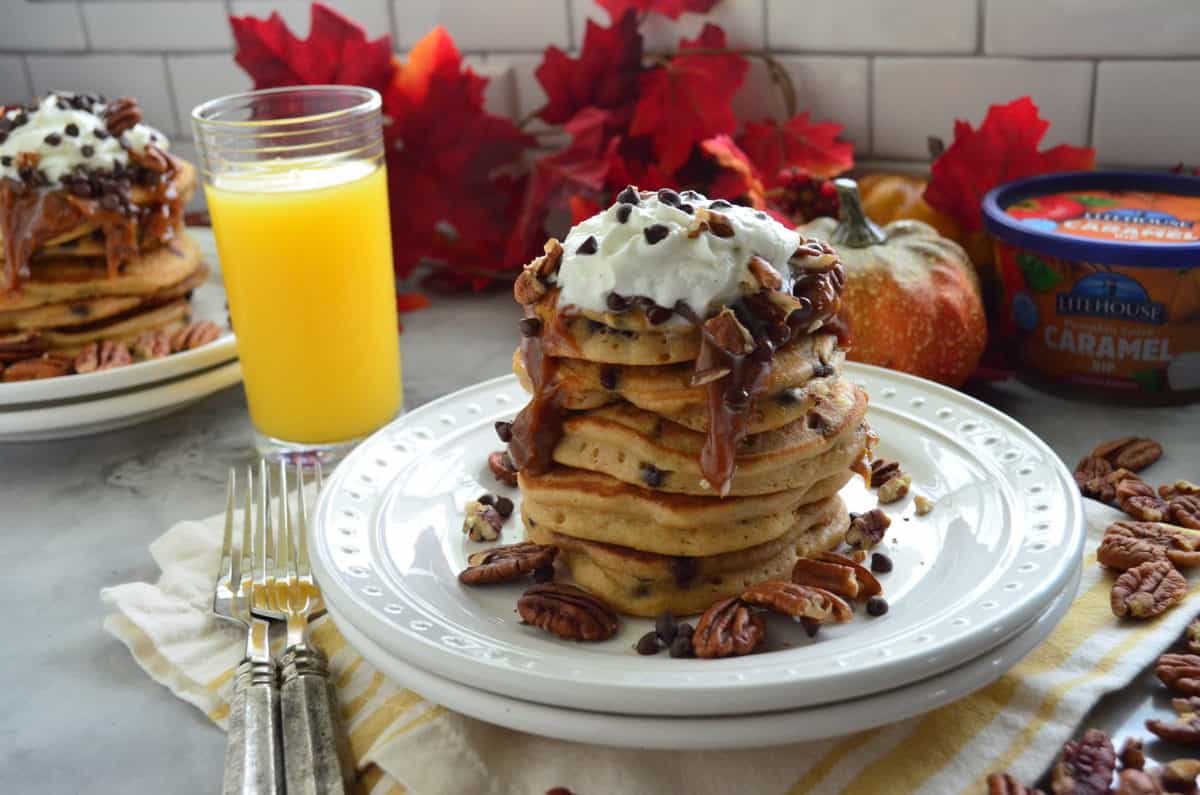 How do you make Pumpkin Spice Caramel Chocolate Chip Pancakes?
Using a stand mixer fitted with a paddle attachment, place the milk, egg, melted butter and 1/4 cup Litehouse® Pumpkin Spice Caramel Dip in the bowl. Mix on medium-low speed for 1 minute.
Turn the mixer off, scrape the sides of the bowl with a silicone spatula. Then add in the all-purpose flour, baking powder, baking soda and salt. Mix for an additional minute on medium-low speed and slowly add in the melted butter.
Towards the end of the 1 minute add in the in 1/4 cup mini chocolate chips. Mix until well incorporated.
Preheat a large frying pan on medium heat. Spray with cooking spray. Then reduce to medium-low heat. Ladle 1/4 cup of batter into the frying pan.
Cook for 2-3 minutes or until bubbles begin too appear. Carefully, flip the pancake over and cook for an additional 1-2 minutes.
Remove from the pan, and repeat until all the batter is cooked. Before serving top each pancake with a spoonful of Litehouse®  Pumpkin Spice Caramel, whipped cream, crushed pecans and mini chocolate chips.
Enjoy.

How do you keep pancakes warm before serving?
I'm going to share with you my secret tip to keeping the pancakes warm while cooking in batches. Place the cooked pancakes on a lined baking sheet. Then keep them in the oven on "low" setting (or 150-170 degrees Fahrenheit) while you continue to cook the pancakes in batches. Once it's time to eat, carefully remove them from the oven.
If you are going to wait a little while until you eat the pancakes you can always turn the oven off and let them sit in the warm oven. Or simply place on a baking sheet and then reheat in the oven for a few minutes on the low temperature setting.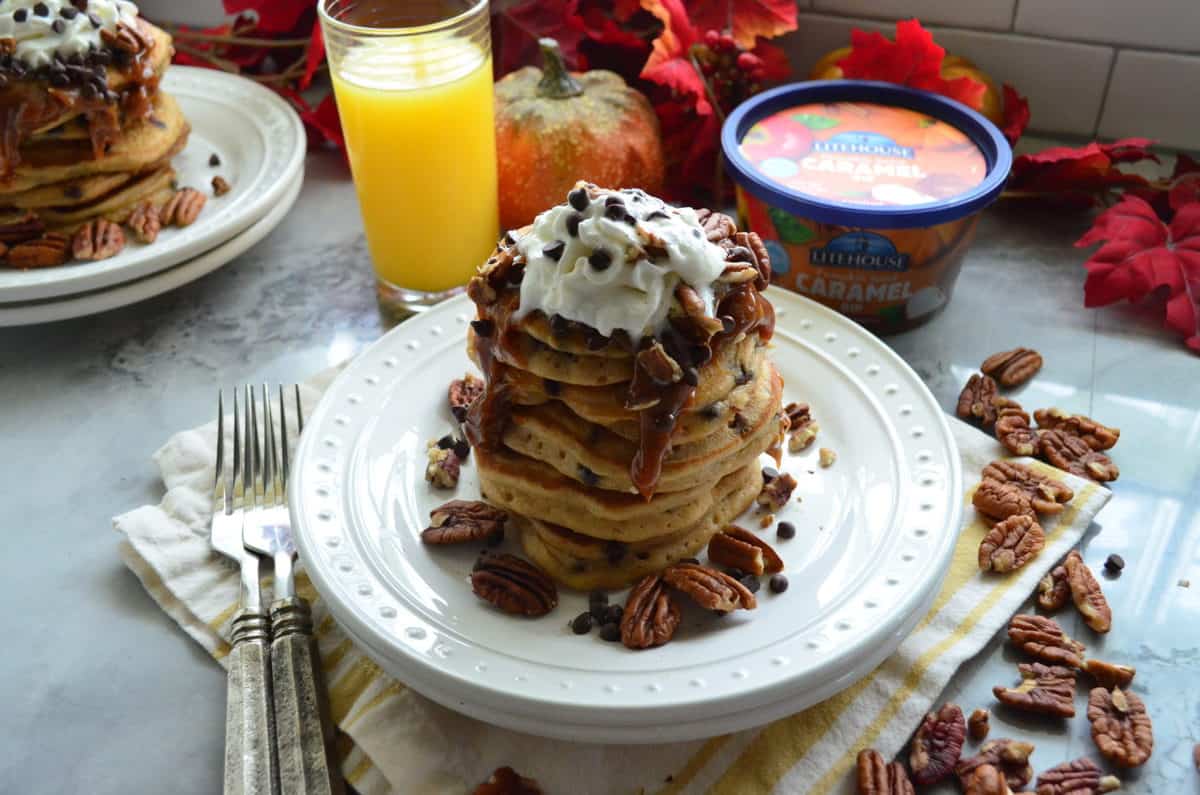 Craving more breakfast pumpkin recipes?
Here is a list of some of my favorite breakfast pumpkin recipes.

Pumpkin Spice Caramel Chocolate Chip Pancakes
Yield: 10
Prep Time: 10 minutes
Cook Time: 20 minutes
Total Time: 30 minutes
Ingredients:
1 cup milk
1 egg
1/2 cup Litehouse® Pumpkin Spice Caramel Dip, divided
1-1/2 cup all purpose flour
1-1/2 teaspoons baking powder
1/2 teaspoon baking soda
1/2 teaspoon salt
4 tablespoons salted butter, melted
1/4 cup mini chocolate chips + additional for topping
Non-Stick Cooking Spray
Whipped Cream
1/4 cup chopped pecans
Directions:
Warning
: Use of undefined constant rand - assumed 'rand' (this will throw an Error in a future version of PHP) in
/home/kjasiewicz21/webapps/katiescucina/wp-content/themes/katiescucina/single.php
on line
74
Leave a Comment