Quinoa & Kale Salad with Honey Ginger Dressing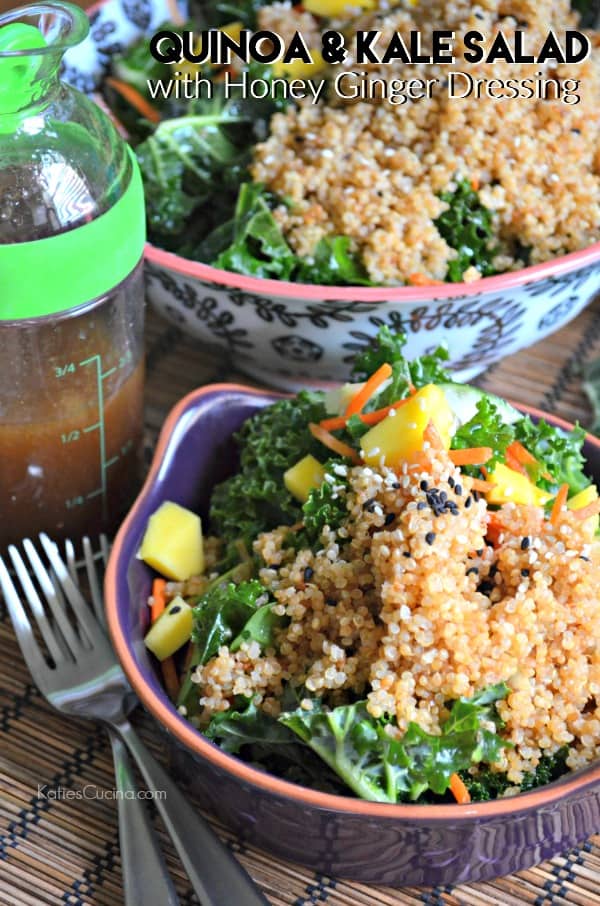 Remember last month when I posted about the Kale stir fry i make at least once a week. Well today I'm posting another kale recipe but this time it's a salad. I know that "kale and quinoa" are so last year. I've started embracing these power ingredients a lot more often, and I figure even though it's a "last year" fad for some–for those that like to eat healthy year round and aren't fad dieting you'll love this salad.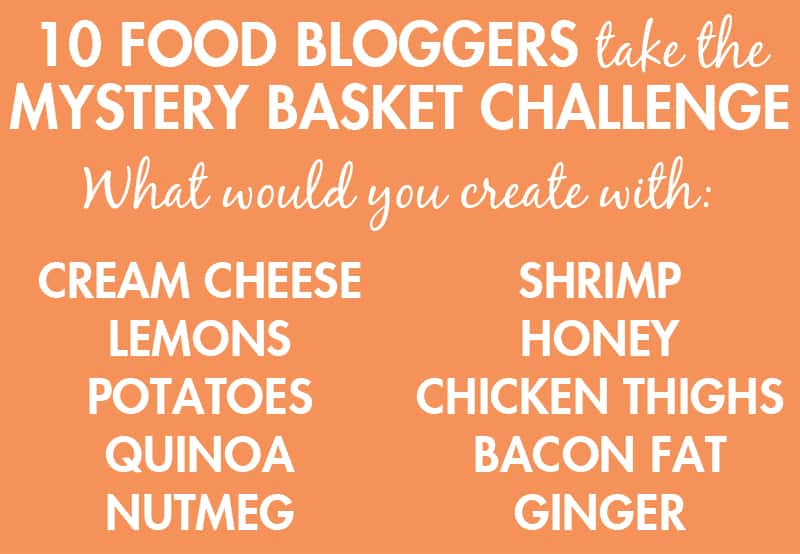 Today, I'm participating in the first ever Mystery Basket Challenge. There is a popular tv show on a popular cooking channel that gives chefs 3 mystery ingredients and they are timed and have to create something with the ingredients. Well that's the same concept. Except we aren't timed and we get to choose what 3 ingredients we want to cook with. This is how my Quinoa & Kale Salad with Honey Ginger Dressing recipe came about. I ate this 2 times last week. Since I have leftover dressing (which by the way is to die for) I know I'll be making it again at least once this week.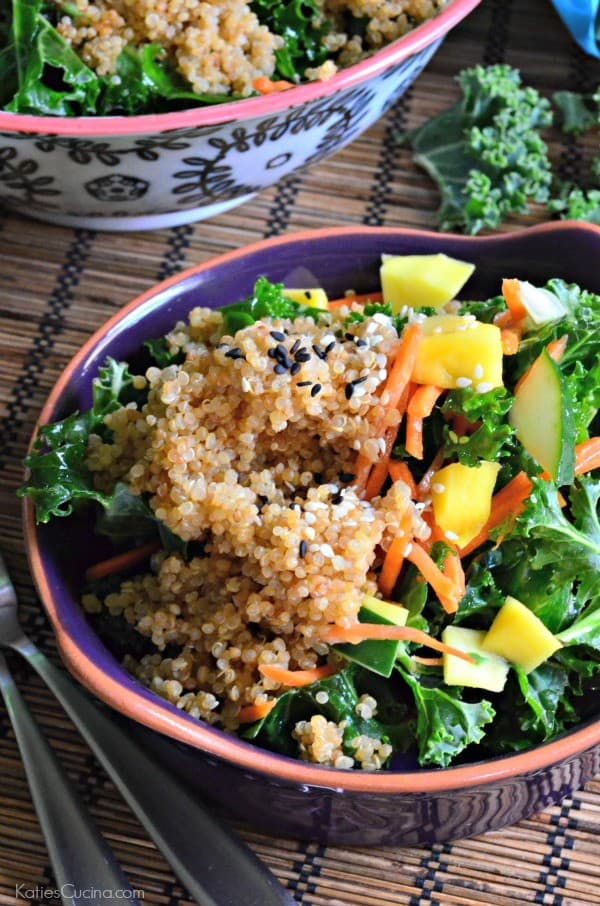 Normally when I eat a salad for lunch I'm hungry an hour later. Not with this salad. I felt full all afternoon. And I was satisfied. I'm a sweet and salty kind of girl and the sweetness from the dressing helped me with my "sweet" cravings. One of the day's I did pair this salad with a few pan seared steamed dumplings and I put a little soy sauce on them so that's where my salty came in. Even better if you decided to toss the kale salad with the salad dressing and you have leftovers the salad will be ok. It will not get all gross and wilty/soggy. I ate this salad the next day fully dressed and it was just as good if not better because the salad dressing had the chance to absorb into the quinoa and some of the kale leaves.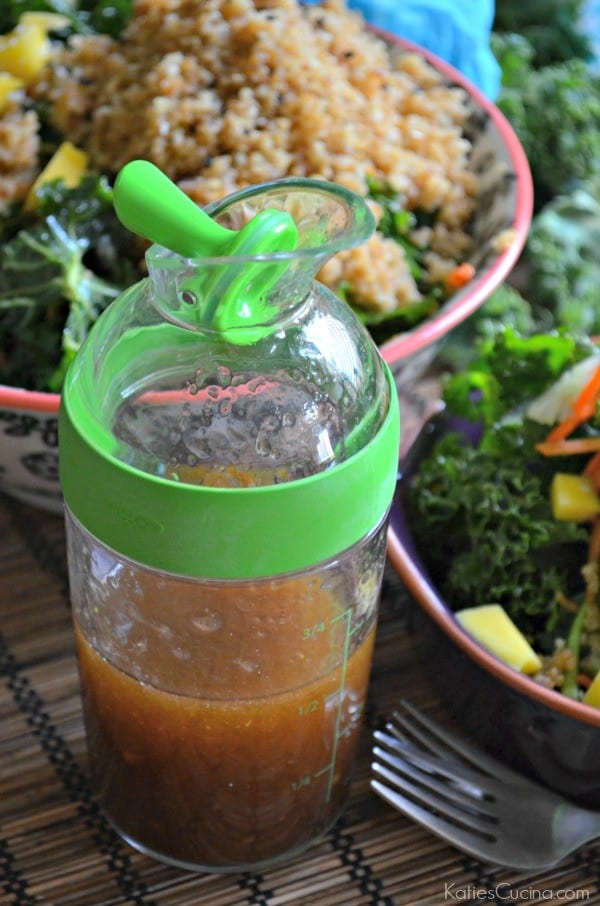 The salad dressing is so good that I could drink it. And since this recipe makes a lot, you'll have plenty leftover for future salads. I like using the OXO salad dressing shaker to keep my dressings fresh. Plus it cleans easy which is a win-win for me.

Check out the rest of the amazing recipes for the Mystery Basket Challenge:
Bacon Wrapped Ginger Soy Chicken from Yellow Bliss Road
Quinoa & Kale Salad with Honey Ginger Dressing from Katie's Cucina
Skinny One Pot Lemon Shrimp Alfredo from Julie's Eats & Treats
Thai Coconut Soup from Yummy Healthy Easy
Slow Cooker Honey Garlic Ginger Chicken from Your Homebased Mom
Thai Shrimp Salad with Peanut Dressing from Will Cook for Smiles
Honey Baked Chicken Over Lemon Rice from The Weary Chef
Honey Baked Chicken and Potatoes from Cravings of a Lunatic
Bacon Wrapped Chicken Thighs with Honey Dijon Glaze from A Beautiful Bite
Honey Ginger Shrimp Skewers from Five Heart Home

Quinoa & Kale Salad with Honey Ginger Dressing
Yield: 4
Prep Time: 10 minutes
Cook Time: 15 minutes
Total Time: 25 minutes
Ingredients:
For the salad:
1 cup quinoa
2 cups water
8 cups kale
1 cup diced cucumber
1 cup diced mango
1 cup matchstick carrots
sesame seeds for garnish
For the dressing:
1/4 cup grape seed oil
1/4 cup rice wine vinegar
1/4 cup raw honey
3 tbsp sesame oil
2 tbsp soy sauce
2 tbsp fresh ginger root, grated
1 tbsp minced garlic in water
Directions:
Cook 1 cup quinoa with 2 cups water (per package directions--I use my rice cooker).
While the quinoa cooks mix together the dressing. Combine the grapeseed oil, rice wine vinegar, honey, sesame oil, sou sauce, grated ginger, and garlic. Mix well and set to the side.
Place kale, cucumber, carrots, and mango in a bowl. Toss with some of the dressing (quantity depends on how you like your salads (really wet or on the drier side)). Then top the salad with a cooked quinoa. Pour a little more dressing on top and sprinkle with sesame seeds. Enjoy immediately.
*Don't expect to use all the dressing or quinoa. Portions vary on the people you are feeding!
Disclaimer: There are affiliate links in this post. As always all opinions are my own.