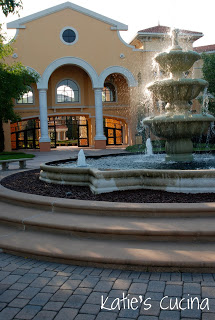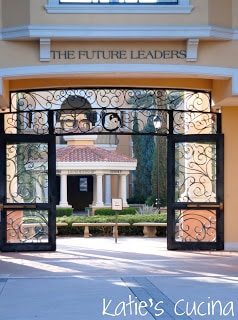 On Saturday, April 9th the Food Blog Forum hosted their first ever seminar in Orlando, Florida at the Rosen School of Hospitality. Words can not express how much I learned from this one day seminar. I took pages and pages of typed notes, and by the end of the day the wheels in my head were spinning in full speed. They were spinning with ideas for my blogs, my career, and my family. The information I learned that day was priceless.
I'm not going to lie, leading up to the day of the seminar I was nervous. Some of the bloggers I was going to finally meet are what I like to think of as the "big dogs" in the blog-osphere. I was a bit intimidated, but at the same time anxious to network and put names to faces. As I walked up to the Rosen Center I noticed the three words mounted over the opening to the building "
The Future Leaders
". Although, I recognized that the FBF Seminar was being held at a school, the phrase stuck with me. All of us food bloggers (and bloggers in general) are
the future leaders
of tomorrow.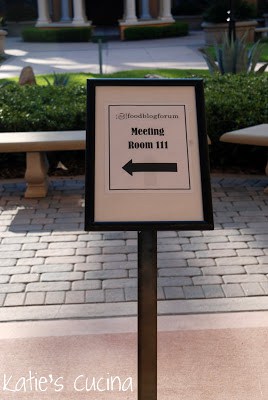 Upon the gates I found a sign that was pointing us food bloggers to the right direction. Once arriving at room 111 we received a swag bag full of food samples, coupons, and some kitchen gadgets to name a few.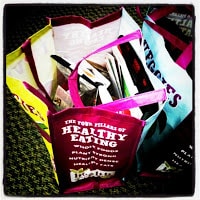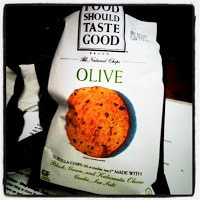 *I took these photo's on my iphone using instagram!
Our first session began at 9am:
Leveraging Traditional Media: How to Get on a Food Editor's Radar
with Jeff Houck, The Tampa Tribune & Heather McPherson, Orlando Sentinel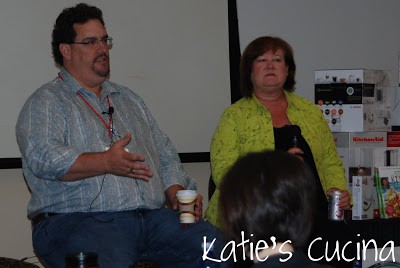 Here are a few quotes from the session: 
"Figure out your goal and what you want to achieve. Figure out what it is in
our newspapers that we don't have. Contact us. Major gaps in coverage. We have
gaps that you have an expertise in." –Jeff Houck, The Tampa Tribune
"Have something relevant. Something that I'm not doing and that I
need you to help with." -Heather McPherson, Orlando Sentinel
"One way to establish a connection with a food editor–retweet editors and
find relevant articles for them to retweet." Jeff Houck, The Tampa Tribune
"You all can do a whole lot for each other. Like each other a lot. Get to know
your colleagues and give them lots of love online." -Heather McPherson, Orlando Sentinel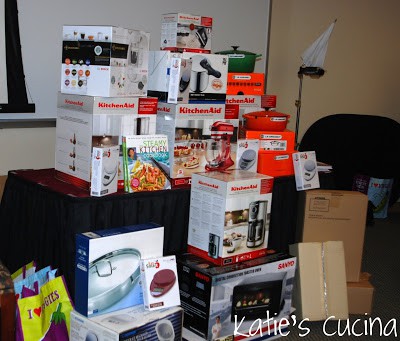 In between each of the sessions Jayden and the team would pick names for prizes. There were 40 prizes and 75 food blogger attendees. My name was the third to be pulled for a prize!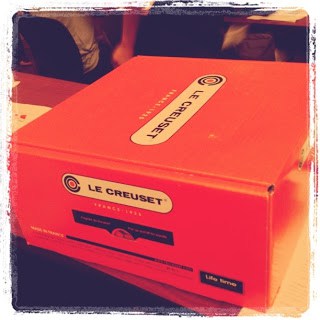 I was so happy to win since a Le Creuset pot. It is something that I would NEVER purchase on my own. I already have quite a few recipes set aside to cook and use my new enamel cast iron cookware! Big thanks to Le Creuset for donating such amazing prizes (mine being one of them)!
I happened to be sitting next to Joanne and Adam from the Inspired Taste. Right after me, they too, one a Le Creuset dish!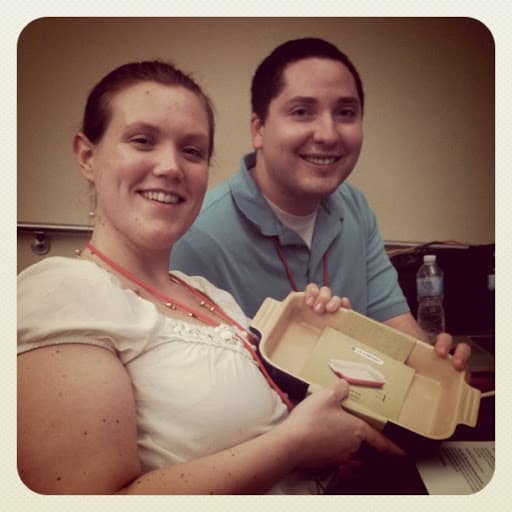 *picture taken on iPhone using Instagram
Building a Personal Brand
Scott and Jaden Hair of the Steamy Kitchen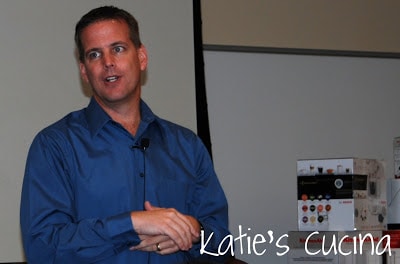 First off, Scott is an amazing motivational speaker!

After he spoke I felt like I could tackle the world!

Scott shared with us his "
Ultimate Success Formula
" in Four steps:
First step
–take an accurate assessment of where you are.
Most people tend to downplay where they are!

Take an assessment of what you do have!
Second step
–where do you want to be and what are the results you want to gain?

Be very specific.

If it's that you want to have a successful blog… how do you measure a successful blog?

Is it leading to a cookbook or a tv show.

Be very specific. The more specific, the better.

Put a date as to when you want to achieve this.

This is where your subconscious mind will lead you.

"Someday" will never come… set a date–the date will come!
Write it down, and turn the piece of paper over and start writing down why you would like
to get their… if you want to earn more money.
Raise what you must have in your life! Reasons are a MUST!
Third step
–Take some ACTION!
DO something that is going to move you to achieve your goal. Read your reason's–what are some goals to move me closer. Write 100 reasons and ideas.
The first 25-75 are easy. It's the last 25 are the hardest.
Fourth step
–evaluate if the action you just took brought you closer or further away. If it
moves you further away, stop doing it and do something else.
Keep evaluating until you get closer!
Jaden
on Branding and Marketing
"I didn't think about branding until 3 months after I started my website (aka blog–but I
didn't think of it as a food blog either)." -Jaden Hair
When you're thinking about the brand of your blog, make sure it represents who you are.


"Create your tribe–surround yourself around people who have talents that you don't
have." -Jaden Hair
*Jaden surrounded herself around people who had food photography and styling experience.
"I wanted to learn more… and that's how I learned." -Jaden Hair
More advice from Jaden, "Find mentors. If there is someone you respect in the industry, ask them to be your mentor."
Blog Design, Optimization, and Usability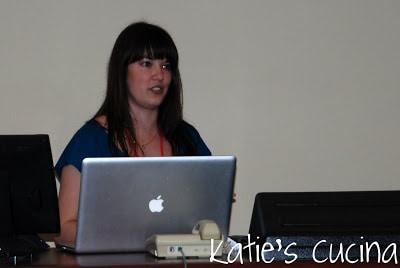 General Principles of Web Design

Usability-does your site fit the needs of your reader?
Navigation-can your reader find what they are looking for?
Legibility-can your reader read your blog? 
Focus-is your reader looking at the right things?
Consistency-does the design of your blog match brand consistency? 

A few important tips from Lindsay:

 

*Template from blogger will not transfer to wordpress.org but all the content 
will transfer. 

You can forward your feed from feedburner to wordpress.org 

Your post title is the most improtant title for SEO... no one will find it if it's some crazy title like "aunt betties wacky pasta" instead "baked pasta with ricotta" works better. 

SEO and the State of Social Media Sponsorship


Peter Scott of IZEA
Twitter: @prscott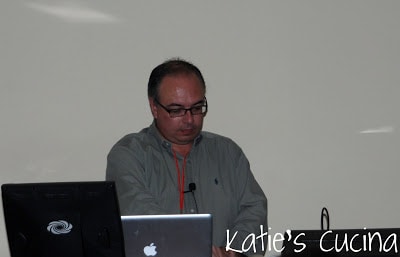 "SEO is like restauranteur." -Peter Scott

What are the traits of a great chef? work ethic, good food, skill, passionate, and leader,
studied and trained. 

What's your passion? 
Could you love doing this even if you weren't paid? 
Who are your readers?
What are the keywords that you'll use? 
What's on the content calendar? 
What's the concept? 
How about equipment? 
What about marketing? 
What about service? 

"Google is your Food Critic! It judges your site, content, inbound links." -Peter Scott

Inbound links-
⅔rd of your SEO success is the inbound link to your site. 
The trust and authority of the other sites (24%)
The number of links to a specific page (22%)
The text used in the link to your site (20%)

"When you do linking internally--don't write "click here" write the title..." -Peter Scott

"What people say about 

you

 is more improtant than what you say about yourself."

-Peter Scott

"SEO is not about trying to trick search engines, is simply means building a site 
that is friendly to them" -Peter Scott

Be literal when you are writing your titles for your recipes. 

5 recipes for SEO 

1. Research
Find out what they (your readers) are hungry for? 

It's not what they say they like, it's what they ate... 

Oyster Sauce--that's what they want! 
 -All 49,500 of them according to the Google Keyword Tool
 -SEO book keyword Suggestion Tool
Not just Pepper... 
 -it's a Roasted Habanero Pepper
It's all relative

2. What's your concept?



Buzzwords


-the critic will want to hear the right buzzwords 
-google will want the right keywords




Signage


-Google still looks for Title Tags and Headlines
-Both want you to answer the question they are asking




Entrance


-Show the value quickly
-Be visually pleasing, inviting, and easy




The Product


-Your food better rock or the critic will ignore you
-Your content better be "linkable" or Google will ignore you. 




What else do you have? 


-Releated links to other menu items (pages) help guide search engines and people. 
-Show related links internally

3. Link Building
Social Meida
 -Social Networking Foods Sites
Guest Posts

Social Networking
 -It's not about numbers. it's about engagement
 -Your updates and post should be valuable

Show the Love
 -Strategically link to great content
 -Look for relativity and relevancy
 -Seriously write. Seriously. 

4. PR
-Getting a great write up in the newspaper can really boost the success of a 
restaurant. 
-A local or national TV apperance can have people lining up outside. 
-The same thing can happen for your site.
-PR.com... link to as many free PR sites as possible along with e-mailing the paper and using social media. 

5. Pitching
-You have a to be interesting
-You need to be specific
-It's not about you, it's about the unique value you bring to your readers
-Be exclusive
-Be brief
-Email is best. 

6. Copywriting



Title 


-Look at magazines
-Keywords near the front




Who or What?

 
-CMS should serve as an alterternavtive title 




Keep it Consistent?

 
-300 words or greater




Stuffing is for Turkey


-More than 5.5% ratio of a keyword to total words and you are stuffing your 
post. 
With this recipe, try the side items


 -Link out evenly in copy (+/- 120 words)
 -Interior pages of your or other sites
 -remember the value of the text (20%)

Microformats--Recipe SEO
recipeseo.com
sushiday.com/recipe-seo-plugin


http://googleblog.blogspot.com/2011/02/slice-and-dice-your-recipe-search.html



More tips from Peter Scott: 
food52.com > they wrote an article about SEO... look in the comments for the web 
developers info. 

*It will take you about 2-3 months to get your recipes implemented on Google.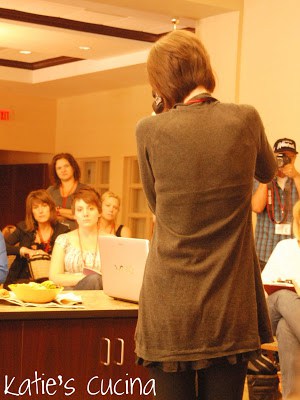 "Its self taught--you learn how to use your camera no matter what. You can build the fundamentals with the point and shoot." 

Manual? 
Aperture Priority? 
Shutter Speed Priority? --liquid (photos)
You must learn manual, but you don't always need to shoot manual. 

Helene's number one tip: 
*Pick a day at home when you have 5 minutes and then just practice... 10 minutes 
on each button on the camera. See what mode you understand the most. There is no 
right or wrong--you have to be comfortable. 
It doesn't matter what mode you shoot on as long as people see your photo and 

want to eat it!

 

Manual--complete control of your camera
-Once you have choosen your preferred ISO, you control adjusting aperture and 
shutter speed. 
-They work like opposite slides. 
-For a shallow DoF (depth of field): open up your f/stop (decrease the numbers) and 
increase your shutter speed.
-It works the opposite way to achieve deep depth of field
-Not ideal when shooting situations change abruptly as it is harder to adjust

Aperture Priority
-Decide preferred aperture (f/stop) and ISO & the AP mode will automatically 
adjust the shutter speed. 
-Some people find it easier to control DoF, either shallow or deep. 
-Different stages on DoF can have different results on the composition & styling 

-The lower the f/stop the wider the aperture, the blurrier the background is. 
-Drawback: the smaller the f/stop, the smaller the focus area. 
-Not always ideal to show important elements of a dish. 
-Focus points on camera /expo comp button. 

Shutter Priority
-Once you decide of your preferred shutter speed and ISO the SP mode will 
automatically adjust the aperture. 
 -Less widely used than Manual or AP for food blogs. 
 -Great to capture motions such a syrup, sauces, drip, splashes, etc.... 
-Slow shutter speeds are helpful in low light but often requires a tripod. 
The shutter is open for a relatively long period of time which increases chances of camera shake and blur. 

Finding Your Light--Think about the light to the mood of your dish. 
-Outdoor Light
How are the colors coming together, how are the elements, shadows. Take 5 minutes to look through the view finder to find the best shot. Keep the colors in the same color pallet. 
 -Sunny Day-very difficult to control your food lighting. 
 -Overcast Day-focuses on your food and not on the light. 

-Window Light-Back Light
Use white foam core in front of you when you shoot inside with back light. 
Using the back light helps with the shine on top. 
-Back Light -- Diffusing? 
Use clamps from the hardware store and a $25 difuser
-Side Light, diffused & bounced with a side light. 



"All light is gorgeous but not equal." 



To bounce or not to bounce? -- you can use foam core to bounce the light. 

Be consistant, breathe, practice. 

Who You Calling Artificial? 
Tip: Put a piece of paper against your pop-up flash... 
the light will go all around your food, but not on it. 
-Change the white balance. Change it to flourescent. 
Don't use auto or sunlight white balance when shooting indoors under fluorescent lighting.

*Telephoto lens is one to use if you want to bring shape to your images. 



Styling Demo 

(second part of session):
Tools you should always have on hand when food styling:
-chopsticks
-Qtips
-water spritzer
-tweezer
-paint brush
-straws  

Always start slow and build on...

Imperfection is beautiful.
   
Use odd numbers when styling food

"Nothing is written in stone... Don't rely on what everyone else is doing... 
Rely on what you want to do."

"Think about what you would want for the readers."

"Tether your camera to your laptop to look at each photo taken. When you tether you will train your eye to know how it should look."

Just Ask: How to Write for the Big Boys
Dawn Viola of
Wicked Good Dinner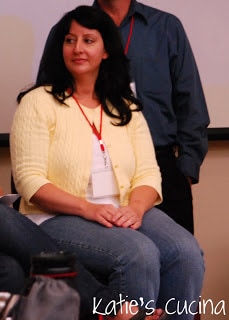 "
JUST ASK! Get over your fears and just start pursuing your dream!"
One of the best ways to reach more readers, receive more exposure, drive traffic to your blog and 
build your brand is to WRITE FOR SOMEONE ELSE! 

Some of the websites Dawn has written for: 
-Examiner.com
-Orlando Sentinel
-Food Network
-Martha Stewart

Treat your blog like you are writing for a publication. Write great content on 
your blog you can share that with the newspaper. 

Dawn started on Examiner.com for .01 cent per click. It gave exposure to content that's not just in one place. 

Use your blog as your professional writing platform

Pitch what you love, because you'll have to write about it

Write on your terms (especially for byline only)
-Don't compromise your ethics
-Don't overpromise what you can or want to deliver
-You aren't really writing for free. It's long term PR and exposure that money can't buy. 

The reason Dawn writes for others is to bring people back to her blog! 

Use twitter to train yourself to get to the point! It trains you to be short and 
sweet! 

How to get your message across in 30 seconds or less by "milo"

It can take 6 weeks to 2 months until a magazine will get back to you before. 

Writing a letter to "A Big Boy":
Hi, this is me, this is my experience, this is what I'm proposing, looking forward to hearing from you. 
*print or online--great diversification 

Find places to give you accolades
babble
chef2chef.net 

Add a PR page on your blog about who you have written for, speaker at, and tv spots
Professional membership page: FAAN, AFJ, IACP,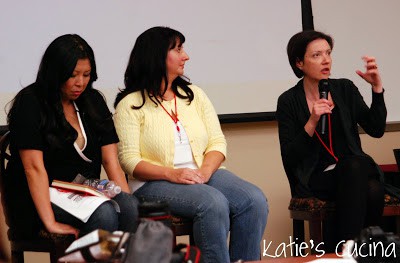 *Pictured from left to right, Jaden, Dawn, and Helene
We wrapped up our amazing day with a Q&A session with Jaden, Scott, Dawn, and Helene!
Afterwards we went to
McCormick & Schmicks at the Mall at Millennia
to network (some more) and enjoy amazing food! McCormick's closed the entire restaurant for us and kept the food and drinks flowing! If you've never been–I highly suggest you visit. They have the most amazing
happy hour
with $1.99 to $4.99 appetizers and entrees EVERYDAY 3:30 to 6:30. If you want an inexpensive meal that isn't drive through I highly suggest you visit McCromick's during happy hour! You won't be disappointed. Call your local McCormick's to find out more info!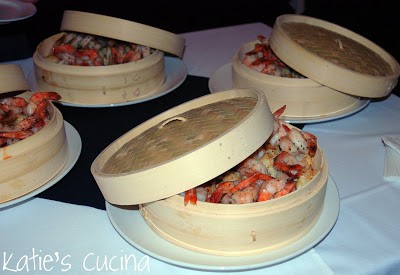 Spiced Jumbo Prawns *and sushi not pictured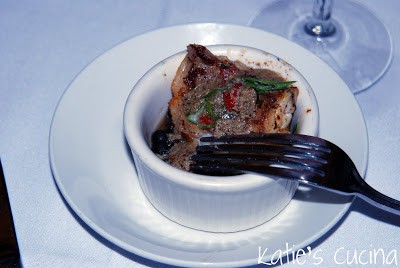 Grouper with spicy black beans (not the exact title).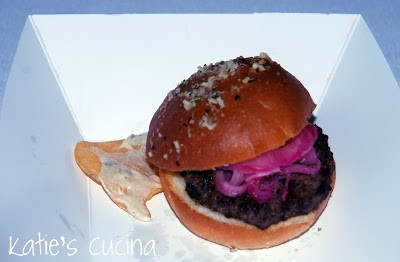 Kobe Beef Sliders with caramelized onions and a bleu cheese chip!
The following day I had the chance to attend Helene's food photography and styling class held at Whole Foods.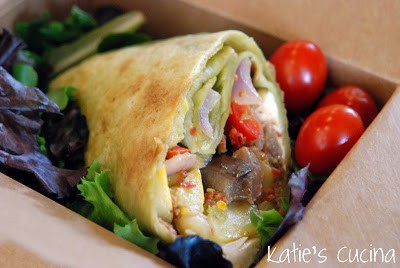 After Helene taught about different techniques she sent us out to buy lunch at Whole Foods. Upon arriving back to the classroom we set up our "scenes" and went to work. My photog buddy happened to be the one, and only, Jessica from
The Novice Chef
. This just happened to be her sandwich and greens for lunch. She helped me so much and was able to help me fix my lighting issues. This photo had absolutely NO photo editing work done to it.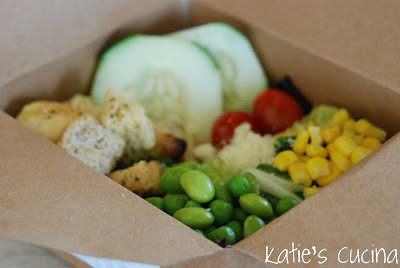 Here is a picture of my salad with no photo editing done to it! I used the manual setting for the entire photography session.
I still can't stop thinking about the Food Blog Forum Seminar. I learned so much that weekend and it still has me up late at night, thinking about ways I can improve and reach my personal goals. With that being said I've decided to go back to basics with my blog. No more link parties, no more giveaways, no more fluff. I want recipes and foodie travel experiences and an occasional product review.
I want to write on my terms, and I want to start writing for others. I want to truly turn Katie's Cucina into a brand. Of course, I can't do any of this without
you
, the reader.
You will start seeing some changes on my blog in the coming months. One big change will be my photographs. I'm taking more and more time to truly work on my food photography and styling skills. I just purchased a copy of Helen Dujardin's brand new book,
Plate to Pixel
, to help further my learning on food photography and styling. I'm starting to create more "
Katie Original
" recipes, and have some other plans in the works.