Over the past two days, I've had the privilege to attend the Southeast Produce Conference for the second time! Last year, I loved the Southeast Produce Conference so much that I knew I wanted to be back in 2013! On Friday a handful of bloggers had the opportunity to tour Spice World–you know the company that makes the squeeze bottle and jarred garlic?!?!? Yes, you see I kind of love them. I've been using them for years. My first memories of garlic came from a glass jar with a blue lid. My husband also works just a few buildings away from Spice World, so I tend to pass it often and have always wondered what was inside the warehouse building. Well the day finally arrived where I got to go behind the scenes and see what all happens in Spice World. All of the garlic packaged and found in your local stores is packaged in the Orlando warehouse. Over 5 million pounds of garlic is packaged each year. Yah… you read that right. The place smelled amazing (as you can only imagine). Did you also know that the majority of the garlic is harvested in California, and then a portion of it is chopped/minced and dehydrated and sent to Florida to be packaged. Due to legal reasons we weren't able to take photos inside, but let me just tell you how amazing it is. Its a massive warehouse, amazing and talented people who work behind the scenes, and of course if you love garlic then the smell was oh-so delightful! After our tour we had a lovely bbq luncheon hosted by Spice World. Then we were swept off to the conference to meet with vendors and talk with them on ways they can work with bloggers.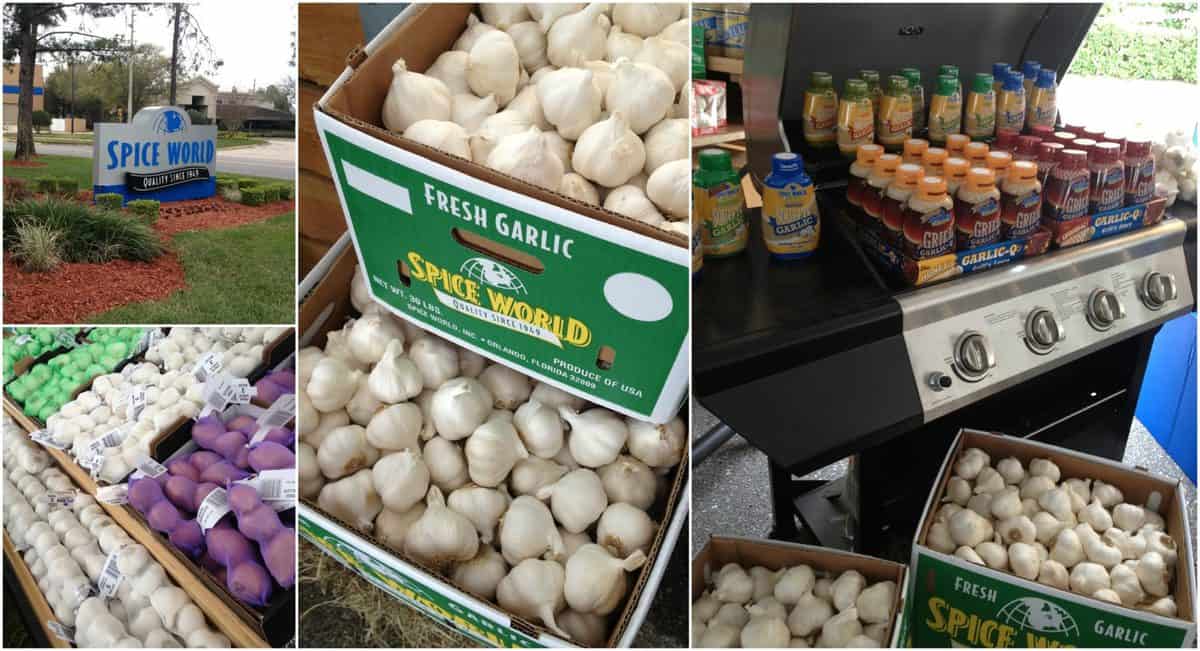 Our blogger round-table was wonderful. We had about 30-40 produce professionals and spoke about a variety of ways that bloggers can work with brands. We had topics set out but just about every round of round-table discussions had a totally different set of questions being asked by various industry professionals. I think everyone was able to take away something from the round-table session.
The next day it was time to walk the trade show floor. Seriously, I said it last year and I'm going to say it again this year… I died and went to produce heaven. Honestly. I love this show. Last year, I spent a good two hours at the show and so I figured I would do about the same this year. WRONG! Either the show grew or I was chatting it up way more–instead this year I closed the show down!
The very first booth I made it too was Coosemans Worldwide–they are the distributors of the herb company that I buy when I'm in need of fresh herbs (and my garden is out)! They were sharing a hot new trend for 2013… micro-greens! Yes, consumers will finally be able to buy micro-greens. Right now these are only available in Miami and fingers crossed will be in Central Florida sooner than later.
Y'all know how much I love Wholly Guacamole… they were there and sampling guacamole and salsa!
California Sun Dry was at the conference as well. They had a few different recipes you could taste and was showcasing all the fabulous sun dried tomato products they produce!
Southern Specialities… beautiful packaging. Hands down–I was in love and couldn't stop raving about it. Seriously the design-geek in me came out. lol. If you buy the Publix brand of vegetables you are buying Southern Specialities!
I got to try the four new Bolthouse Farms juices that will be released the middle of this month: Multi-V Goodness, Salted Caramel Latte, Daily Greens (which would be great as a Bloody Mary), Mango Ginger + Carrot. They also were sharing their two new dressings as well: Italian Vinaigrette Dressing (25 calories) and Miso Ginger Vinaigrette Dressing (40 calories).
Another brand that I eat on a weekly basis… Crunch Pak! I love their apples–they are pre-cut and they don't taste like they are soaked in chemicals.
Next up, Organic Girl greens! I just started buying them within the past year in an effort to start eating more organic. I think lettuce is a good-gateway to going organic!
I love Makoto dressing and got to meet some of the team members last year–the same group was back this year and it was nice to see a familiar face. This year they were handing out grilled shrimp with vegetable dipping sauce. Tasted just like I was at a hibachi!
Did you know that Wonderful Pistachios is a sister company of POM Wonderful? I had no idea until this weekend! We love pistachios in our home!
I stopped by the Bland Farms booth that specializes in Vidalia onions. I mean come on… who doesn't love a bloomin' onion? That is one of the many ways you can cook them up!
I was super excited when I spotted Lipman tomatoes. I developed a recipe for them last year and had to introduce myself and take a picture!
I spotted Lane Southern Orchards and stopped by to tell them about my visit last summer and how I love their orchard. They still have no clue who I am, but I will tell you that I will still stop and pick up peaches this summer on our way back from Georgia!
I stopped by the Duda Farms booth. Whenever I buy celery I buy theirs at Publix! Y'all I'm very excited to say that I got to take home a bag of Meyer Lemons… don't judge that I might just be the last person on this planet to try this coveted lemon… I'm super excited and can't wait to bake with it!
This year I worked smarter not harder. I brought a rolling cart. And I still managed to carry two green bags as I walked out of the convention center floor! At first everyone was looking at me weird but by the end of the show… people were jealous. My trunk was full of fruits, veggies, and nuts!
Once I got home I unloaded all my goods on to our kitchen table… my husband crawled out of bed (he was sick with a nasty stomach bug all weekend) and was amazed by how much I brought home. I divided it up between myself, our parents, and our neighbor! Everyone got a little bit of fresh produce! I had a wonderful time getting to see some of the new and exciting products that will be making their way out to the consumer market in 2013 as well as networking with so many amazing individuals.
Disclaimer: I received a media pass to attend this event. This event is not open to the public. As always all opinions are my own.