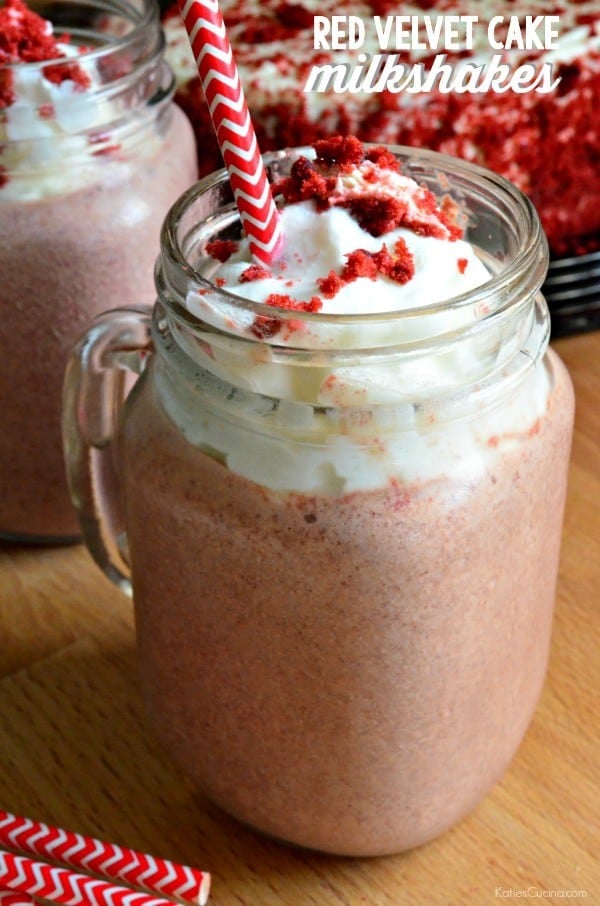 What do you do when you have a Costco sized red velvet cake leftover? Other than eat it… you make red velvet cake milkshakes out of a huge slice. We had family in town over the holidays, and while shopping at Costco we picked up a huge decadent red velvet cake (by the way, they have the best red velvet cakes). We needed dessert and we weren't about to stop at another store to pick one up. And let's face it I was recovering from a nasty cold and still wasn't at full energy capacity to make dessert. It was bad enough I had to make all the sides. So I didn't want to chance running out of time or energy.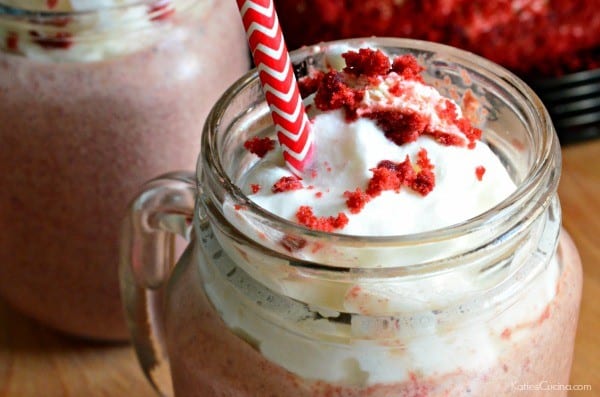 We ate a quarter of the huge red velvet cake for dessert that night. We brought it home and consumed a few slices the next night. The following day my husband was going to bring it into work; however, that changed after he saw my note the next morning. I had this idea during one of my middle of the night feedings… why don't I make a red velvet cake milk shake out of some of that leftover cake? So after I put the baby back down to bed, I rummaged around the kitchen in the dark to find a piece of paper and a pen. I scribbled on the paper a note that read "DO NOT take the red velvet cake to work… recipe idea in the works". As I opened up the refrigerator the next morning, I was happy to see that large cake sitting in the fridge. Waiting for me to make a few glorious milkshakes out of it!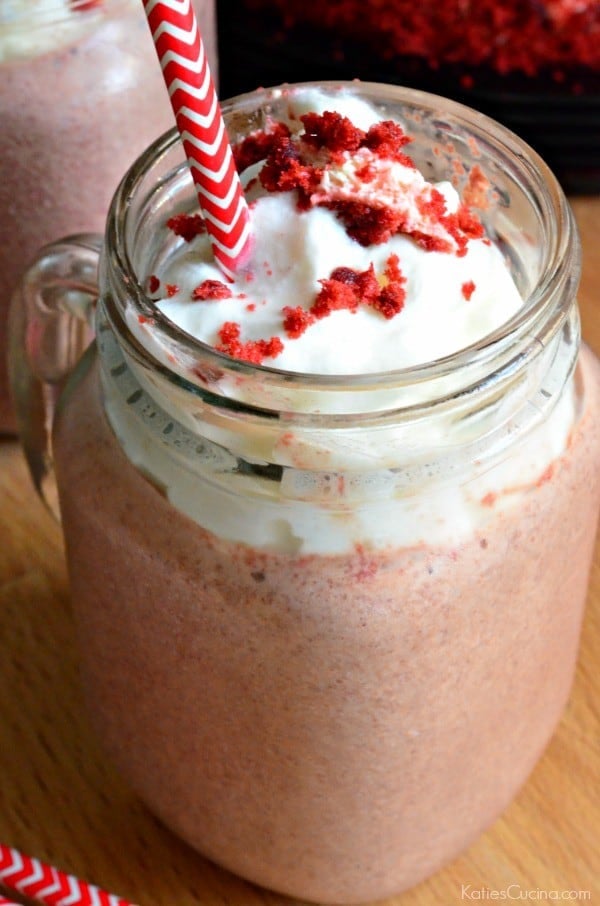 Of course when I went to make the milkshakes I realized that my milk was a week expired and was starting to stink… so the next best thing I had on hand was half and half. I've never made a milkshake before with half and half… and I don't know if I'll ever make one again without it. It brings the milkshake to a rich thick decadent level that I didn't know was possible. If you don't have half and half on hand don't fret. You can use whatever milk you have in the refrigerator. So the next time you have leftover red velvet cake feel free to whip up a few Red Velvet Cake Milkshakes! I promise your family and friends will thank you.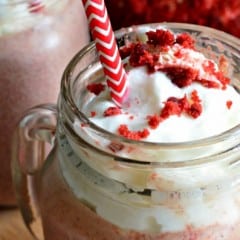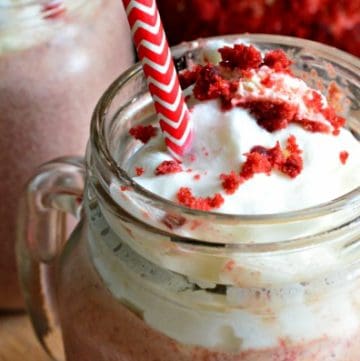 Red Velvet Cake Milkshakes
Use up leftover red velvet cake, chocolate ice cream and milk to make the most delectable red velvet cake milkshake.
Print
Pin
Rate
Ingredients
2

cups

chocolate ice cream

1

cup

half and half

1

large slice red velvet cake

Whipped cream

Additional cake crumbs for topping
Instructions
Combine chocolate ice cream and half and half in a blender. Blend for 10 seconds until well mixed. Then add in the slice of red velvet cake. Blend for 5 seconds just until incorporated.

Divide the milkshake between two glasses. Top with whipped cream and red velvet cake crumbs. Enjoy!
Notes
Try this with any leftover cake you have. Is leftover cake a thing in your house??
Nutrition
Calories:
487
kcal
|
Carbohydrates:
52
g
|
Protein:
10
g
|
Fat:
29
g
|
Saturated Fat:
18
g
|
Polyunsaturated Fat:
1
g
|
Monounsaturated Fat:
8
g
|
Cholesterol:
103
mg
|
Sodium:
268
mg
|
Potassium:
503
mg
|
Fiber:
2
g
|
Sugar:
44
g
|
Vitamin A:
1001
IU
|
Vitamin C:
2
mg
|
Calcium:
284
mg
|
Iron:
2
mg