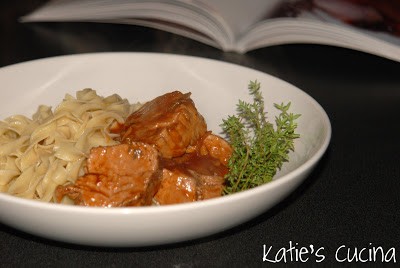 I found this recipe a few month's ago in our local paper in the cooking section. I held on to the recipe since the thought of balsamic vinegar and maple syrup together intrigued me. I'm glad I finally dug this recipe out of my massive stack of "try me"! This was so delicious–good enough to serve for a dinner party! My husband and I both enjoyed the egg noodles. It brought back memories of childhood dinners.
1 tbsp canola oil

1 pork tenderloin, about 8 oz

1 clove garlic, minced

1 shallot, thinly sliced

2 tbsp each; balsamic vinegar, tomato paste

3/4 cup low-sodium beef broth

1/8 tsp each: dried crushed thyme, salt, pepper

2 tsp maple syrup

2 cups cooked egg noodles
1. Heat oven to 350 degrees. Heat oil in large skillet. Add pork; cook over medium heat until browned on all sides, 5 minutes. Place pork in small roasting pan, reserving oil in skillet. Roast pork 20 minutes.
2. Meanwhile, add garlic and shallot to skillet. Cook over medium heat, stirring occasionally, 3 minutes. Pour in vinegar; scrape up any browned bits. Add tomato paste, broth, thyme, salt, pepper and maple syrup. Reduce heat to low; simmer 5 minutes.
3. Spoon half the sauce on the pork. Return pork to oven until completely cooked but still juicy, 5 minutes; let rest a few minutes. Thinly slice on the diagonal. Place on a serving plate over noodles. Combine sauce from skillet and roasting pan. Reheat if necessary; spoon over pork. Garnish with fresh thyme.