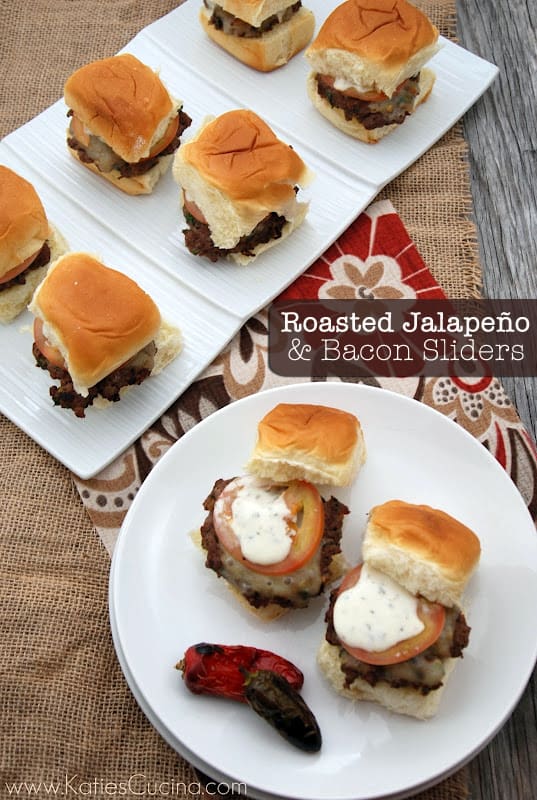 I know what your probably thinking… sliders? Jalapeño & Bacon sliders? Where is the bacon you might ask? It's mixed in the ground beef! That's where it is at… hidden like diamonds in a mine. Yep, I just went there… I just compared bacon to diamonds.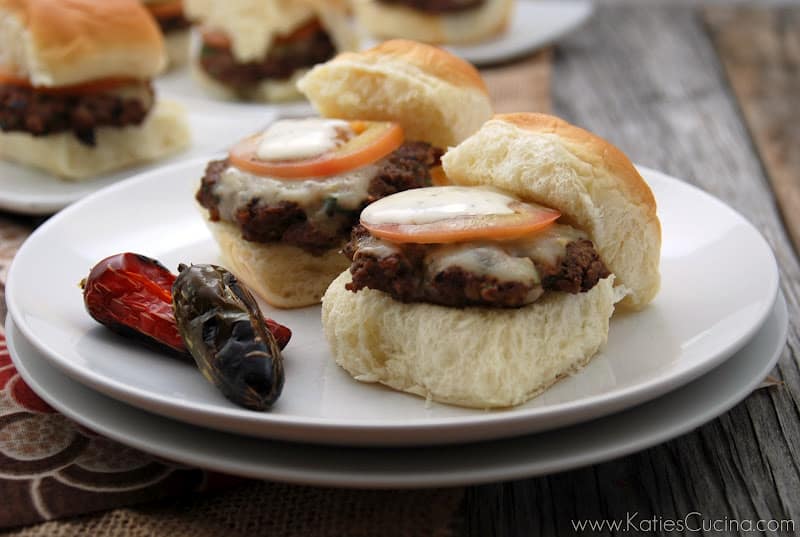 I was inspired to make these sliders thanks to the abundance of jalapeños I have right now. If you've ever grown jalapeño peppers you know that they can be abundant. You'll have more jalapeños than you'll ever desire to eat off just one plant. And if you let them sit on the plant longer they turn red just like a bell pepper. The red jalapeño pepper is a tad sweeter than the green.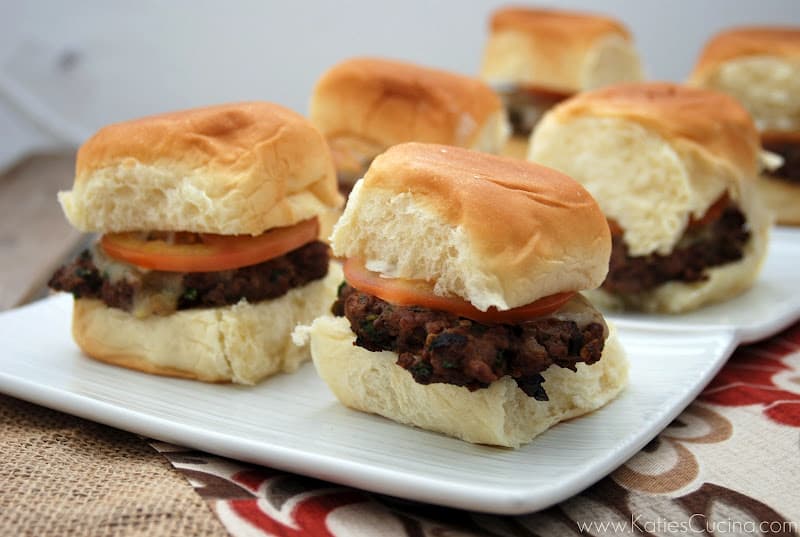 Source: Katie Original
Ingredients
.85 lbs lean ground beef

2

tbsp

white onion

minced

2

tbsp

fresh parsley

minced

1-1/2

tsp

season salt

1

tbsp

chopped bacon

2

tbsp

roasted jalapeño

2 small jalapeños

1

tsp

garlic

minced

2

slices

Land O'Lakes Pepper Jack Cheese

cut in quarters

8

King's Original Hawaiian Sweet Rolls

Ranch dressing

8

thinly sliced tomatoes
Instructions
Preheat your grill to high, clean, then place two small jalapeño peppers on the grill and roast for 5-10 minutes, turning a few times to get a good char on it. Remove from the grill, lower the temperature of the grill to low heat.

Place the jalapeño peppers in the refrigerator to cool. While the peppers cool, in a large bowl add lean ground beef, white onions, parsley, season salt, chopped bacon, and garlic. Remove the jalapeño peppers from the refrigerator, remove stem and seeds if you want to keep the heat to a minimum. Finely chop jalapeños and add to the mix bowl. Mix well, but be careful not to over mix. Make 8 meatballs from the mixture. Once you've made the meatballs begin to flatten them down to hamburger patties. Remember, we are making sliders so you want them small. I like to really flatten out the pattie since it tends to bulk up once on the grill.

Place the beef patties on the grill, cook for 3 minutes on each side. During the last minute of cooking add the pepper jack cheese, and add the King's Original Hawaiian Sweet Rolls to the grill to give them a light toasting. Remove the patties and sweet rolls from the grill. Assemble in the following order: Bottom of sweet roll, beef pattie, tomato slice, ranch dressing, sweet roll top. Enjoy!