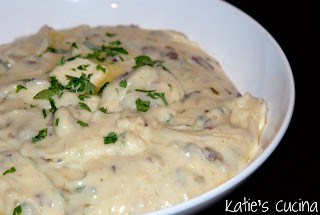 As mentioned in a post from last week my husband and I have one jalapeno "bush" that is producing loads of jalapenos. In an effort to use them and not let them spoil I've come up with a unique version of mashed potatoes. These also make for great potato pancakes the next morning. Just add one cup warmed up potatoes to a large bowl with a tablespoon of flour and one egg scrambled. Mix well, and add to hot frying pan with oil. Cook on each side until golden brown! They were such a nice treat the next morning and really "kick" started our day!
Cook:
25
minutes
Serves:
4
INGREDIENTS:
5 medium sized red potatoes, diced

5 jalapenos, roasted

1/4 tsp salt

1/2 stick of butter

1-2 tbsp chicken broth

1/4 cup green onions

1/2 cup shredded cheddar

parsley, for garnishing
DIRECTIONS:
1. Skewer the jalapeno's rub with salt & pepper. Grill until charred about 5-10 minutes on high.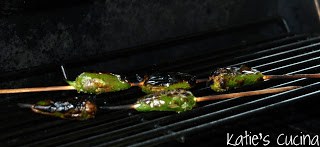 2. In a large pot add diced potatoes, enough cold water to cover them, and 1 tablespoon salt. Cook until soft, drain, and return to pot.
3. Cut the jalapeno tops off, and mince with knife. Add the jalapeno's, butter, green onion, and cheddar cheese to the pot along with 1-2 tablespoon of chicken broth (or enough to moisten). Blend well until the potatoes are creamy. Sprinkle parsley on top and serve!
Serving Suggestion: Pacific Rim Glazed London Broil