I'm fortunate that I can grill just about year round. But for others, I know that the snow has melted and the weather has finally warmed up making it perfect weather for grilling! I use to be intimidated by the grill; however, last year, I embraced it and haven't turned back since! I LOVE grilling, and since I live in Florida and its already in the 90's I grill almost every night during the summer months in an effort to keep our home as cool as possible.
I teamed up with World Market to create a bbq & grilling recipe for Father's Day! My dad (like many others out there) love all things spicy. So when I found Bronco Bob's Roasted Mango Chipotle Sauce while strolling the aisles of World Market I instantly knew I wanted to make something with this sweet and spicy sauce! That's when it hit me. Why not use the World Grill Black Cherry Planks to smoke and grill Roasted Mango Chipotle Grilled Shrimp Skewers?!?!?
The black cherry planks require a little prep work. You have to soak them for at least 30 minutes. So I decided to put the planks in zip top bags and bring them to work with me. Right before I left the office I filled them with water, carried them down to my car, and drove home. My drive home from the office typically takes anywhere from 25-30 minutes so I figured why not multi-task? Some may think this is crazy–I call this genius! Plus this ensured that I would have dinner on the table in no time! As soon as I got home I soaked my bamboo skewers in water (they need to soak for at least 15 minutes to ensure they don't burn when placed on the grill). I also cleaned, peeled, and deveined the shrimp, gave them a good rinse and then patted them dry and slathered them with the roasted mango chipotle sauce. Gave the shrimp a good mix, sealed the top of the bowl with plastic wrap, placed it in the fridge and then got to work on the grain and pasta medley side dish I wanted to make.
After my medley was put together, I went outside to get the grill ready. It's always good to pre-heat your grill just like you would an oven! After its been heated for about 5 minutes I clean it with a grill brush. I also try to clean the grill after I've cooked dinner as well. Double cleaning but this will help prolong the life of your grill grates and keep pesky critters away! (p.s., my grill was a hand-me-down and is over 7 years old. It doesn't look as beautiful as it once did–we use it often. Also, the outdoor elements and stainless steel don't do well together hence the current look and state of my grill).
I removed my skewers from the water, grabbed my marinated shrimp from the refrigerator, and got an old baking sheet out from underneath my oven. I began to skewer 4 shrimp per skewer. Remember, I used jumbo shrimp. You don't have to do the same. It just so happened that wild jumbo Florida shrimp were on sale that week and I took advantage of it! I placed the cherry planks on the grill, followed by 2 skewers on each plank. I cooked the skewers for 10 minutes and then finished them off on the grill grates for a minute on each side (just to get the grill marks). You can taste the light smokiness of the cherry planks throughout the shrimp.
We paired our dinner with a bottle of Ommegang Hennepin Saison Beer. As most of you know, my husband is big into craft beer and when I asked him to pair a beer with our meal he knew this would pair well with the sweet and spicy smoked grilled shrimp skewers! Both of our dad's happen to enjoy craft beer and a Saison beer is perfect for summer cook outs!
Whether you're entertaining for Memorial Day weekend or want to cook your dad a special meal these Roasted Mango Chipotle Grilled Shrimp Skewers will be a big hit! Making a dinner for just you and dad is a great way to celebrate and show him how much you love him! I know my dad would much rather a home cooked meal than swanky gifts.
Although, World Market has plenty of great items for Father's day gifts, too! Note to self, buy dad an extra bottle of beer so he can enjoy at a later date!
Katie Original Recipe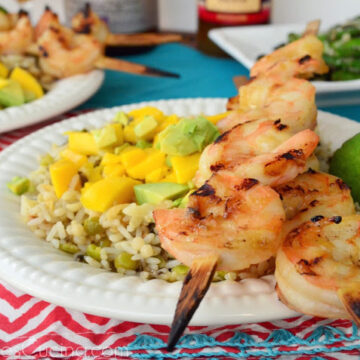 Roasted Mango Chipotle Grilled Shrimp Skewers
Create a spectacular dinner for you and your dad. Make him Roasted Mango Chipotle Grilled Shrimp Skewers topped on a bed of grain and pasta medley with fresh avocado and mango! Complete the meal and pair it with a cold glass of
Ommegang Hennepin Saison Beer
.
Print
Pin
Rate
Equipment
World Grill Black Cherry Plank

Wide Bamboo Skewers
Ingredients
1

lb.

Jumbo Shrimp

16

½

cup

Bronco Bob's Roasted Mango Chipotle Sauce

1

cup

World Market ® Grain and Pasta Medley

2

cups

chicken broth

1

tablespoon

olive oil

2

mangos

2

avocados

2

tablespoon

Bronco Bob's Roasted Mango Chipotle Sauce
Instructions
In a two gallon-size zip top bags place black cherry planks in bag and fill with water. Let soak for at least 30 minutes.

While the black cherry planks are soaking, clean, peel and devein jumbo shrimp. Place in a bowl and mix with ½ cup

Bronco Bob's Roasted Mango Chipotle Sauce

. Mix well, cover with plastic wrap and refrigerate (let shrimp marinate for a minimum of 15 minutes).

While shrimp marinates, prepare the

World Market ® Grain and Pasta Medley

. Add 1 cup medley, 2 cups chicken broth and one tablespoon olive oil to a rice cooker. Cook according to package instructions. (If you don't have a rice cooker--cook on the stove top).

Preheat grill to high heat, clean, and then reduce heat to medium-low. Remove the black cherry planks from water. Place on top of hot grill.

Skewer 4 shrimp on to each skewer. Place on top of the black cherry planks. Close lid of grill and cook for 10 minutes.

While shrimp is cooking, dice avocado and mango and place in a bowl. Add 2 tablespoons of the roasted mango chipotle sauce and set to the side.

Remove shrimp from the black cherry planks and place directly on the grill grates. Cook one minute on each side to achieve grill marks. Remove from the grill. In a large plate divide grain/pasta medley amongst the two plates, divide and place the avocado/mango topping on top of the medley and place 2 shrimp skewers on each plate. Eat immediately and enjoy!
Nutrition
Calories:
944
kcal
|
Carbohydrates:
88
g
|
Protein:
59
g
|
Fat:
42
g
|
Saturated Fat:
6
g
|
Cholesterol:
572
mg
|
Sodium:
3754
mg
|
Potassium:
2067
mg
|
Fiber:
23
g
|
Sugar:
39
g
|
Vitamin A:
3099
IU
|
Vitamin C:
135
mg
|
Calcium:
410
mg
|
Iron:
8
mg
Products found at World Market:
World Grill Black Cherry Planks
Wide Bamboo Skewers
World Market ® Grain and Pasta Medley
Red with Blue Trim Chevron Napkins
Event All-Purpose Glasses
Salad Plates
Disclaimer: I was compensated to create a recipe for World Market's Dad's Day Contest. As always all opinions are my own.