Preheat the oven and make this One Pot Chicken Carrot & Potato Skillet for dinner tonight. Best of all you can make it in under an hour including delicious cream pan gravy to enjoy with the meal.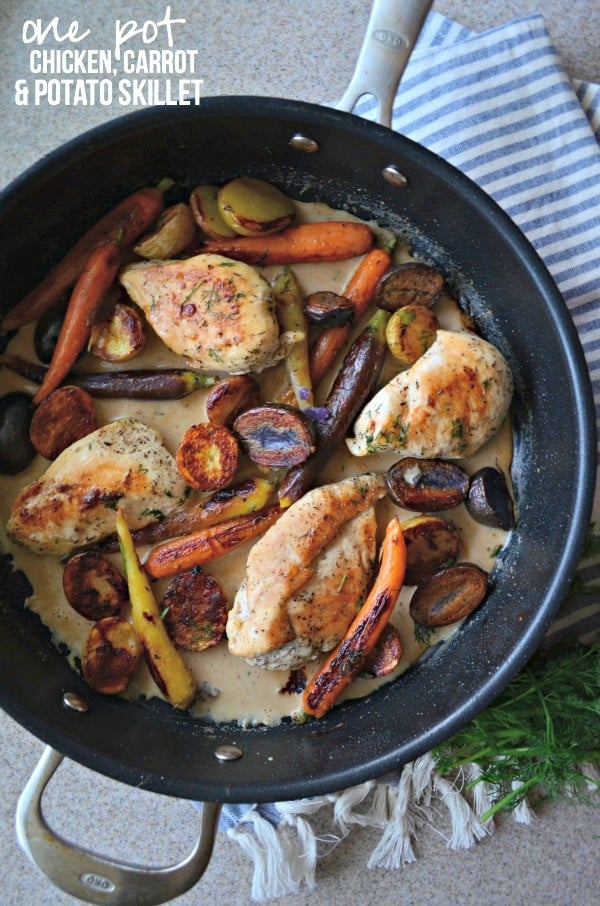 Happy April Fool's Day! No tricks or jokes being played here today. Instead, I'm sharing one of my new favorite go-to one pot weeknight meal. The key to this One Pot Chicken Carrot & Potato Skillet is a very large oven-safe skillet. I used my favorite OXO skillet since it's large and holds a lot of food plus it's oven-safe which is the key to this recipe. Fresh ingredients with little prep time equals the best one pot meal! Plus it includes the most delicious pan gravy!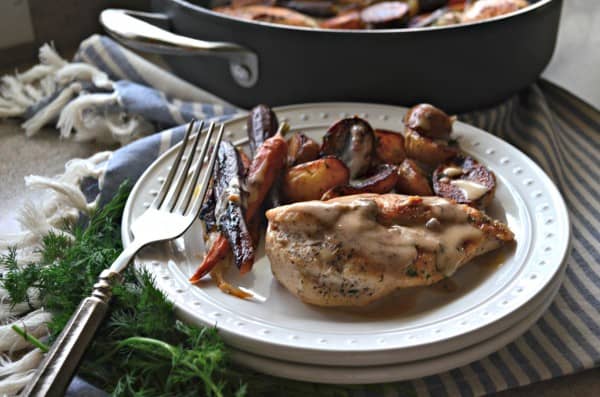 I loved using the whole baby tri-color carrots in this recipe. They are full of flavor and so rustic looking. I simply love them. My husband on the other hand could care less and thinks a carrot is a carrot. The tri-color carrots were delicious and the yellow and the purple tastes just like an orange carrot! I promise. The same goes with the purple potatoes that I also used in this recipe. It also tastes just like a traditional potato.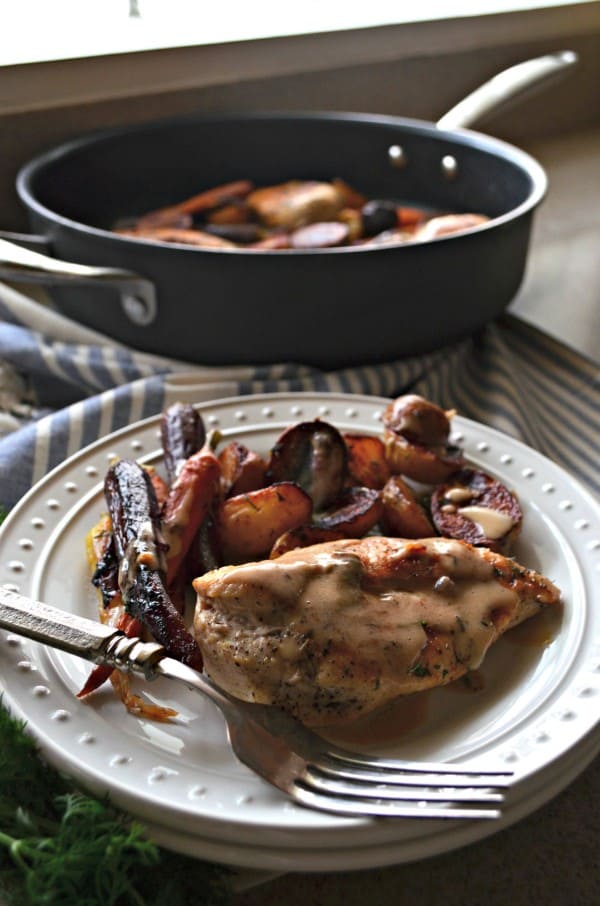 Let's talk about cooking the One Pot Chicken Carrot & Potato Skillet. You'll start the chicken breast on the stove-top by searing each side. Then you'll remove the chicken breast and add the carrots and potatoes to the skillet. Place the skillet in the oven and let the vegetables roast. Then turn the vegetables and add in the chicken. Once the chicken and vegetables are cooked you'll remove the chicken and vegetables from the oven. And then return the skillet back on the stove-top and make a quick creamy pan gravy that compliments this dish so well! I love that all I have to add to this meal is a salad and our dinner is complete. I typically prep the salad while the vegetables are in the oven roasting. This dinner even gives me time to do dishes and maybe even pour myself a glass of wine, too! So if you want to switch up dinner this week, I invite you to try this recipe for One Pot Chicken Carrot & Potato Skillet.