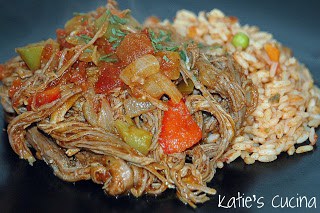 Every time we eat at a Spanish restaurant I have to order Ropa Vieja. Although I'm not a huge fan of meat this is one style of meat I can never disregard! This was my third attempt at making ropa vieja. Each time I have not been satisfied with how it came out–I want it to taste exactly like the way it does in the spanish restaurants! This wasn't the jack pot recipe; however, it was very very good and that's why I'm sharing it with my readers. Hopefully the 4th or 5th time will be the charm for me! I found this wonderful recipe on a blog called:
Mrs. Regueiro's Plate
. If I can't find another satisfying recipe I'll definitely be making this one again!
Ingredients:
3lbs of flank steak, cut in half

Water

1 large yellow onion, chopped finely

1 green & red bell pepper, chopped

2 tablespoon kosher salt

4 cloves of garlic, minced

1 ½ tablespoon of cumin

1 tablespoon Complete seasoning

(found in the ethnic food aisle)

½ teaspoon of cumin seeds

2 (8 ounce) cans tomato sauce

1 tablespoon of tomato paste

½ cup of dry cooking wine

3 tablespoon of Olive Oil

2 bay leaves
Directions:
Place the 3 flank steak in the pressure cooker. Fill with water to about halfway of the pot. Bring water to a boil and place the lid on. Pressure cook the meat until is very tender, about 45 minutes. (Or in a stockpot for 2 hours, meat needs to be fork tender).

Remove the meat from the water, and place in a large bowl. You need to shred the meat into very thin slices. This process gets a little messy and time consuming, but I use my hands to separate the flank steak to resemble shredded meat. Afterwards, heavily salt the meat about 2 tablespoons or so. Set the meat aside. (You can do this step a day before).

In a large saute pan, add the olive oil – enough to cover the middle of the pan. Prepare the sofrito – add the onions and peppers and sauté for 5 to 10 minutes until translucent. Add the garlic and sauté for 1 to 2 minutes. Add the shredded meat, tomato sauce, tomato paste, cumin, cumin seeds, complete seasoning, cooking wine, bay leaves and let it simmer for 10 minutes with the lid on. Mix everything well.

Season with salt and pepper to taste.