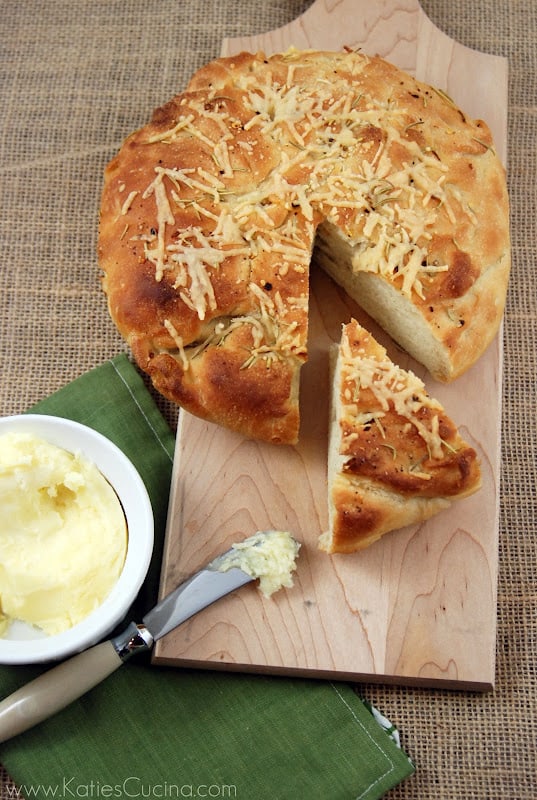 My food blog friend in real life, Christine from Cook The Story, introduced me to this glorious bread. Christine and I met up with fellow food blog friends, Jaclyn from Food Plus Words and Maureen from Seafood Lady Orlando one evening early last fall for a girls night-in. We each brought a dish (or two) and shared a homemade potluck style dinner together over a few glasses of wine and many laughs.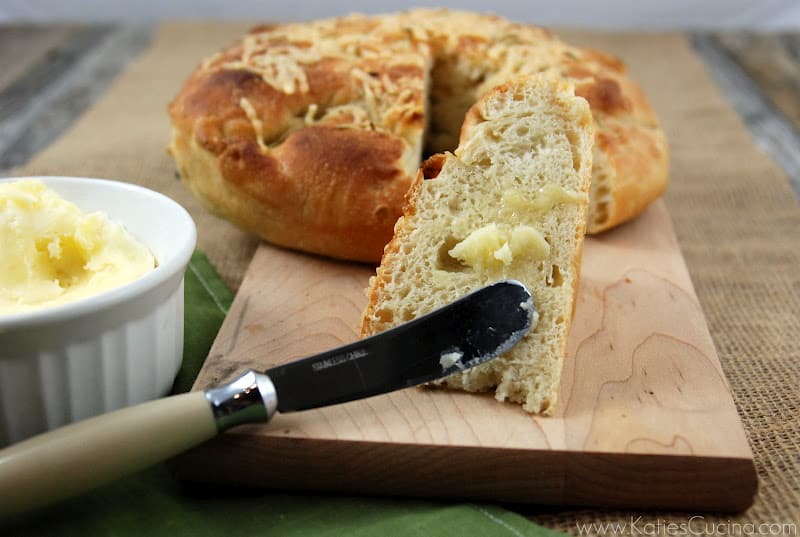 This bread was honestly the star of the evening. Shhh don't tell anyone, but I think between the four of us we consumed the entire loaf. It was spectacular times 10. Christine let out her secret… it was a store bought pizza dough baked in a cast iron skillet! I was intrigued, but saddened because I don't own a cast iron skillet, and I sure as heck knew my mother would not lend me hers. A few weeks ago our local supermarket, Publix, had their fresh pizza dough buy one get one free. I did not hesitate to purchase the two balls of dough knowing that I would make calzones with one package of dough, and attempt Christine's pizza bread with the other package.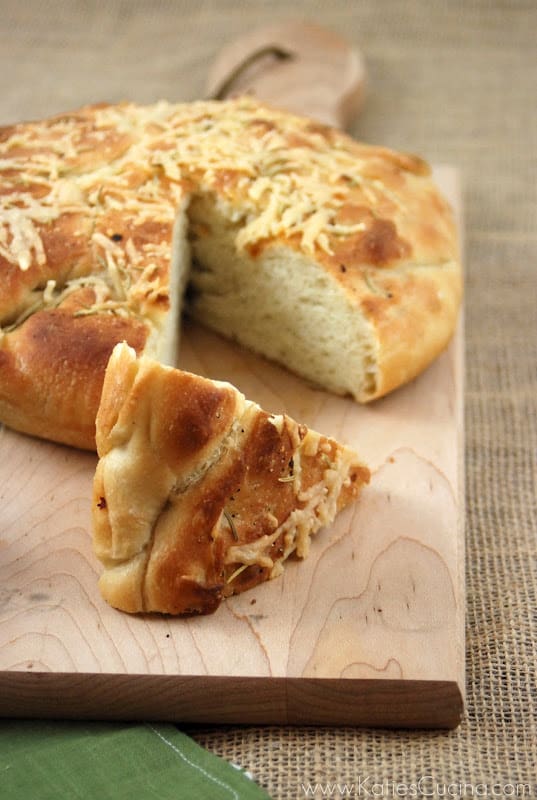 I can successfully proclaim that you do not need a cast iron skillet to make pizza bread! I was delighted with how the bread turned out and the taste was just as good as I had remembered it. The key to this bread is making sure your dough is fresh. You can not let your store-bought fresh pizza dough sit longer than a day in the refrigerator. It will lose it's "oomph" and will not rise. Also note, that the sky is the limit as to what you can season this dough with.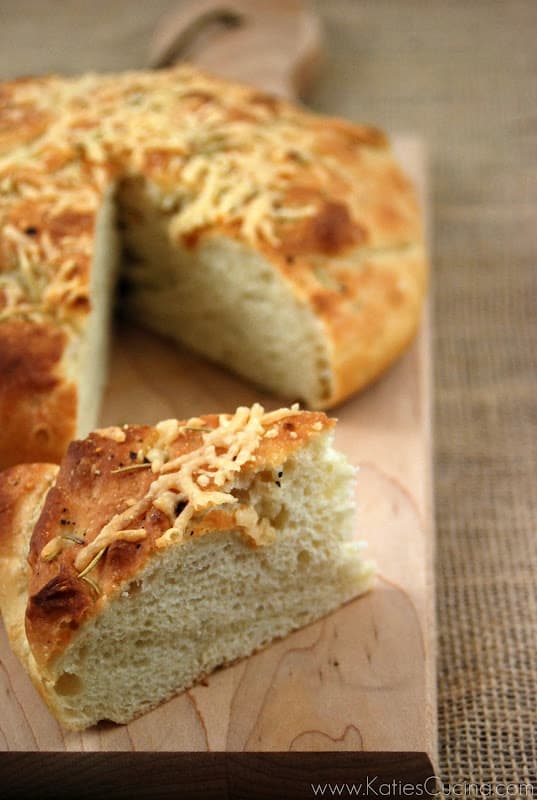 I'm so grateful that Christine shared her secret with us ladies that night. Make sure you stop by Christine's blog, Cook The Story. She is posting about her variation of Pizza Bread today, too (and it's the exact recipe I had a few months back that was to die for).
Published with permission by Christine of Cook The Story
| | | |
| --- | --- | --- |
| Rosemary Parmesan Pizza Bread | | |
Author:
Prep time:
1 hour 10 mins
Total time:
1 hour 35 mins
Ingredients
1- 16oz bag of store bought pizza dough
Cooking Spray
9-inch Round Pan
Pinch of Salt and Coarse Ground Pepper
Pinch of Red Pepper Flakes
1 teaspoon dried rosemarry
2 tablespoon shredded parmesan
Instructions
Remove the refrigerated store bought pizza dough from the bag and let rest for 1 hour; allowing it to rise.
Once your dough has rose, preheat oven to 400 degrees.
Spray a round 9-inch pan with cooking spray (I use PAM).
Place your dough into the 9-inch pan and begin lightly kneading the dough, so that the dough has filled all gaps within the 9-inch pan. Then sprinkle salt, coarse ground pepper, red pepper flakes, and dried rosemary on to the raw dough.
Bake for 20 minutes or until almost golden brown. At the last 5 minutes add the shredded parmesan to the bread.
Remove from the oven once golden brown and cut into wedges for serving.
Notes
*Store pizza bread in an air tight container in the refrigerator for up to 3 days. Reheat in the oven for a few minutes.
**My oven converts regular cooking temperatures to convection temperatures. I cooked this in my convection oven at 375. All ovens vary.