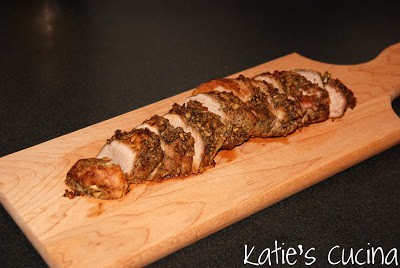 I'm not going to lie. I'm not a huge fan of pork, but in an effort to make more for my husband I've been trying some new pork tenderloin recipes. I was a little hesitant with this recipe since the key ingredient is sage and I know from past cooking experiences… sage can be a bit overwhelming! I made the rub and prayed that it wouldn't be too much! I'm so happy I tried this recipe… it wasn't overwhelming at all, and to be honest I tasted more of the garlic than I did the sage! It was beyond delish! This recipe was so good that I would definitely entertain guest with this pork roast! *I reduced the pork portion (instead of 2lbs and I only made 1lb), and I kept the rub the same.
2 large cloves garlic

1-1/2 tsps coarse salt

1 tsp dried sage

1/4 tsp pepper

1 tbsp olive oil

1 trimmed pork tenderloin (about 1 pound)
1.
Position a rack near the bottom of the oven and preheat to 500°. Mince together the garlic, salt, sage and pepper. In a small bowl, combine with the oil. Rub all over the meat and place the tenderloin in the middle of the pan.
2. Roast for 10 minutes, flip over and roast again until the internal temperature registers 155° on an instant-read thermometer, about 8 minutes more. Let rest for about 10 minutes (the internal temperature should reach 160°). Slice into ½-inch-thick slices.