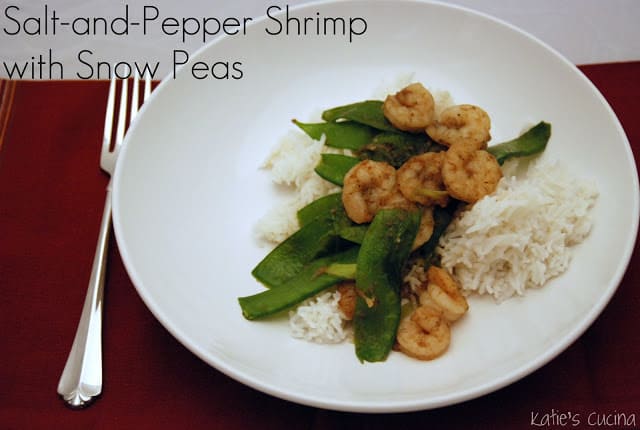 I was reading my digital version of Everyday Food when this recipe caught my eye. It was featured as a recipe for one, but I knew with doing a little math I could easily adapt it to make more than just one serving. The night I made this I happened to invite my neighbor over for an impromptu dinner. I was hoping that this was going to be a winning recipe. I hit it spot on. This recipe is awesome, healthy, and full of flavor. Best of all it super simple to make and only requires a few ingredients! I made the mistake of putting the snow peas and onions in at the same time as the shrimp *as suggested in the magazine. My snow-peas and onions were mush by the time my shrimp were opaque. For crisp vegetables put them in the skillet during the last 30 seconds to 1 minute of cooking! The pepper is what gives a big kick to this meal. If you don't want it as spicy don't add the full amount of black pepper.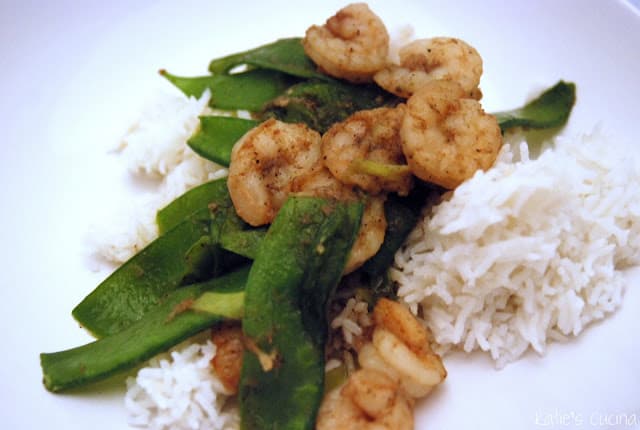 Adapted from: Everyday Food, Jan/Feb 2012
| | | |
| --- | --- | --- |
| Salt-and-Pepper Shrimp with Snow Peas | | |
Author:
Ingredients
1 lb large shrimp, peeled and deveined
¼ tsp salt
½ tsp pepper
1 tsp five-spice powder
1 tbsp peanut oil
1 tbsp grated ginger
1 tbsp minced garlic
3 tbsp chicken broth
6 scallions (white and light-green parts only), trimmed and cut into 2-inch peices
1 lb snow peas, trimmed
1 cup basmati rice (uncooked)
Instructions
Cook basmati rice according to package.
In a large bowl, toss shrimp with ½ teaspoon salt, ½ teaspoon pepper, and 1 tsp five-spice powder. Mix well and let it sit for 5 minutes.
Heat a large skillet over high. Add peanut oil, minced garlic, and grated ginger, toss for 15 seconds. Add shrimp and chicken broth; toss for 2-3 minutes until opaque. Add snow peas and scallions, and toss until shrimp are pink and snow peas are still crisp. Serve immediately over white rice.
Notes
*To add more to this meal serve with a ginger salad and a spring roll!