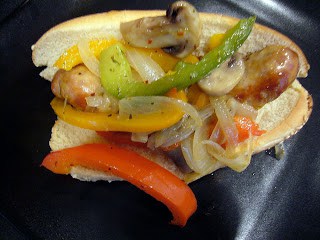 This is a super easy meal to make on a hectic night, and always goes over well with the crowd. I like to bake the Italian sausages which makes it a tad bit better for you rather than frying. Instead of using pork sausage you can always substitute for chicken sausage to make it even healthier! These are also great to serve for a sporting event like the NBA Finals or World Cup 2010.
Prep: 5 minutes
Total: 35 minutes
Serves: 4
Ingredients:
4 mild/hot Italian suasages

4 hoagie buns

1 onion, sliced in quarters
½ red bell pepper, sliced
½ green bell pepper, sliced
½ yellow bell pepper, sliced
½ cup of mushrooms, sliced
1 tablespoon EVOO
1 tablespoon Italian Seasoning
1. Preheat oven to 400. Spray cooking spray on a baking dish and place Italian sausages in the baking dish, cover with foil and bake for 35 minutes or until internal temperature reaches 165 degrees. *You'll want to turn them every 10 minutes.
2. In a saute pan add EVOO and add all of your veggies and Italian Seasoning. Cook on medium-high until veggies have been cooked through.
3. Toast hoagie buns in oven for a few minutes. Place sausage in bun and top with veggies. Enjoy!
Side Suggestions: salads & pasta