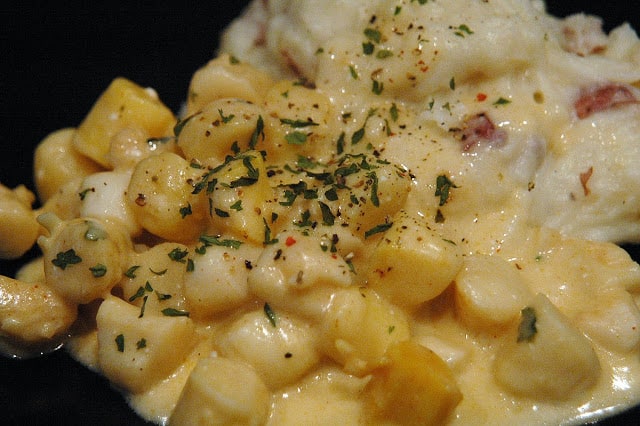 I've been holding on to this recipe for about a month–hoping and praying that I would have the chance to get up to North-West Florida to go scalloping! Now that I have over 2lbs of bay scallops I knew I'd finally get to make this recipe! Once again this is one of those easy Publix's Apron's recipe. I'll admit that I wasn't to prepared to make this recipe. I had no sherry and for some reason could not find the Old Bay seasoning anywhere! So I did a little research on what to substitute for sherry and found the a tablespoon of vinegar plus water or chicken broth to the desired measurement works just as well! I also started looking at other recipes for scallops newburg when I found that some people used paprika and salt instead of old bay. So that's what I did and it turned out awesome. I think next time I might cut the cream cheese to only one or two tablespoons. It was pleanty creamy with the three, so I think I could skim a few extra calories off this dish. I served this with my Parmesan Mashed Potatoes which complemented the meal very well.

Cook:
15 minutes
Serves:
4
Ingredients:
1 tablespoon butter
1 tablespoon garlic, minced
1 lb bay scallops
1 teaspoon seafood seasoning blend (or ½ teaspoon paprika and ¼ teaspoon salt)
1 (10.75-oz) can condensed cream of shrimp soup
¼ cup sherry (or 1 tablespoon vinegar and the rest chicken broth or water)
3 tablespoon cream cheese
Directions
Preheat large sauté pan on medium-high 2–3 minutes. Place garlic and butter in pan let it cook for 2-3 minutes or until the garlic is fragrant but has not browned. Then add scallops and sprinkle with seafood seasoning; cook and stir 2 minutes or just until scallops are opaque.
Stir in soup, sherry, and cream cheese until well blended. Reduce heat to low; cook 4–5 minutes or until thoroughly heated. Serve.
Serving Suggestions: Parmesan Mashed Potatoes, Steamed Asparagus, and Salad