Make these restaurant quality Sesame Ginger Ahi Tuna steaks at home, and in minutes for a fraction of the cost of what you would pay at a restaurant!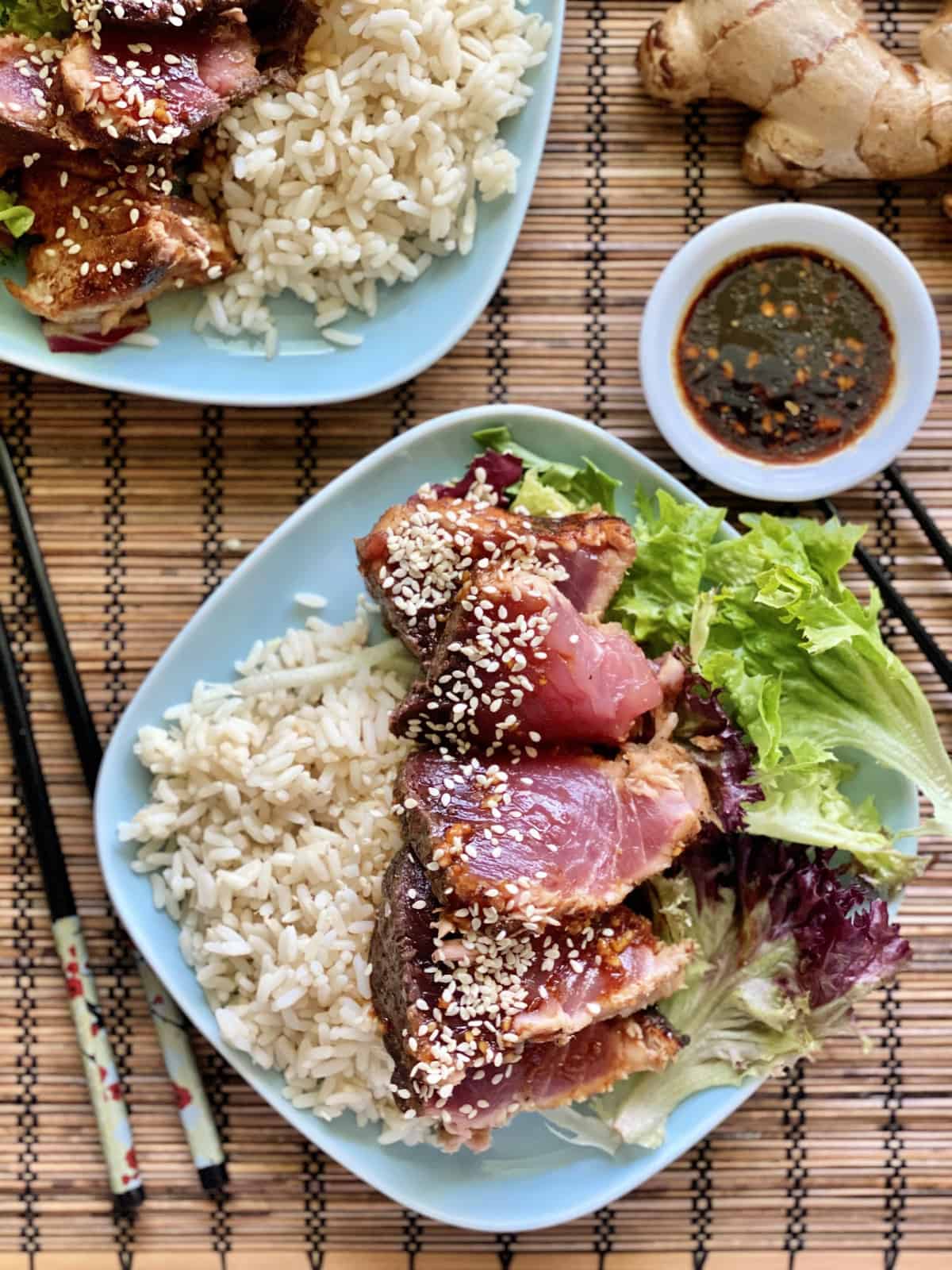 I know a lot of people are intimidated by making fish at home. I'm constantly answering questions on how to cook fish perfectly. Sadly, I don't have a great answer for you. It simply takes time and experimenting with cooking fish. Today, I'm going to share a little knowledge with you on how to cook ahi tuna at home.
My husband is an avid fisherman and this year alone he has caught two tuna! That means lots of tuna for us. We love ordering Ahi tuna steaks when we go out to eat. But since we rarely go out to eat any more I started cooking tuna at home. After a few attempts, I perfected cooking Ahi Tuna Steaks at home. The key is to make the sauce ahead of time and then season the tuna steaks well with salt and pepper. A hot pan to sear and only a few minutes if you want that beautiful red middle.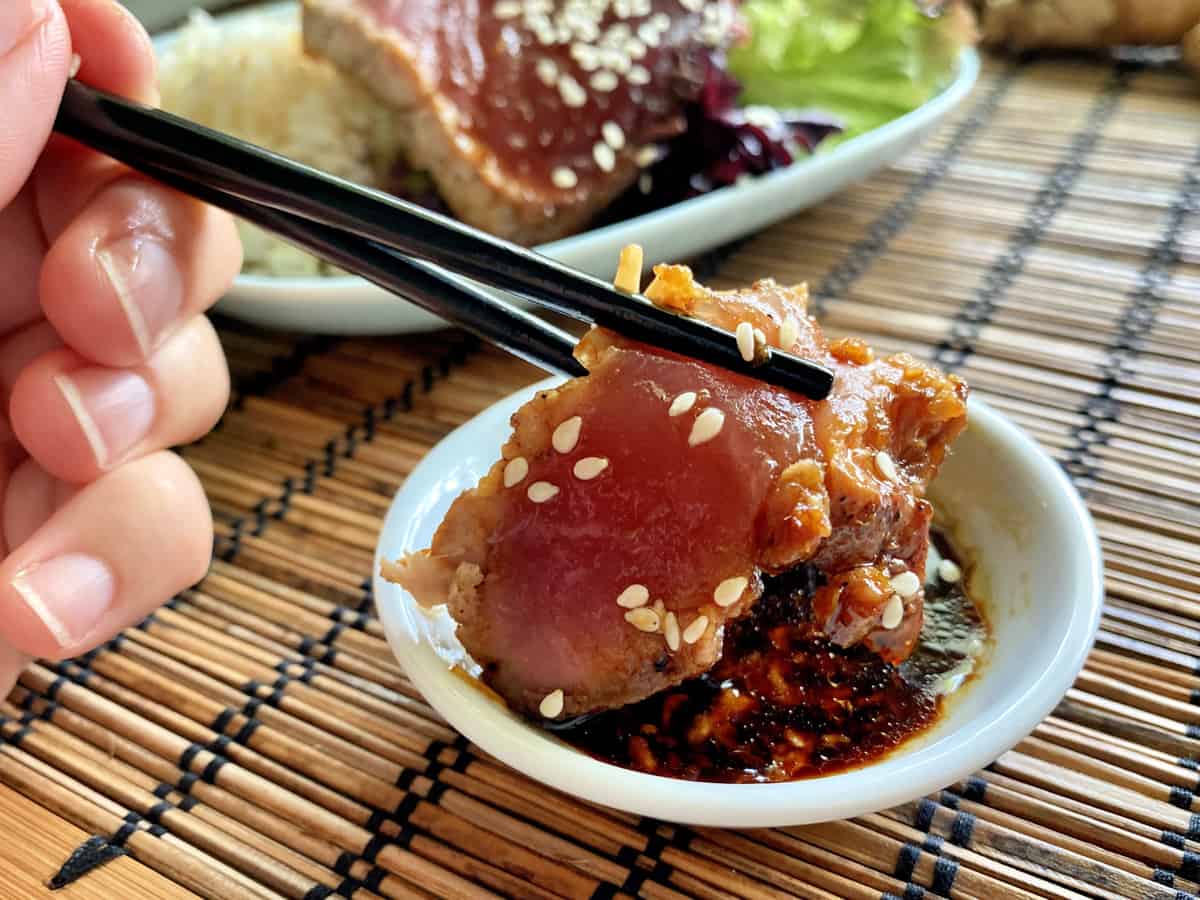 In this post you will learn the following information. Click on the links below to jump to learn more about what you are looking for!
Ingredients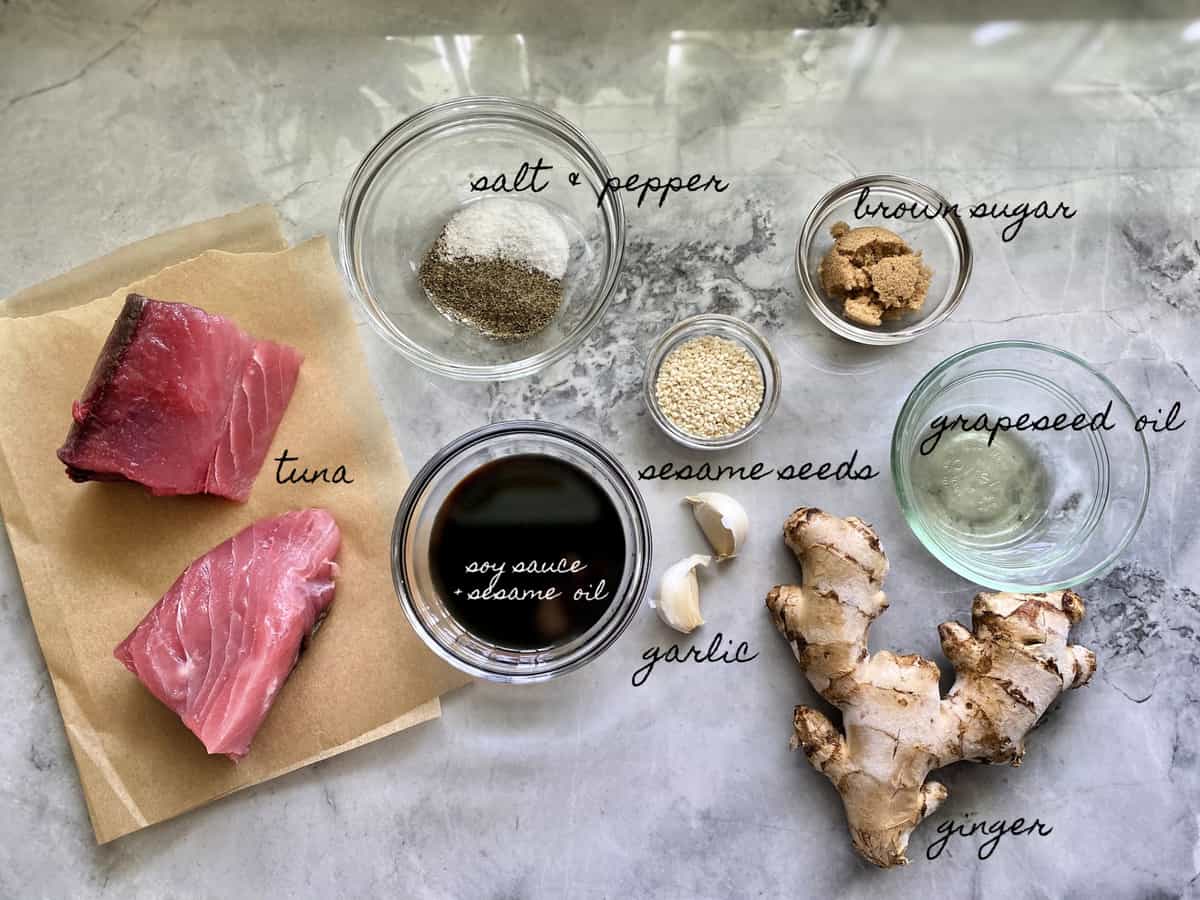 Ahi Tuna Steaks – Also known as yellowtail tuna. My steaks are close to a half pound each.
Sesame seeds – You can use a mix of both white and black for the visual effect. However, if you can only find white then use white. They taste the same!
Fresh ginger – I peel then grate the fresh ginger. This gives the perfect zip to this Ahi tuna sauce.
Fresh garlic – I use a garlic press to press the cloves of garlic so that they are very much minced. I like very small pieces for the sauce for the tuna.
Soy Sauce – I always use a low sodium soy sauce and prefer to use Tamari which is naturally gluten free.
Brown sugar – balances out all the salt from the soy sauce.
Directions
Tuna steaks only need to be cooked for a few minutes.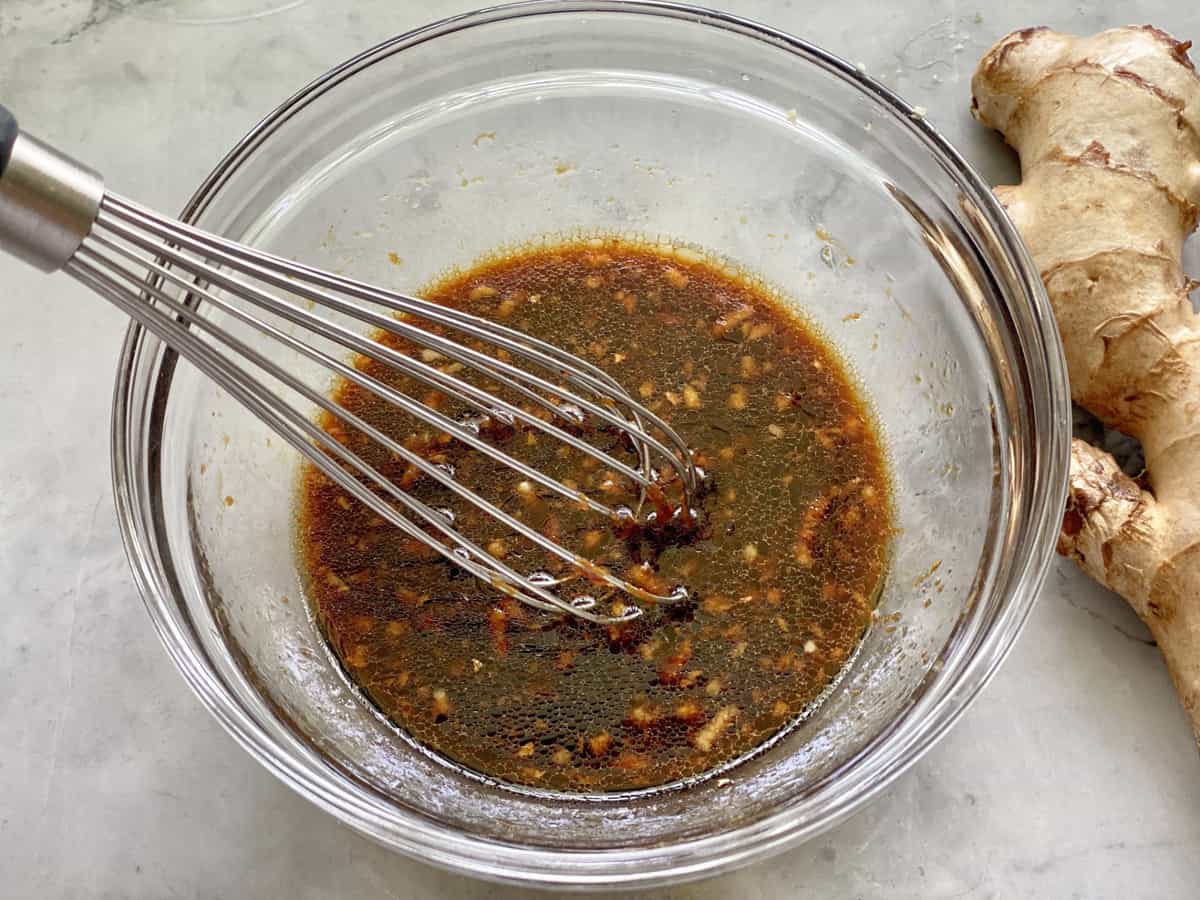 First prepare your sauce in a bowl. Having the sauce prepared before you cook the steaks is key to making this dinner.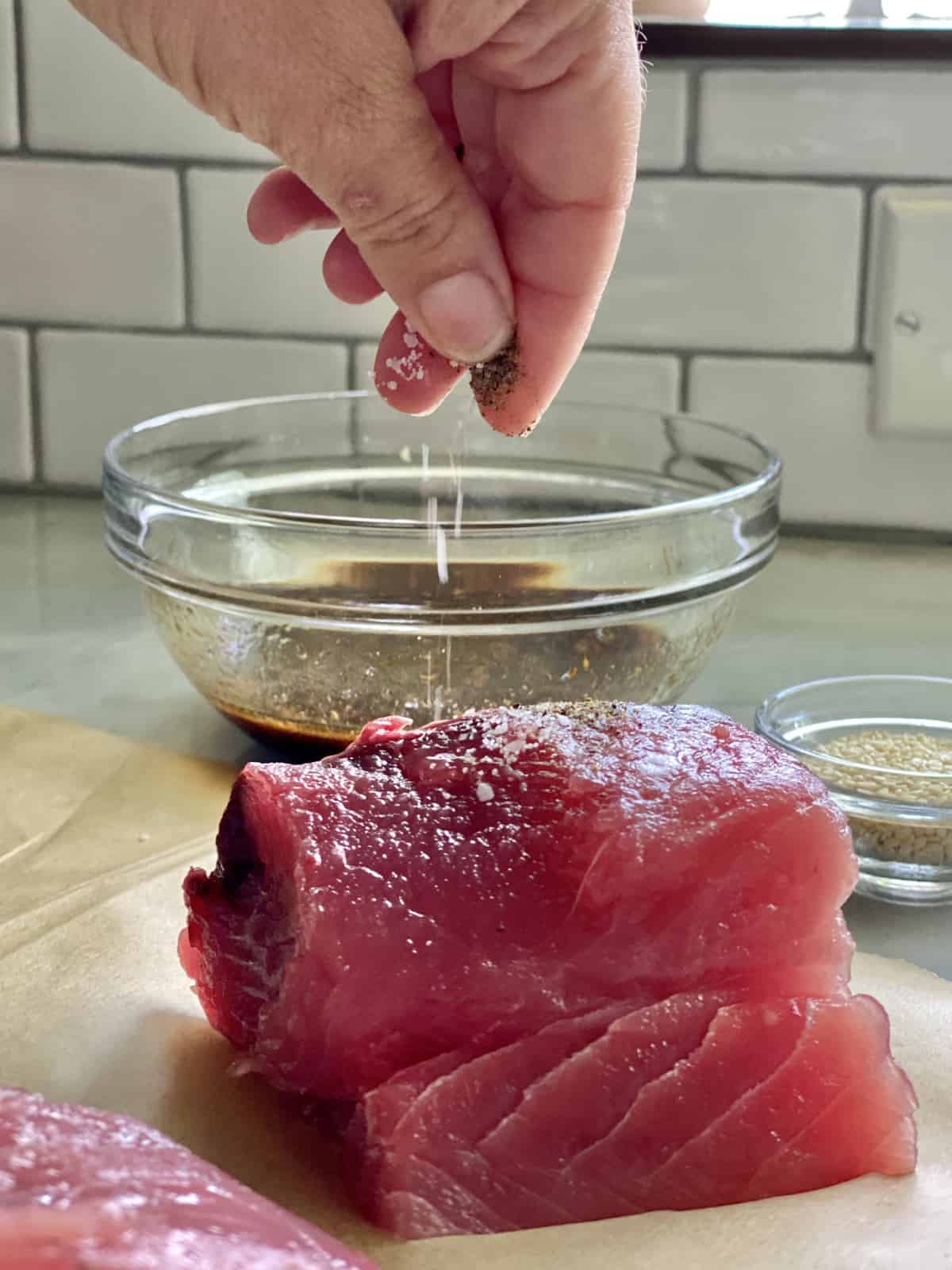 Next, preheat a skillet on high heat. I like to use a cast iron skillet. It should be screaming hot. While it preheats, rinse and pat dry your tuna. Season with salt and pepper.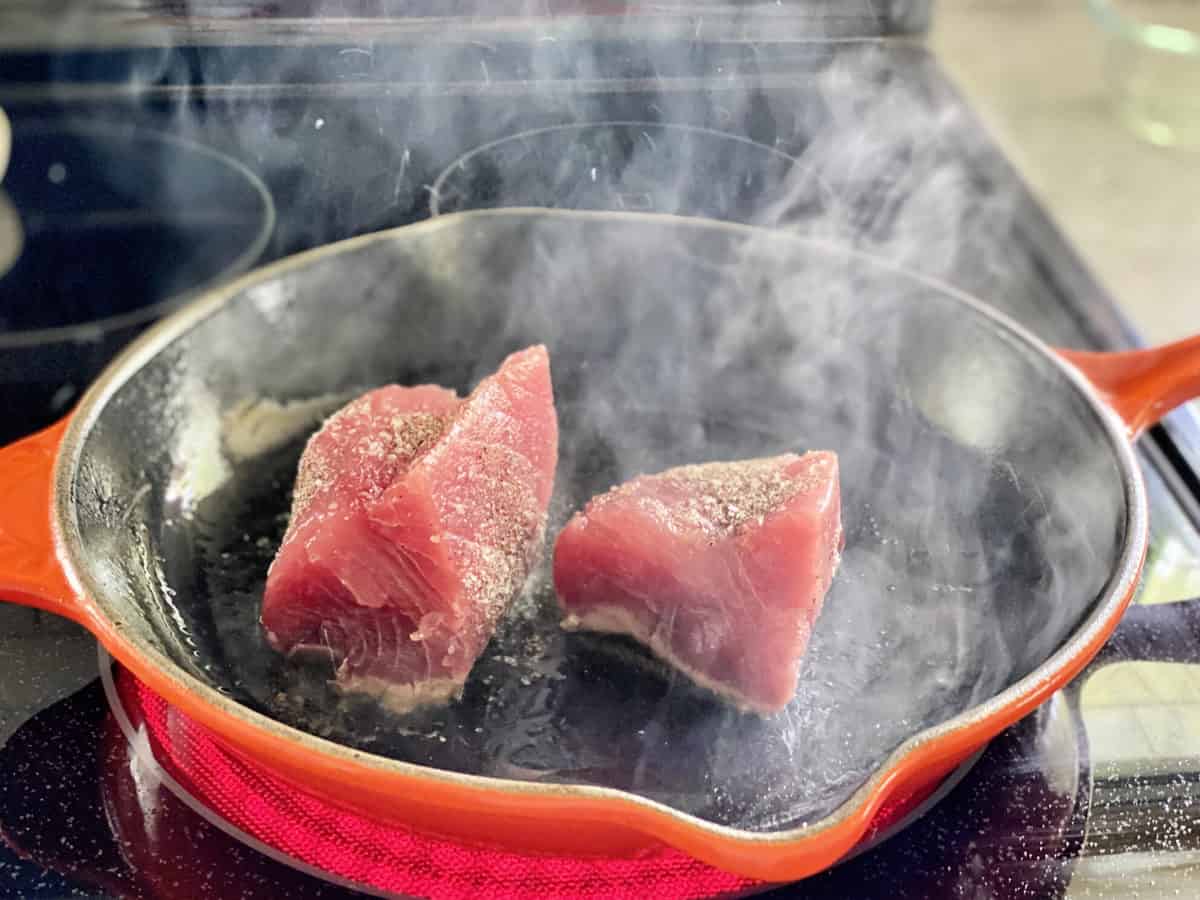 Add oil to your cast iron skillet and place your tuna in the skillet. You will hear the crackling of the oil again the tuna and hear it searing. It should be smoking a lot! Don't forget to put on your hood vent on high so you can avoid setting off the smoke alarms in your home!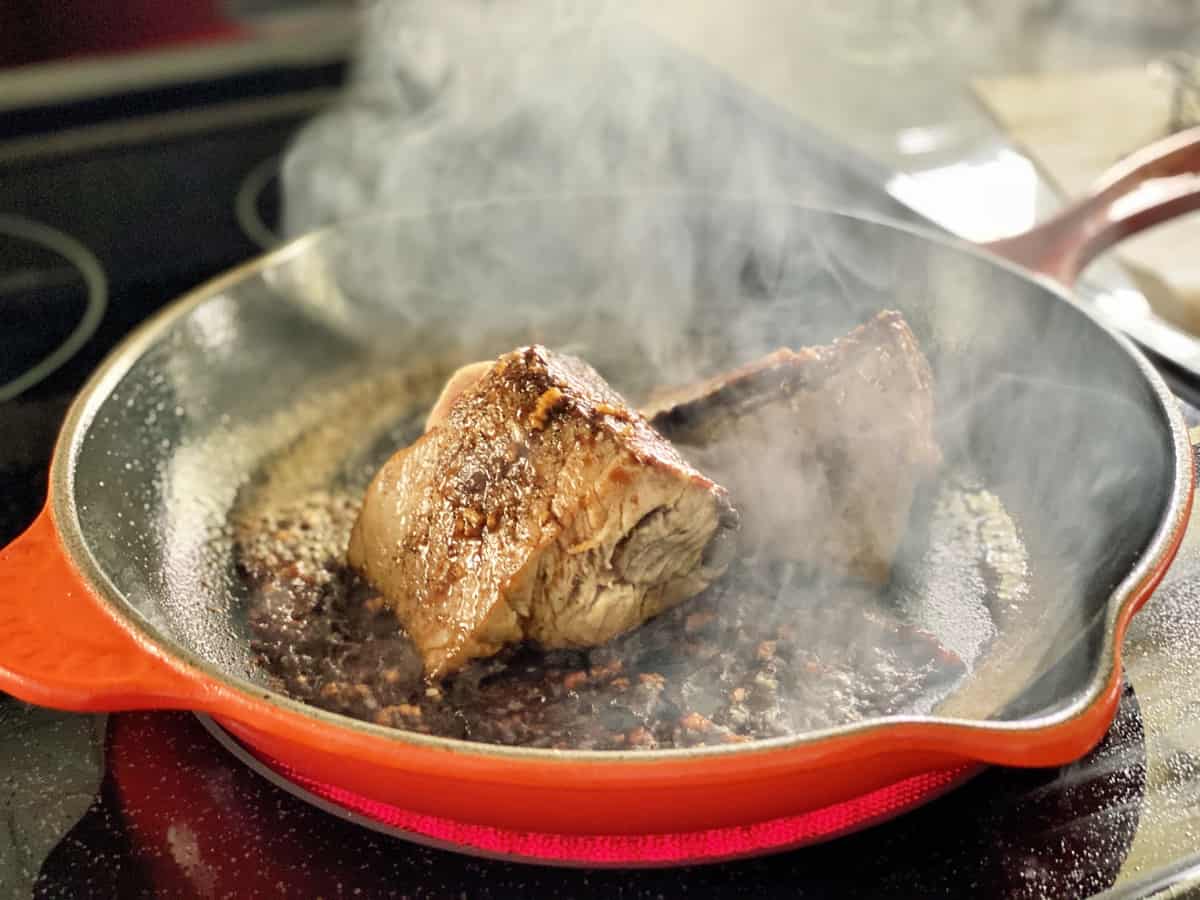 Remember that sauce? During the last minute of cooking flip your tuna steak and pour half the sauce on top of the steaks. You will want to let the sauce cook into the steaks.
One the tuna has hit the 3 minute mark remove the fish from the cast iron skillet and place on a cutting board. Thinly slice pieces of the steak (or simply keep it whole).
Plate the fish and pour half the remaining additional sauce on top of the tuna steaks once they are plated. Finish the tuna steaks off by sprinkling with both black and white sesame seeds and dinner is served.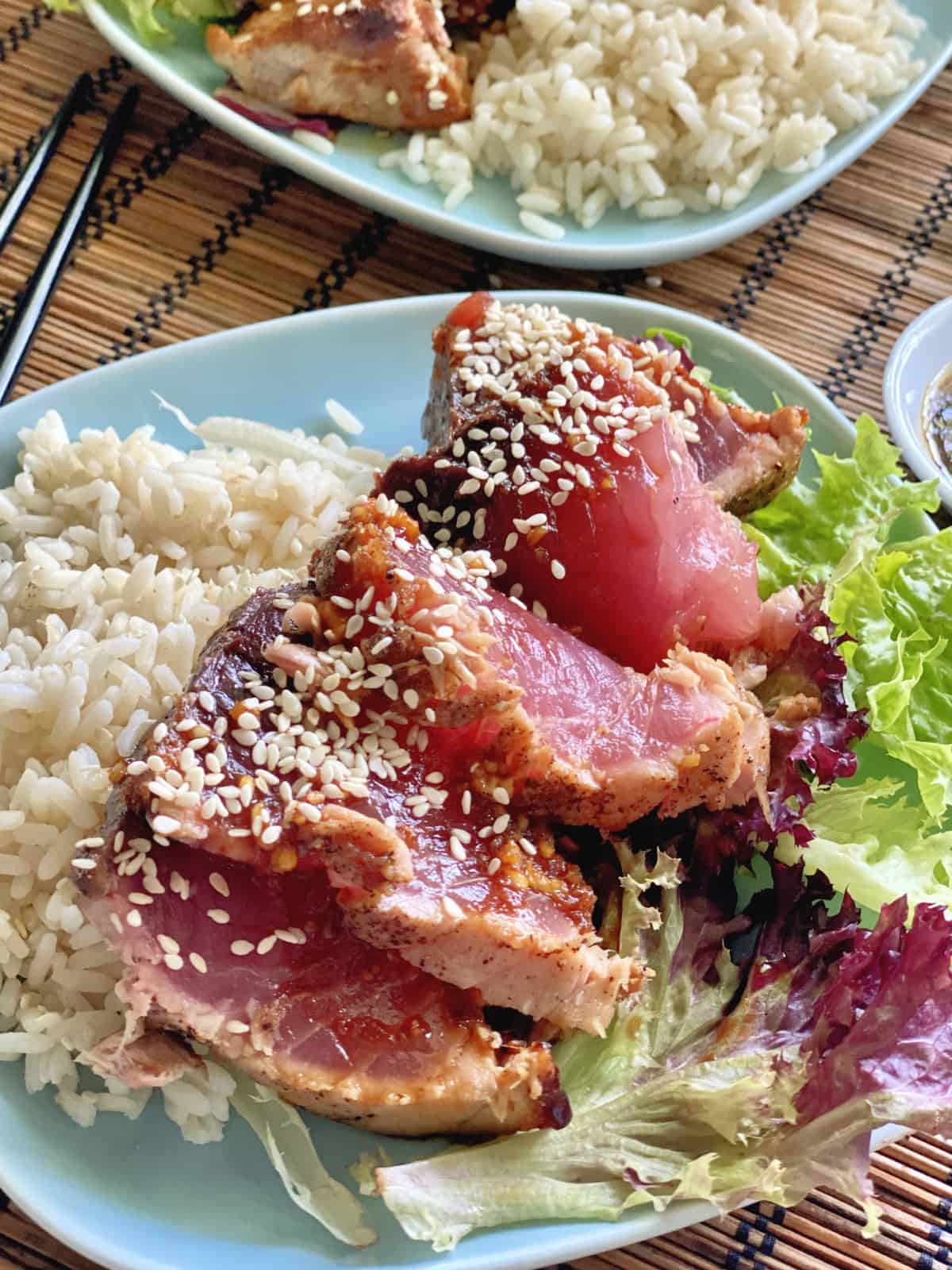 FAQ's
What is the difference between ahi tuna and yellowfin tuna?
Yellowfin tuna is Ahi tuna. It's just the name that everyone is more familiar with. This is the most common type of tuna you'll find in the grocery stores. You can read all about different types of tuna here.
Do you cut tuna with or against the grain?
Always cut any meat and fish against the grain! You'll want to use an extremely sharp knife. Slice the tuna fillet against the grain, and at a 25 degree angle. You'll want your slices to be anywhere from ⅛, ¼, and no larger then ½ inch thick pieces. Do not saw at the fish with a knife. Your knife should be sharp enough to just put pressure on the fish, and drag your knife in one, long stroke.
Can you eat tuna raw?
Yes! In fact, my husband ate a slice of this very tuna fresh off the boat. Like anything–if you eat it raw it could contain harmful parasites. Make sure your tuna is extremely fresh and kept at proper temperature.
What color should raw tuna be?
Raw fresh or frozen tuna should be a deep dark red to brown color. Consumers have been trained to think the freshest tuna is a bright pink/red. Some manufacturers will gas the tuna to give it that more desirable color. If your tuna is glowing in color and you did not freshly catch it run far away! This is also known as "tail pipe tuna" because it's been gassed with harmful chemicals you in return will end up consuming.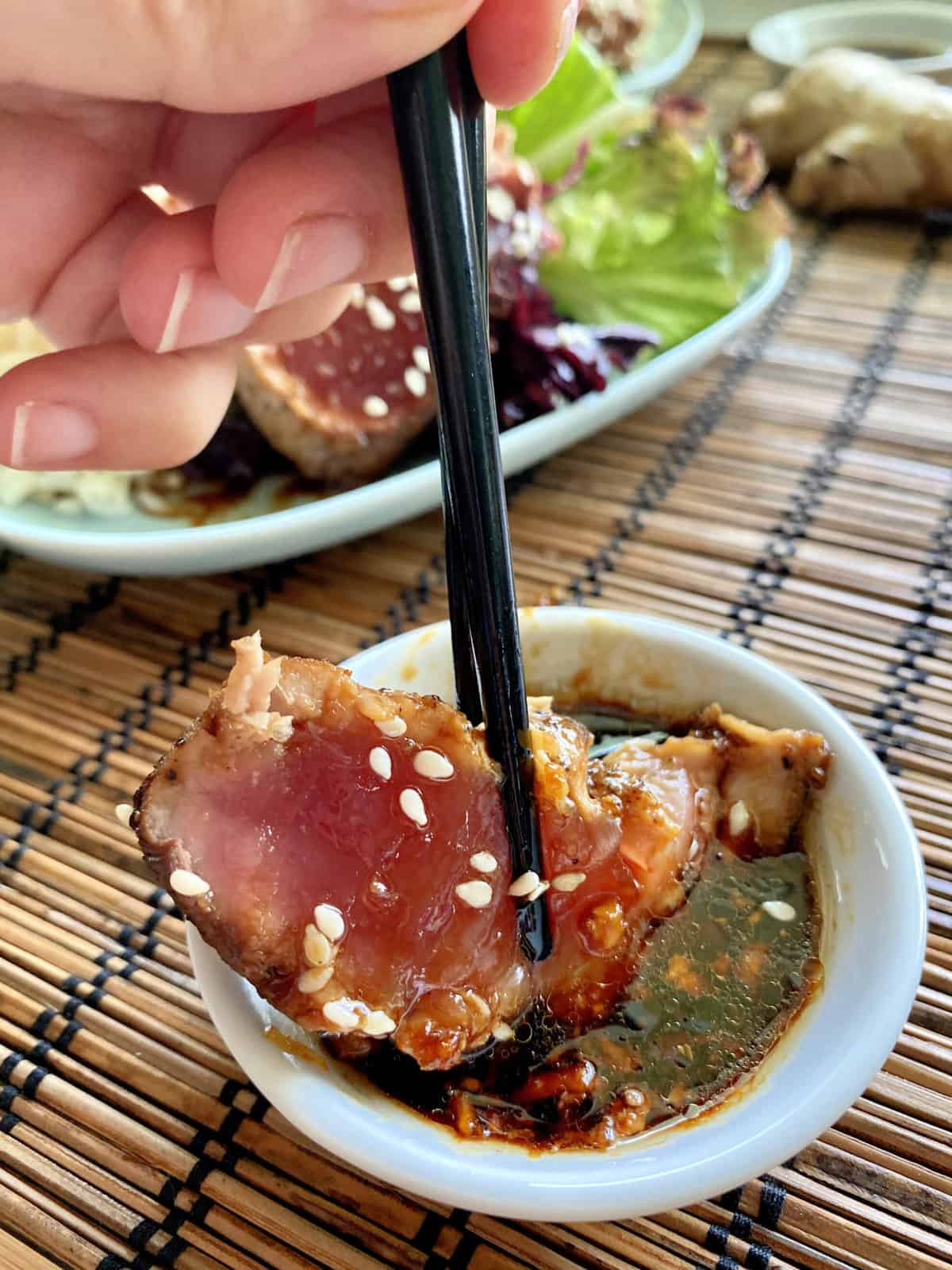 Tips & Tricks
Here are a few of the tips and tricks I've learned along the way from my past and present experience cooking tuna.
Dry your tuna off with a paper towel. Whenever you are searing meat you want it to be bone dry!
Season with salt and pepper. Like anything especially when not marinated you need to season with salt and pepper.
For a good sear you want the pan screaming hot! This also means you might set off the smoke detectors and you'll need to work fast.
Like I mentioned above to slice tuna you need a crazy sharp knife. Don't make the mistake and use a serrated blade. Trust me, I've made that mistake for you! You should never saw through the tuna. Use a super sharper knife and it should glide right through the tuna!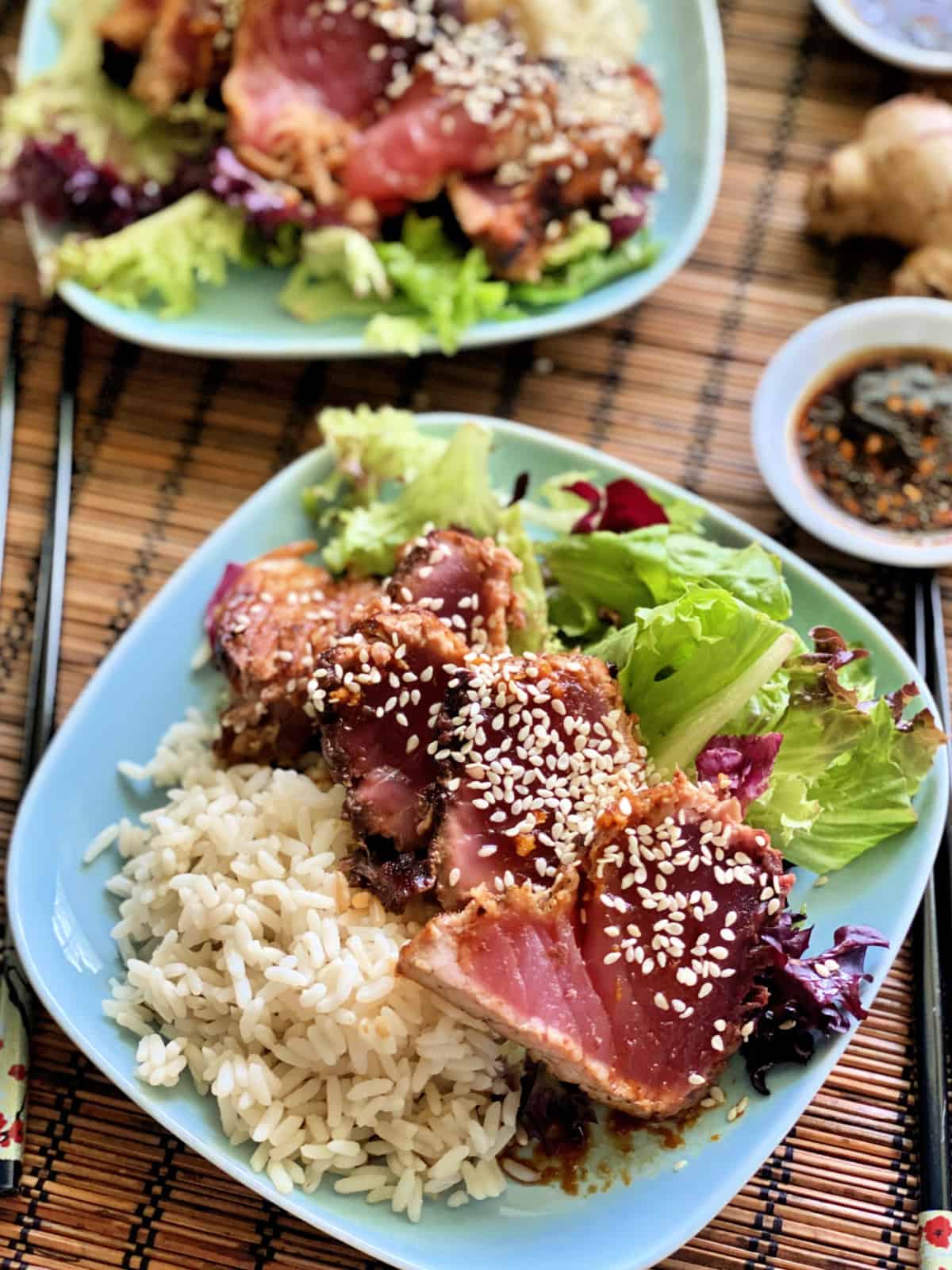 Side Dishes the go with Tuna
Here are a few of my favorite side dishes to make with these ahi tuna steaks.
Emeril's Broccoli and Cauliflower Stir-Fry
These tuna steaks have been one of my quickest meals to get on the table to date. As long as kids are occupied I can have our entire dinner on the table in less than 20 minutes. If you love Ahi Tuna and want to enjoy it in the comfort of your own home I highly suggest you give his recipe for Ahi Tuna Steaks a try!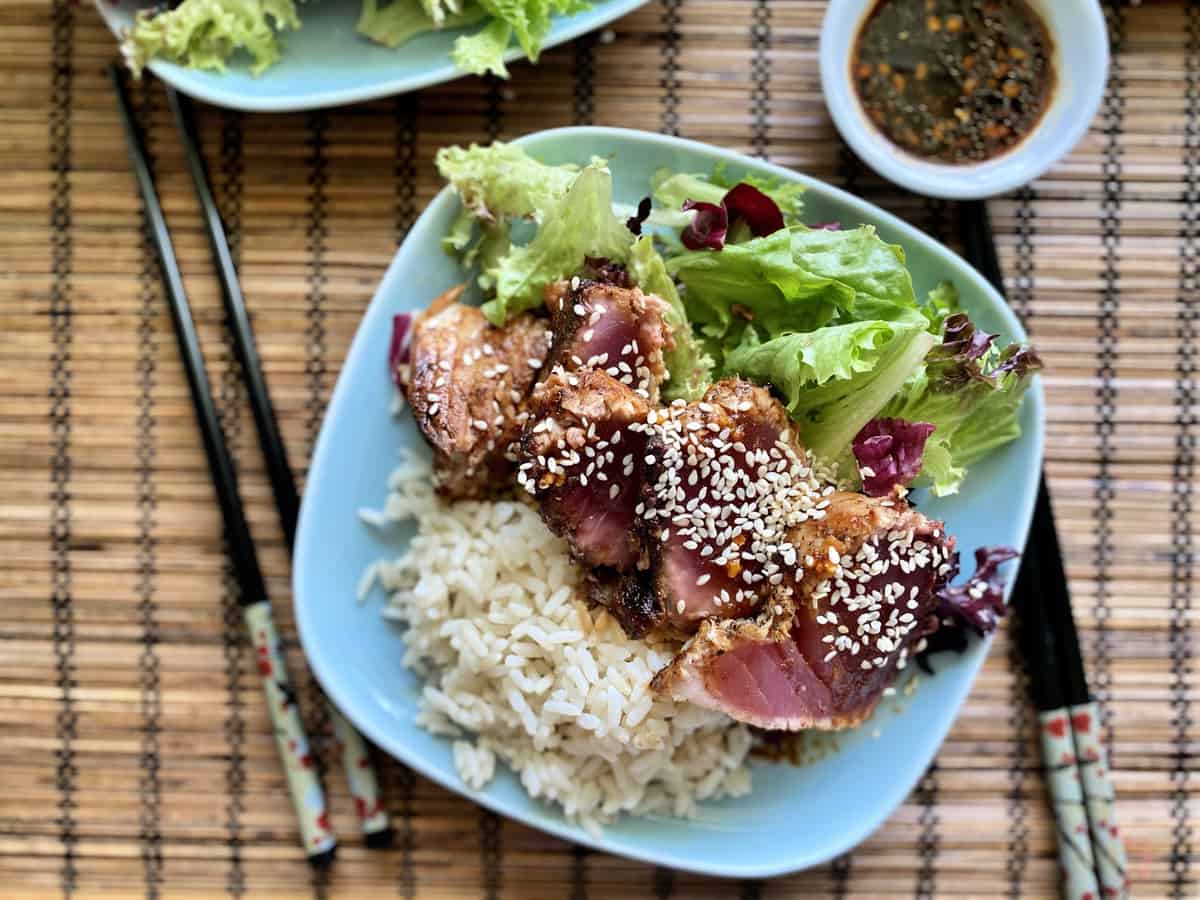 If you make this recipe, I would be honored and love for you to take the time to leave a ⭐ star rating and comment! I spend hours developing and testing these recipes, and always love to hear feedback and user experience!
Don't forget to FOLLOW ME on Facebook, Pinterest, and Instagram, and subscribe to my email list!
Save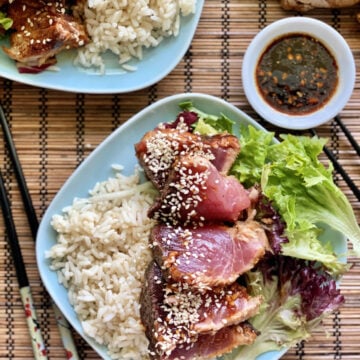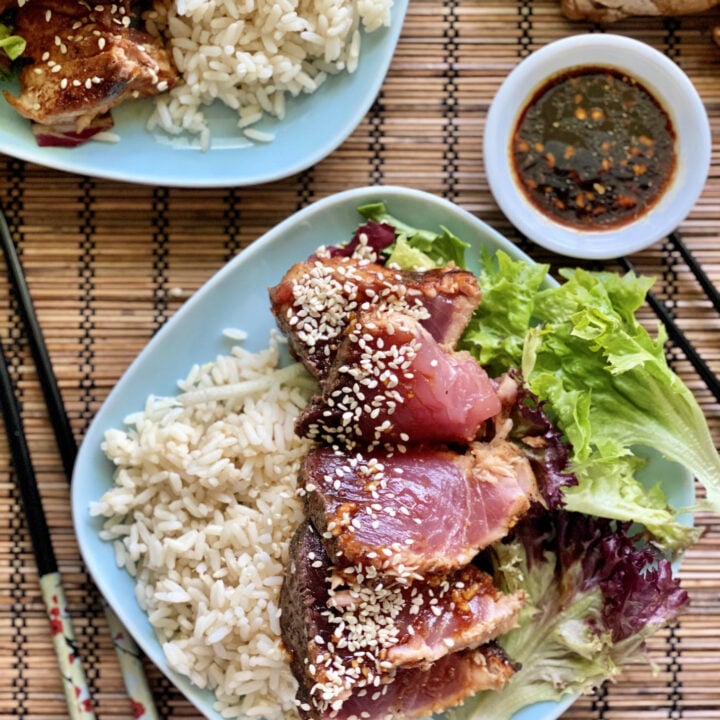 Sesame Ginger Ahi Tuna Steaks
Make these restaurant quality Sesame Ginger Ahi Tuna steaks at home and in minutes for a fraction of the cost of what you would pay at a restaurant!
Print
Pin
Rate
Ingredients
¼

cup

Low Sodium Soy Sauce

2

tablespoon

Sesame Oil

1

tablespoon

Brown Sugar

2

cloves

Garlic

pressed

1

tablespoon

Ginger

freshley grated

1

teaspoon

White and Black Sesame Seeds

salt and pepper to taste

2

Tuna Steaks

(about ½ pounds each)

1

tablespoon

Grapeseed Oil
Instructions
In a bowl mix together the soy sauce, sesame oil, brown sugar, minced garlic, and ginger. Set to the side.

Rinse and pat dry the tuna steaks. Season with salt and pepper to taste on both side.

Heat a skillet to high heat with the grape seed oil. Place tuna steak in skillet (you should hear a searing sound). Cook 2 minutes, then flip.

Spoon half the sauce into the pan during the last minute of cooking.

Remove the tuna steaks and slice thin (or keep whole).

Pour half the remaining sauce over the tuna steaks, and sprinkle with sesame seeds, dividing evenly. Enjoy.
Notes
When searing tuna you want it the fish to be very dry with now water present on the fish.
I like to use a cast iron frying pan and get it extremely hot. When the fish goes on the oiled pan it should start smoking and spraying oil everywhere. That's how you know you are cooking this fish right.
Find the sharpest knife you have to cut tuna against the grain.
To make this recipe gluten free use Tamari which is a gluten free soy sauce.
Nutrition
Serving:
0.75
lbs
|
Calories:
483
kcal
|
Carbohydrates:
10
g
|
Protein:
42
g
|
Fat:
30
g
|
Saturated Fat:
5
g
|
Cholesterol:
65
mg
|
Sodium:
1131
mg
|
Potassium:
486
mg
|
Fiber:
1
g
|
Sugar:
6
g
|
Vitamin A:
3711
IU
|
Vitamin C:
1
mg
|
Calcium:
34
mg
|
Iron:
3
mg
Disclosure: There are affiliate links present in this post. That means if you click on a link and purchase something. I will receive a small percentage of the sale at no additional cost to you. Thank you for your continuous support of Katie's Cucina!