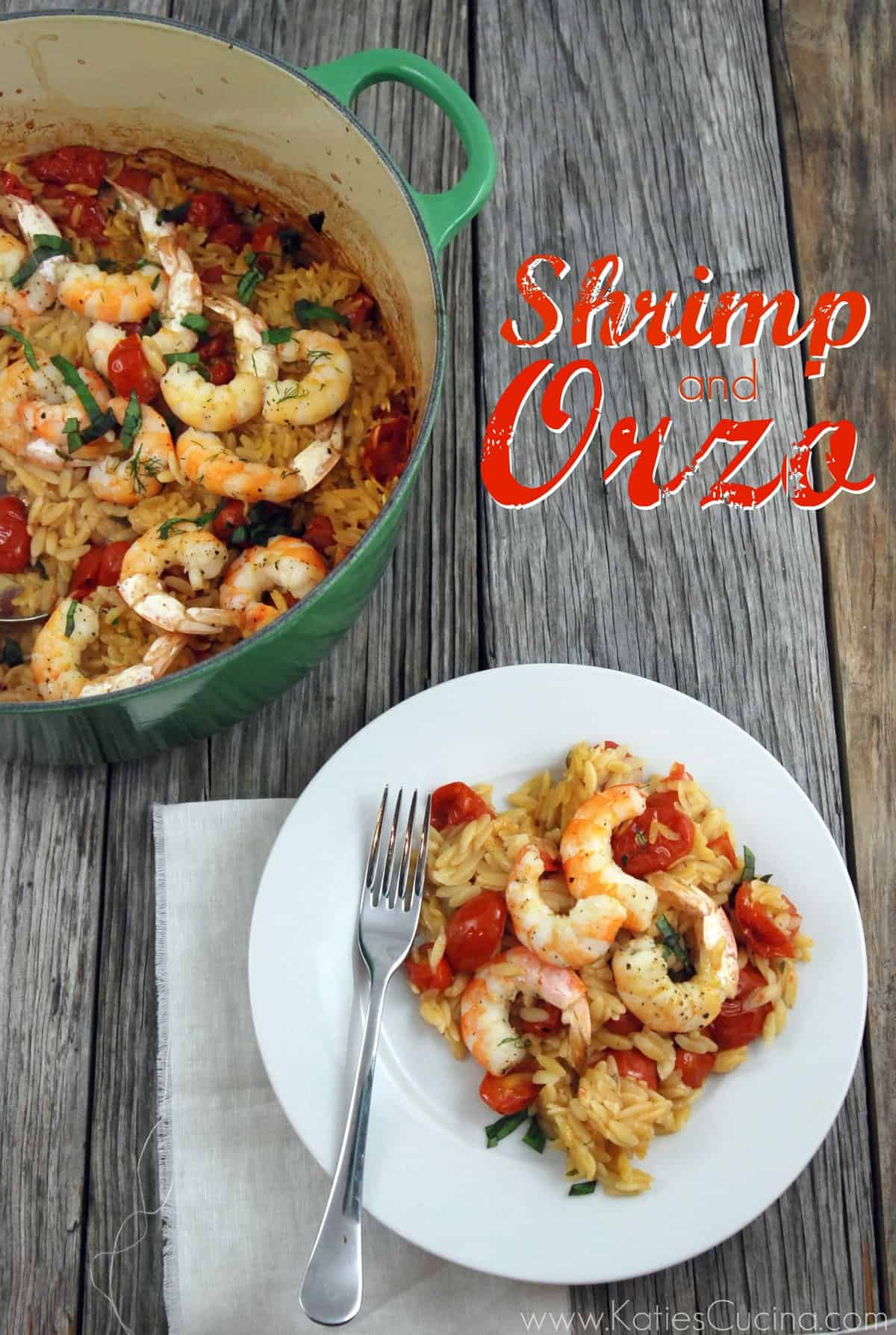 This is the perfect one-pot meal to cook on a busy night. It takes less than 30 minutes to cook yet taste like it has been cooking for hours. I'll admit, I was scarred from eating orzo pasta as a teen, and have just recently started reintroducing it back into my diet. I started by adding it in soups, and I think this dish has put me back in love with the tiny "rice-like" shaped pasta.
I kept most of my grape tomatoes more whole in shape, and added a ton of herbs to give this dish a summery-fresh taste! For picture purposes I left the tails on, but typically I try to take them off before I cook with shrimp, just because I know its a pain to cut every tail off when all you want to do is a hot meal! I will make note that this isn't the most summer friendly recipe since you do have to turn on the oven and the broiler at one point. So if you don't have air conditioning you may want to wait until it gets a little cooler before you cook up this simple dish.
Adapted from: Martha Stewart
Ingredients
2

tbsp

extra-virgin olive oil

6

garlic cloves

minced

3

cups

grape tomatoes, halved

salt and ground pepper to taste

3/4

lb

orzo

3 1/4

cups

low-sodium chicken broth

2

tbsp

fresh parsley

chopped

2

tbsp

fresh dill

chopped

1

lb

large shrimp

peeled and deveined

1

cup

fresh basil leaves

torn
Instructions
Preheat oven to 400 degrees (with the rack positioned near the top of your oven).

In a large broiler-proof skillet or pot add 1 tbsp and 1 teaspoon of olive oil to the pot, and cook on medium heat. Add garlic and cook for 1 minutes until its just starting to brown. Add the grape tomatoes, season with salt and pepper and increase the heat to high. Cook the tomatoes until they are soft and sauce like (about 10 minutes). Once the tomatoes are "sauce like" add one tablespoon of chopped parsley, dill, and a few pieces of basil: add the orzo, mix it around the tomato "sauce" then add the chicken broth. Bring the liquid to a simmer. Place the cover on the pot and transfer to the oven. Bake for 10-12 minutes until the liquid has mostly been absorbed.

While the orzo is cooking in the oven, toss the shrimp with one teaspoon olive oil and a 1/4 teaspoon each of salt and pepper.

Remove the pot from the oven and place the shrimp on top of the orzo. Place the pot back in the oven and set your broiler to high. Broil until the shrimp is opaque throughout (about 3-5 minutes depending on your broiler *watch it to make sure it doesn't burn your meal). Sprinkle with more fresh dill, parsley, and the remainder of the basil and serve!