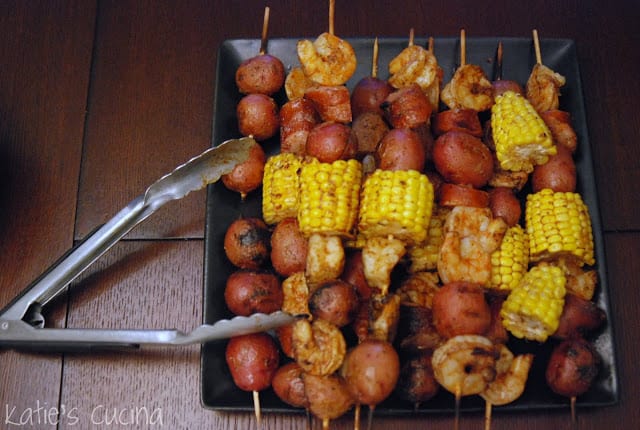 I first found this recipe while reading (cover to cover) the June issue of Everyday Food on our train ride from Philadelphia to New York City. I've always wanted to have a shrimp boil, and to me this is the closest I'd probably ever get to having one (any time soon). I mentally bookmarked this recipe. While visiting Brooklyn my husband and I were able to make it to a Polish deli where we brought back a few rings of fresh kielbasa. Other than the traditional Polish recipes this recipe flashed before my eyes. The Friday after we were home from our Philly/NYC vacation my parents (unexpectedly) came over for dinner. I had already planned to make this recipe for dinner, and knew that I would have enough for 4. We were all starving and devoured these skewers in no time. Everyone had two skewers each and I believe I made salads to accompany our delectable kebabs. Next time I'd definitely make corn bread and add rice to this meal (to make it a bit more filling) or simply make additional kebabs!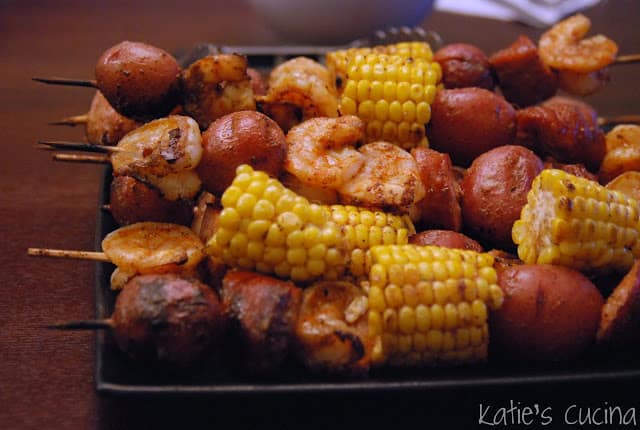 Disclaimer: This recipe calls for andouille sausage–I used kielbasa. I was a bit concerned with the tabasco based butter sauce that you baste on these skewers. Do not be alarmed. In my opinion it was not spicy at all. I did not have unsalted butter on hand and used salted butter. BIG mistake. The Old Bay is salty enough. Make sure you make the special trip to the grocery store to buy unsalted butter for these kebabs. I did "marinate" the shrimp in the butter sauce. Don't do that… they were extra salty. Which could have been from the salted butter I used in combination with the Old Bay Seasoning. Next time I'll fully follow the recipe. Oh, and excuse my poor photo. We were starving and it was already dark outside by the time we were ready to eat. I quickly snapped a few photo's before everyone devoured the plate of kebabs!


Source: Everyday Food, June 2011
Prep Time: 10 minutes
Cook Time: 8-10 minutes
Servings: 4


Ingredients:
½ lb small new potatoes
2 small corn ears
½ lb kielbasa
½ lb large shrimp
½ stick unsalted better
4 teaspoon hot-pepper sauce
2 teaspoon Old Bay Seasoning
Lemon wedges *optional


Directions:
1. In a medium pot, bring ½ pound small new potatoes to a boil in salted water over medium-high heat. Reduce heat and simmer until potatoes are tender when pierced with a knife, about 12 minutes. Drain and rinse under cold water. Alternately thread potatoes, 2 small ears of corn, cut into1-½ inch rounds, ½ pound kielbasa, cut into 1-inch rounds, and ½ pound large shrimp, peeled and deveined, onto four 8-inch skewers.


2. Heat a grill to medium-high. Clean and lightly oil hot grill. In a small bowl, combine ¼ cup (½ stick) unsalted butter, melted, 4 teaspoons hot-pepper sauce, such as Tabasco and 2 teaspoons Old Bay Seasoning. Grill kebabs, turning and brushing with butter mixture occasionally, until shrimp are opaque throughout and corn is tender and beginning to char, about 8 minutes. *Serve with lemon wedges.